---
Highlights Include:
Trout Lodge YMCA of The Ozarks drawing
Missouri Botanical Garden Ticket Giveaway 
Heirloom Seed Pack Giveaway
Wine & Beer Tasting
Special Mini-Talks
Click here to download the 2-for-1 coupon
The Healthy Planet magazine invites everyone to come celebrate Spring at its 37th Natural Living Expo, Sunday, March 31, 10 am to 4 pm, at the Webster Groves Recreation Center, 33 East Glendale Road in Webster Groves.
The first 400 visitors to the expo will receive a free reusable tote bag courtesy of Dierbergs Markets and Green Bag America. There will be tasty food and beverage samples including wine tasting by Edg-Clif Winery, Craft Beer Tasting by Cathedral Square Brewery and Sam's Vegan Kitchen. Attendees will also be able to get free health screenings, chair massages, green products for your home and garden, your family and even your pets. Enjoy live music by Terri Langerak on harp and Carol Eder on guitar. Enter a drawing for a $600 family weekend certificate to Trout Lodge YMCA of the Ozarks and Fox Theatre Tickets.
---
---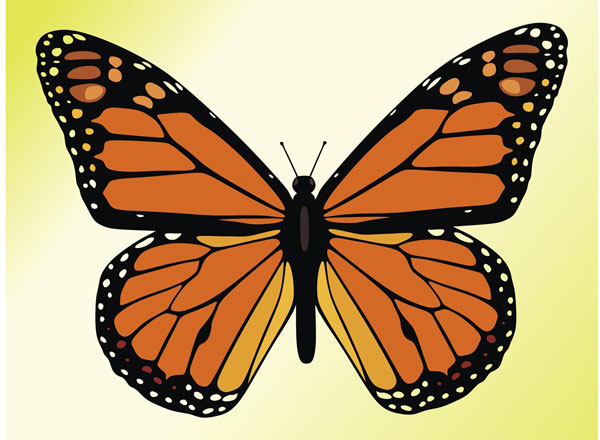 By Linda Wiggen Kraft
Butterflies and moths give flight to beauty and mesmerize us with their movement through the garden. The winged patterns of colors from dark to light and bright to subtle take our breath away. Butterflies and moths also speak to our souls in a deeper way with the transfiguration of caterpillar to winged amazement.
To see and know about the total metamorphosis of caterpillar, to chrysalis, to flying wings stuns us with the majesty and magic of nature. The scientific name of the cells within the chrysalis that transform a caterpillar to a butterfly or moth are called imaginal cells. It's the imagination of nature that brings butterflies and moths into form. To see such a dramatic transformation of life inspires our imagination and points to the possibility of real and imaginal changes in our own life.
What better way to be part of this miracle and inspiration than to create a sanctuary for caterpillars, butterflies, moths, insects and all life that are part of the garden's wholeness. A garden for the winged creatures invites in and provides shelter, food and habitat for all stages of life.
---
Story by Tricia Bisoux
Paper or plastic? Electric or solar? Gas-powered car or hybrid? Each day, we face a myriad of choices, from how we shop to how we power our homes to how we travel. Any one choice might seem of little consequence, but together they can add up to have considerable—and potentially negative—impact on the environment.
For the past five months, elementary, middle, and high school students throughout the St. Louis area and beyond have taken this idea to heart. As participants in the 2018–19 Green Schools Quest, they have been exploring choices that have neutral or positive impact on the environment. Now in its sixth year, this showcase of student-driven projects is coordinated by the U.S. Green Building Council–Missouri Gateway Chapter. This year's Green Schools Quest started in October and runs through early March.
During this time, students and teachers at 59 schools set out to achieve a range of sustainability targets, all while working through several phases of discovery: Researching the problem. During the first one to two months of the challenge, students became young scientists and statisticians. Some conducted audits of their school's waste, water use, and energy consumption. Others went outdoors to measure rainfall, visit local farms or recycling operations, or learn about the importance of pollinators to the world's farmers.
---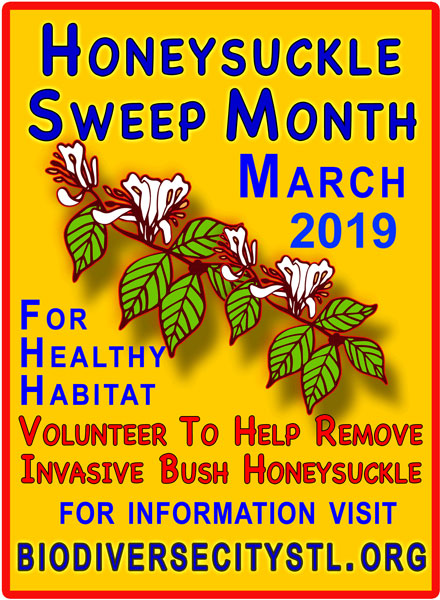 With Jean Ponzi
My Honey and Bush Honeysuckle
We used to have it all around the borders of our city yard.
It was the ideal privacy hedge: early-bird first to green up in spring, last to lose its leaves in the fall; showy, snowy blossoms turn to glossy scarlet fruit. I bet you have it too, and if you do, you totally love it.
What's not to love with this woody bush? For the Human who falls for pretty, for easy-to-love. For all the wrong reasons, and then we are stuck.
My beloved mate Dale has worked his way through this berry-gnarly romance. He's come out the other side, wiser and widely sharing his tale.
It started at our place in 2014. We had actually transplanted Bush Honeysuckles, spaced them out along our property lines when we moved there in 1994. Twenty years later, as pines and cedars we had planted for an actual Evergreen Hedge matured, Dale started to whack along the Honeysuckle Line. Except for our few hopeful conifers, there were no other plants around the edge of our yard. None. Zero. No baby trees of any kind, almost no ground weeds! It was a Honeysuckle Desert out there.
---
After suffering a debilitating shoulder injury, Jim Seidel, 57, initially thought he had just two options: living with the chronic pain brought on by the injury or undergoing major orthopedic surgery. Continuing on with the pain was out of the question, but Seidel was concerned about the risks associated with surgery and the recovery time that would be required. Fortunately, he discovered a third alternative after learning about the services available through Bluetail Medical Group's Dr. Kristin Oliver and Dr. Chris Wolf. Dr's Oliver and Wolf are partners at Bluetail Medical Group and pioneers in the field of regenerative medicine and stem cell therapy. By utilizing a patient's own stem cells and platelets to help to repair muscle, tendon, ligament, and other tissue, Dr. Oliver offered Seidel a safe and effective alternative to surgery with little downtime. After receiving his treatment, Seidel experienced a complete relief from his pain with only one week of recovery time.
Seidel's experience provides a great example of the benefits regenerative medicine can offer patients who are looking to avoid going under the knife. It's also a great option for those who want to avoid having to rely on opioid medications to manage their pain.
---