---
Information for this article compiled by Crystal Stevens, EarthDance Farms Garden Manager
EarthDance is a 14-acre teaching farm in Ferguson, MO, which practices innovative no-till and small-scale market gardening growing techniques.
EarthDance was founded by Molly Rockamann, who had a long affinity with the land after visiting the farm at age 15 with her father to meet the original farmers, Al and Caroline Mueller. Rockamann fell in love with sustainable farming and preserving wild spaces after spending time abroad working with farmers in the Fiji Islands, Ghana, and Thailand. In 2005, she had an apprenticeship at the U-Santa Cruz Center for Agroecology and Sustainable Food Systems. Upon her return to her hometown of St. Louis Missouri, Rockamann founded EarthDance as a way of continuing the Mueller's legacy and preserving the heritage of the land and keeping it in organic agriculture. Rockamann received 501c3 status with the help from The Open Space Council as their fiscal sponsor. Since 2009, EarthDance has operated an extensive training program for beginning farmers.
---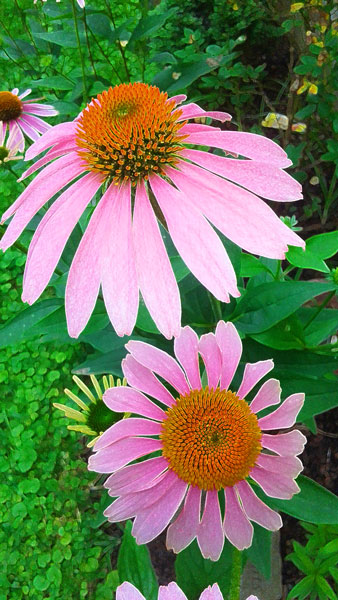 By Linda Wiggen Kraft
A garden is not only plants, it is a network of life forms and forces. It is the community, communication and communing of plants, insects, birds, soil, sun, rain and all parts of the ecosystem called garden. Each part is in relationship. The strongest relationships are those that give life and support to each other and the whole community.
The network of native plants, insects, birds and other parts of the garden form the strongest community because they have evolved over eons to support each other and live together. Native trees, shrubs and plants evolved to be the life support of native insects and birds. The insects pollinate the plants and are protein necessary for bird survival. The birds keep the insects in check protecting food and forest crops. They also find shelter and food in the plants. It's a cycle, a life cycle. When non-native plants are part of the garden, the community is weakened. Most often non-native plants are not food for insects, therefore they don't provide food for birds. Native butterflies and moths that dance in our gardens have evolved to survive on specific plants. If these insects do not have those plants they will perish. A case in point is our beloved Monarch butterfly that only survives on asclepias (milkweed) plants. No more asclepias, no more Monarchs. And this is exactly what is happening with the decline of the asclepias plants along the route Monarchs take to winter in Mexico. The steep decline in Monarchs corresponds to the steep decline in asclepias.
---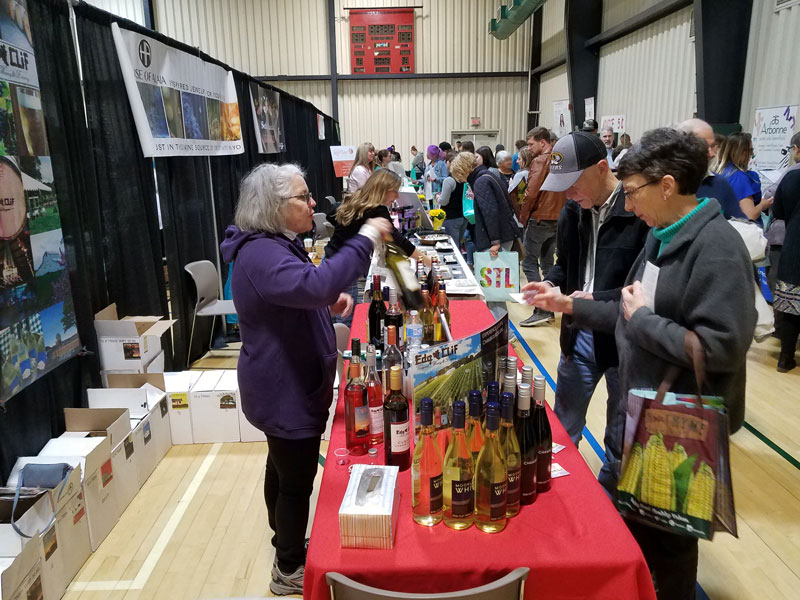 The Healthy Planet magazine invites everyone to come celebrate the first week of Autumn at its 36th Natural Living Expo, Sunday, September 30, 10 am to 4 pm, at the Webster Groves Recreation Center, 33 East Glendale Road in Webster Groves.
More than 50 exhibitors will share information, goods and services pertaining to health, wellness and sustainable living.
The first 400 visitors to the expo will receive a free reusable tote bag. There will be numerous food and beverage samples including craft beer and wine tasting. Attendees will also be able to get free health screenings, chair massages, and green products for your home, garden and your family. Enjoy live music as you explore the many unique exhibit booths.
---
Vegans, vegetarians and conscious eaters of all types have been flocking to vegan festivals all over the world for years. Now, St. Louis is getting its first ever VegFest!
All are welcome to join us on August 4 from 11am-8pm at the World's Fair Pavilion in Forest Park (1904 Concourse Dr., St. Louis, MO 63110) for this free, family friendly event. Stop by to enjoy inspirational speakers and cooking demos, free yoga, cruelty-free merchandise, a kid's corner, musical performers, and a dance party by the DJs at Utopia Studios. More than 100 vendors and exhibitors will also showcase a wide range of products and resources to help attendees discover the benefits of plant-based living. And of course, it wouldn't be a VegFest without tons of delicious plant-based faire, including food trucks, baked goods, ice cream, kombucha and more!
Hosted by St. Louis Animal Rights Team (START) and sponsored by Bombay Food Junkies, LUSH Cosmetics and Carol House Furniture, St. Louis VegFest aims to champion the ethical, health, and environmental benefits of a plant-based lifestyle. With an estimated 140,000 vegetarians and vegans living in the greater St. Louis area, we hope to delight those that have already chosen this lifestyle, while reaching out to many more St. Louisans about the health benefits, ease and deliciousness of compassionate, sustainable living.
---
---
---
By Linda Wiggen Kraft
Attracting butterflies to home gardens is part of the work of the North American Butterfly Association. To help homeowners figure out exactly what butterflies need to survive and thrive in a home garden, they recently published a 288-page book that gives detailed information about how to create habitat that supports butterflies in all of their life cycles.
The title is Butterfly Gardening, The North American Butterfly Association Guide.
There are three main considerations for a butterfly garden. Most importantly, it is full of flowers. Most butterflies need flower nectar to survive. Flowers blooming from spring through fall are best. Some flowers are better than others for butterflies. They need easily accessible nectar. Their long straw-like tongue called proboscis draws nectar in. Single flowers where petals don't cover the center nectar producing parts are the best food source. As much as gardeners like double petals in some flowers, the nectar source can be weak and inaccessible. An example is Echinacea, purple coneflower.