---
It's springtime in St. Louis! The sun is shining, the birds are chirping, and we're ready to head outdoors. The warmer months are when St. Louis is most alive. Whether you enjoy an active lifestyle or art fairs and concerts in the park are more your scene, from spring to fall, you will find plenty of fresh-air activities in St. Louis.
One seasonal tradition unofficially marks the kick-off of St. Louis' outdoor event season – The Annual St. Louis Earth Day Festival. Now in its 27th year, the festival, which began as a small, grassroots gathering, is the second largest Earth Day celebration in the country. Today, the St. Louis Earth Day Festival welcomes tens of thousands of guests each year.
Each April, visitors of all ages and walks of life come together in St. Louis' beautiful Forest Park to celebrate the spirit of Earth Day and our vibrant St. Louis community in this non-political, fun, and family-friendly event. Admission is free.
Guests have the opportunity to participate in a variety of hands-on educational activities, meet area non-profits that share the mission of Earth Day, learn about sustainable products and services offered by local businesses, and shop unique wares from local and global artisans committed to sustainability and fair trade.
This year's event will include three stages of musical entertainment and programming. Other special features this year include free yoga classes all day for both adults and children courtesy of Yoga Buzz, a rock climbing wall provided by Upper Limits, and a Nature's Variety® Instinct® pet adoption area.
---
By Becky Finch, Growing Green
Award Committee Chair
On March 31st, partners and friends of the Missouri Gateway Chapter of the U.S. Green Building Council gathered for the annual Growing Green Awards celebration at the MOTO Museum. Guests spent the evening reflecting on the organization's 15 year anniversary and celebrating the nominees and winners of the 2016 awards. All the nominees and winners were recognized for their contributions to a greener and healthier community – because Green Buildings Are Better! 2016 winners are outstanding individuals and organizations that are actively transforming the built environment and we applaud their efforts.
The Community Champion award went to Forest Park Forever. Over the past 30 years, Forest Park Forever has led the dramatic restoration and maintenance of the region's greatest civic treasure, Forest Park. The Forest Park Forever team has partnered with the City of St. Louis' Department of Parks, Recreation and Forestry on a range of sustainability-minded initiatives, including developing and maintaining 170 acres of Nature Reserve, planting thousands of trees each year, and educating students and teachers about conservation and sustainability.
The City of Maplewood was recognized with the Emerging Leader award. Since the establishment of the City of Maplewood Sustainability Commission, great strides have been made in establishing city-wide sustainability practices that can serve as models for other communities. Maplewood is home to the nation's first Green Dining District, and exceeded the EPA Green Power Community's green power goal by double. The City has proven that collaboration is the key to implementing successful sustainability practices.
Gary Steps of Butterfly Energy Works won the Community Innovator award. Gary has worked with scientists and engineers across the country to introduce physics based energy modeling, independent product testing, and new building technologies into his projects. With the first Zero Net Energy Plus building in the state, Gary led the first modern off-grid and 2nd ZNE+ home in the state and the design of the 3rd ZNE+ home.
The award for Operational Excellence went to Lewis & Clark Community College. In addition to the Godfrey campus, the college founded the National Great Rivers Research and Education Center. The LEED Gold Field Station in Alton is a model of green construction. The building's sustainable features include 54 kilowatts of solar PV, a solar hot water system, wetland filtration and recycling of on- site wastewater, incorporation of river water in laboratories, and an award winning green roof.
---
The St. Louis – Jefferson Solid Waste Management District is a regional agency that was created in 1993 to assist the public, private and nonprofit sectors in establishing and expanding waste reduction and recycling. The District includes the City of St. Louis, St. Louis County, Jefferson County and St. Charles County. For more information visit www.swmd.net or call 314-645-6753.
Medical Equipment Donation Drive
Saturday, May 14, 2016, 9 am – 2 pm
Do you have medical equipment that is not being used? Do you need medical equipment?
Now there is HELP…
Fourteen Designated Walgreen's Sites
For a list of locations, contact St. Louis HELP
at 314-567-4700 or www.stlhelp.org
FRC Recycling Makes 100% Recycled Plastic Lumber
RC Recycling in DeSoto, Missouri has grown significantly over the years to meet the needs of the community and support the local economy. The local drop-off facility is utilized by residents and business throughout Jefferson County as the most convenient method of recycling.
FRC now operates in the old Fountain City Lumber Company. This much larger facility accepts the same basic recyclables as always; plastic, aluminum, cardboard, etc. One significant change is that FRC now manufactures 100% recycled plastic planks. They have been perfecting the process for several years in order to offer the highest quality product.
---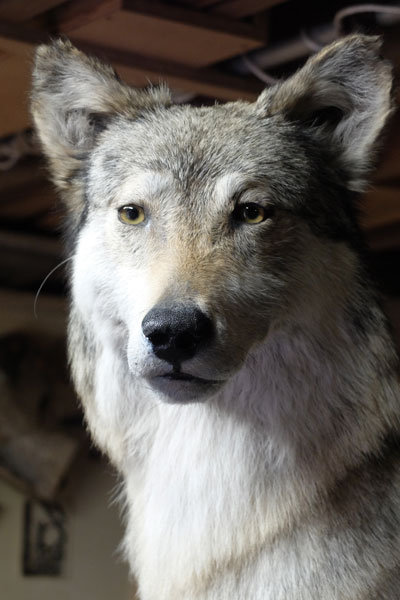 With Jean Ponzi
We have a very special guest in our home. This individual nurtured her kind back from the very brink of extinction.
She's a Mexican gray wolf named Anna.
The humans who work at the Endangered Wolf Center tell Anna's tale. They know it because she lived in their midst, right out in west St. Louis County. They learned from her and loved her – from a distance that respected her wild nature.
Anna was the only pup to survive from the pairing of two legendary wolves.
Santa Ana, her father, was one of the last pure Mexican wolves from the Ghost Ranch lineage. He was recovered after the species was declared extinct in the wild in 1980, making him the most genetically important animal of his species at the time. Her mother was Tanamara, of the McBride lineage. These mates were survivors in a critically endangered, native subspecies of gray wolf, animals whose social packs once thrived by the thousands in territory covering parts of Arizona, New Mexico, Texas and Mexico.
Anna was born on Earth Day, April 22, in 2001. Despite her efforts as a new mother, Tanamara lost two of three pups from this litter – the last sired by 13-year-old Santa Ana, who died later that year. The decision was made to hand-rear the third pup, Anna, knowing how crucial she was to recovery efforts for her species, tagged as the most endangered kind of wolf on Earth.
Little did anyone know just how important Anna would be.
Anna favored her magnificent father in her looks. She no doubt also inherited as much of her alpha instincts and pack leadership skills from her mother.
---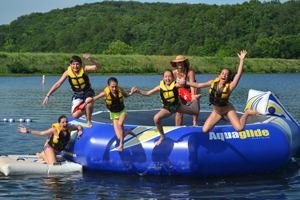 Ackermann's Swim Program
A Sports Facility – Teaching children 4-11 the life skill of swimming and water safety for 65+ years. Family owned and operated at the same location, 1044 Curran Avenue, Kirkwood, MO 63122. Group swim lessons in 4 heated pools with different water levels for progressive safe learning. Enrollment by one or two week sessions. Hours 9:10 a.m. to 2:00 p.m., Monday through Friday. Drop off and Pick up at curb. Well organized program with large playground. Red Cross Certified Teaching Staff. Providing children a non-competitive, safe, teaching environment in which to build confidence and self-esteem. Visit ASPKirkwood.com
Craft Alliance Center of Art + Design
Fun weekly art camps for children and teens, ages 4-18, June 6-August 12. Explore hot glass, pottery wheel, metal jewelry, drawing and painting, textile design, 3-D printing, digital photography, and more. Choose a morning and afternoon camp and spend the whole day being creative! Two locations to choose from – the Delmar Loop and Grand Center. For the 4th year, a two-week collaborative High School Art Camp with Saint Louis University, the Grand Arts Camp, allows students in grades 9-12 to explore 6 mediums at both institutions. Camps are taught by artist instructors and there are Teen Intern opportunities. Before-care and After-care options. Financial aid available, underwritten by the Staenberg Family Foundation. www.craftalliance.org
---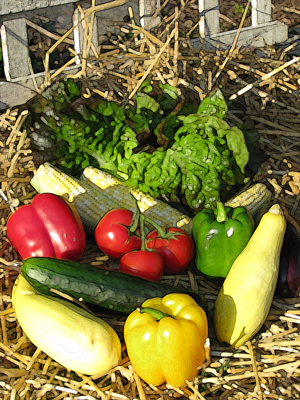 By Crystal Stevens
La Vista CSA Farm
There is a dire need for a shift in the way we source our food. Individuals around the globe are becoming more and more concerned about where their food comes from. Gardens are sprouting up across cities, towns and suburbs. There is a real need for change in our current food system. There are plenty of ways to source local produce, pasture raised meats, farm fresh eggs, and artisan foods. Our region has a plethora of farmers markets, CSA Farms and local grocers to choose from.
CSA-Community Supported Agriculture Farms are an excellent way to incorporate fresh local seasonal produce into the weekly diet. In a CSA Farm, members pay up front to help the small farmer with seed and operating costs. Members receive a share of the seasonal harvest each week during the growing season (typically mid May through October. The premise behind Community Supported Agriculture is that members share in both the risks and the benefits with the farmer; they enjoy the surplus and bounty during the great harvests, but also show patience and understanding when a crop failure occurs due to sometimes uncontrollable factors such as weather, plant disease, swarms of insects or wildlife. Members and their families build a relationship with their farmers and deepen their connection to where their food comes from and how it is grown.
A CSA box averages between $25 and $55 per week and may include vegetables and herbs. Custom boxes may be built to include local cheese, meats, dry goods and value added products.
Supporting localized food systems significantly reduces the carbon foot print by reducing the number of miles that food travels and also circulates funds back into the local economy.
---
Baker Creek Heirloom Seed Company is excited about its biggest festival of the year. The 16th annual Spring Planting Festival at Bakersville Pioneer Village near Mansfield, Missouri, is Sunday and Monday, May 1 and 2. The event that started with a small gathering of gardeners in the year 2000 has grown to 10,000 attendees each of the past 2 years. All come to enjoy a sense of community with fascinating seed collectors, old-time musicians, internationally acclaimed speakers, historic demonstrators, food activists, home schoolers, western re-enactors, organic growers, gourmet chefs, free thinkers, Ozarkian crafters, trendy vendors and herbal hippies.
Baker Creek owner Jere Gettle began hosting festivals to bring gardeners together to share and learn from one another. Learning and sharing are still the major components of the festival. Both days will be filled with presentations from some of the nation's leading experts on GMOs, healthy food, permaculture, heirloom gardening, seed saving, and so much more.
More than 100 vendors display and sell their traditional crafts, food, tools, homesteading supplies, and eco-friendly items. Visitors have opportunities to purchase handmade quilts, garden art, locally made blacksmith tools, essential oils, handmade and homemade clothing, leather goods, and so much more.
Probably the biggest draw of the festival is the food. The village restaurant will be serving healthy vegan lunches, while Debbie will have her world-famous cinnamon rolls and breads available at Baker's Flour Mill bakery. In addition, mobile food units will provide many kinds of foods from vegan to farm-raised meat menus, as well as snacks and drinks.