Article courtesy of the Clean Air Partnership
With the dog days of summer now settling in, the risk of poor air quality conditions is on the rise, as heat, humidity and intense sunlight react with hydrocarbons and nitrogen oxide emissions to create ground-level ozone pollution. With much of the pollution we breathe coming from power plants and the burning coal that's used to produce electricity, the steps we take to conserve energy can play a critical role in helping to improve air quality during the summer – and throughout the year.
As temperatures rise, the following tips can help reduce energy consumption and energy costs, as well as the related emissions resulting from energy use:
Turn up the thermostat – Set the thermostat to 78 degrees while at home and 85 degrees when outside the home, and utilize ceiling fans to help cool rooms while at home.
Install a programmable thermostat.
Use appliances wisely – Wash clothes in warm or cold water; line dry clothes whenever possible; run full dryer loads; run the dishwasher only when fully loaded and utilize the microwave for cooking, as it uses 2/3 less energy than a stove.
Replace air conditioner filters – Dry filters restrict airflow and cause the system to run longer.
Weather-strip, seal and caulk leaky doors and windows.
Seal ductwork – Leaking ductwork accounts for 25 percent of cooling costs in an average home.
Plant shade trees, shrubs and grasses around your home to reduce air conditioner use.
Pull down window shades to minimize heat or cold transfer.
Turn off appliances and lights not in use.
Utilize the energy-saving mode on office equipment.
Activate the power management features on computers, unplug power cords when not in use and/or use a power strip that can be turned off.
---
By Crystal Stevens
Eating locally is a vitally important way each of us can contribute to a more sustainable community and food shed. Based on the Permaculture Zone Principles, charted in a bull's eye pattern, each circle represents sustainable ways to access food in our own communities. According to these principles, it is best to grow our own food in our own backyard first. What we can't grow ourselves, we can acquire at local community gardens and small farms or by supporting local farmers markets. We can then support area businesses which are purveyors of local foods. Finally, only when we simply have utilized all of our local resources, then we visit the chain supermarket to complete our food needs. This mindset offers a creative insight into how our thoughts about food need to shift a little in order to truly be invested in the local foods movement.
To support local farmers means that you are actually helping a farmer and his family to survive. Perhaps you are helping to pay the operating costs of his farming operation; maybe you are helping their children go to college; perhaps your money is buying seeds. Whatever the case may be, knowing that you are supporting the livelihood of an honest hardworking entrepreneur is more satisfying and more human than lining the pockets of CEO's of major corporations. The support of farmers first shows the dedication to immediate community. This act of supporting local is actually helping to strengthen the economy within a specific radius. Also, Young farm families are true stewards of the earth. They care about the soil, the air and the water.
Ways to help support small family farms:
1) Join a CSA Farm
CSA Farms (Community Supported Agriculture Farms) operate as a subscription farm. Shareholders or members pay up front to help the small farmer with seed and operating costs. Members then receive a weekly share of the seasonal harvest grown throughout an allotted period of time, typically 26 weeks. The shareholders share in both the risks and the benefits with the farmer.
La Vista CSA Farm
Riverbend Roots Farm
Three Rivers Community Farm
---
With Jean Ponzi
Honoring Cindy Gilberg: A Champion of Native Plants
This spring, the Deer Creek Watershed Alliance recognized with an award the extraordinary contributions of one woman, Cindy Gilberg, to a movement that is powerfully changing how people across St. Louis relate to nature, through native plants.
The award was presented by Rick Holton, Deer Creek Alliance Chairman, and Dr. Peter Wyse Jackson, President of the Missouri Botanical Garden.
Her work over more than 35 years has cultivated appreciative use of these hardy, hard-working, versatile plant groups among her fellow horticulturists, homeowners, and conservation experts. As a speaker and teacher about landscaping with natives, Cindy has motivated thousands in our region and beyond to welcome natives into their garden plans.
Cindy's talent for garden design flourishes along every fabulous path of the Whitmire Wildflower Garden at Shaw Nature Reserve. In this public education and recreation setting, the capable characteristics of native and adapted plants are showcased beautifully. Gifted also as a writer, in 2010 she shared her love for the history of this natural wonder as co-author with her mother, popular gardening authority Barbara Perry Lawton, of a book celebrating Shaw Nature Reserve's 85 years.
But it was not enough for Cindy to work with native plants herself. For nearly three decades she and her husband Doug provided them as co-owners of Gilberg Perennial Farms. St. Louis gardens are more attractive, with less maintenance, and are much more hospitable to birds, butterflies, amphibians and other species thanks to Cindy's early leadership in growing and selling natives.
As a major contributor to the expert team that recently developed a body of RainScaping resources, Cindy helped mainstream these options. Her experience ground-truthed these practical strategies, anchored by native plants, to conserve water, save money, and assist public agencies. The detailed results are available online for free at www.mobot.org/RainScaping. These efforts all support a local incentive program, RainScaping Rebates, that is helping St. Louis property owners invest in the kinds of "green infrastructure" projects essential for our region to deal with rainfall extremes due to climate change, plus water quality and biodiversity issues.
Read More…
---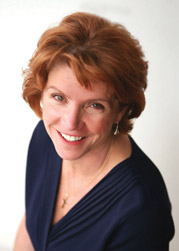 By Amy Davis, M.D.
Food intolerance is different from true food allergies. It is delayed in its onset and is less serious (not life threatening) but can be very annoying just the same. The symptoms are a result of a delayed immune response which occurs gradually 1-24 hours after eating.
If you have food intolerance, you may be able to eat small amounts of the offending food without trouble. You may also be able to take steps that help prevent a reaction. For example, if you have lactose intolerance, you may be able to drink lactose-free milk or take lactase enzyme pills that aid digestion.
Food intolerance may be caused by a variety of reasons.
Poor Digestion from low levels of digestive enzymes – e.g. lactose intolerance
Dysbiosis – lack of healthy gut bacteria
Altered stomach pH
Low bile production – intolerance to fatty foods
True intolerance – like gluten or casein including a more severe form of gluten intolerance – Celiac disease
Sensitivity to food additives – dyes, MSG, sweeteners, preservatives
High stress
Understanding the cause of the food intolerance gives guidance to how you can best manage and treat them. Identifying them is the first step. We routinely do this at Crossing Back to Health with the help of the Zyto evaluation. We can also test for antibodies (IgG) to the various foods that may be impacting you.
---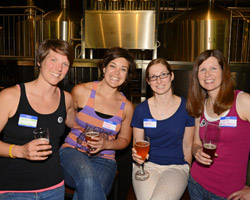 It's Not Just A Boy's Club Anymore!
By Maureen Zegel
Craft beer drinkers will cite their epiphany moment, the instant they tasted their "forever" beer – a hoppy IPA, a smooth wheat beer maybe it was a hearty stout. For most of us, it changed our drinking and buying habits. For others, it changed their life.
"I was hiking in Arizona with a friend and she handed me an O'Dell's St. Lupulin," said Cat Golden, who was a high school English literature teacher at the time. "I grew up in a beer-drinking family. But this was unlike any experience I've ever had. From then on, I only wanted to drink beers that tasted that good."
It wasn't long before she decided, "I want to make beer."
So Golden quit her job, moved to Missouri and lived on her savings for a year to learn the craft beer business at O'Fallon Brewery in St. Charles, Missouri.
"I wanted to learn every aspect of the process," Golden said. "It was part insanity, part passion, but at the end of the year, they hired me."
Today, she is a brewer and manager of production operations at O'Fallon Brewery, one of a small but growing number of women brewers in the U.S. and an even faster growing number of women in the business and consumer end of craft beer.
Just ask the women of Femme Ferment, a St. Louis organization celebrating the role women play in the industry.
"We moved out to cow country last February and I missed drinking beer with my friends in St. Louis," said Libby Brown, of Second Shift Brewery and one of the founders of Femme Ferment. "Five of us met and we talked mostly beer for four hours. We are all involved in the industry in some way. We kept asking ourselves, 'Do we really need a women's group?'"
The answer was yes.
"We wanted to establish an organization and celebrate the role of women in the craft beer business," said Katie Herrera, club president and manager of I-Tap in Soulard. "We deserve a voice, not only here in St. Louis, but nationally. It's not just a boys' club anymore."