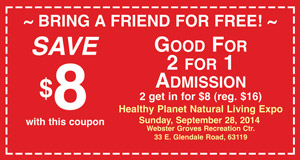 Enjoy the first weekend of Autumn as The Healthy Planet, St. Louis' Green & Natural Living magazine, hosts its 28th Natural Living Expo Sunday, September 28, 10:00 a.m. to 4:00 p.m. at the Webster Groves Recreation Center, 33 East Glendale Road (I-44 at Elm Avenue) in Webster Groves.
This popular event will include more than 50 exhibit booths offering a variety of eco-friendly, healthy and natural products, services and information. There will be numerous food and product samples to enjoy including craft beer by Urban Chestnut and wine tastings by Edg-Clif Farms & Vineyard. Live music will be provided by guitarist Carol Eder and harpist Terri Langerak. Eco-Friendly businesses and organizations will be on hand to show you how you can live a "greener" and sustainable life at home, in your yard, garden, and your community. Get a free health screening, a chair massage, and learn more about living a healthier life for yourself and your family.
"We have been hosting these expos for more than 17 years," said J.B. Lester, Publisher of The Healthy Planet magazine. "Each one has its own great energy and the crowds are always large and enthusiastic. I think people are very interested in finding the resources they need to live greener and healthier lives, and this is the place to do just that. Not to mention all the great samples and giveaways at the expo. Between the free chair massages, free health screenings, food and beverage samples and other giveaways, our visitors go home feeling like they really got their money's worth!"
The first 500 paid visitors will take home a complimentary eco-friendly, reusable tote bag courtesy of Dierbergs, Schnucks & Whole Foods Markets. Chipotle is offering 500 free food cards to expo visitors throughout the day. You can also meet TreeToons artist Phil Berwick in person!
The Healthy Planet Natural Living Expo has something for everyone. Enter a free drawing for a family weekend at Trout Lodge YMCA of the Ozarks ($600 value), or Amtrak train Tickets. If you are interested in living a healthier and "green" life, then don't miss this event! The first 100 paid visitors receive FREE passes to Missouri Botanical Garden, too!
---
The St. Louis Rams are greening our operations, from recycling and waste reduction to energy efficiency and the use of recycled materials. Since our participation in the NFL's first carbon neutral game in 2005 against the Philadelphia Eagles, we have been committed to establishing and growing our Green Platform with the intention of identifying authentic opportunities to reduce our carbon footprint.
We currently facilitate and promote single-stream recycling during all Rams home games on our Concourse and Terrace levels, in all of our suites, in the Bud Light Party Zone and at additional key points of entry/exit. In 2008, we began printing our game tickets on recycled paper stock. Beginning in 2012, we offset 100% of the electricity used during all of our home games at the Edward Jones Dome. We also offset 100% of our team travel to and from all away games with carbon offsets.
Similar to our success at the Edward Jones Dome, we have implemented a recycling program at Rams Park, home of the St. Louis Rams. We have encouraged our staff to recycle paper and plastic by offering personal receptacles for office/cubicle use.
We are committed to reducing our energy and waste throughout the season and are Pure Power Gold Certified through Ameren Missouri Pure Power. This means that we will help prevent the release of approximately 342,000 pounds of carbon dioxide from entering the atmosphere, which is equal to taking 30 cars off the road for a year.
---
By Jane I. Sueme
Isabee's Beekeeping Supplies
Nectar of the Gods, Sweetness and Light, Liquid Gold –
call it what you like, local honey is here!
When it comes to honey, what is local? For purposes of supporting the local food community, local can mean your neighborhood, town, regional or even national if it's harvested and packaged within that area. Honey that is harvested in small batches, lightly filtered without pasteurization is local. Honey harvested by season, bee yard or hive and segregated by nectar source is both local and varietal. If you are looking for the beneficial health properties of honey, local is generally within a 25-mile range. Plant pollens from trees and native plants that contribute to seasonal allergies will be common within that given area.
By comparison, honey found on the typical American grocery shelf is packed by just a few national companies with honey imported from any number of foreign suppliers. As much as 80% of the commercial honey sold in the U.S. comes from China, India, Mexico, Argentina and Canada. Blended honey from multiple suppliers, packaged on a large scale results in a consistently colored and consistently tasting honey you find at the chain stores. Some of which is, as you may have read in the news, already modified or extended with other sweeteners before it reaches the United States.
Local is 100% Pure. Local beekeepers may lightly strain their honey to remove beeswax and other impurities, but do not apply heat high enough to kill bacteria or damage any of the micronutrients. Raw honey can range from lightly-filtered to a product of crushed honeycomb, forced through a course strainer, usually resulting in an opaque, waxy honey.
Look for seasonal differences in local honey, as indicated by color – spring honey is usually light, summer is amber, and fall nectar sources produce a darker honey. If the nectar sources are exclusively one plant within the honeybee forage range, than it is considered single source honey and can be identified by its source. Some common single source honeys in the U.S. are clover, basswood, tupelo, buckwheat and fireweed. As beekeepers and farmers work together to provide additional bee forage, we may see more singles source honey from our area… maybe lavender?
---
By Crystal Stevens
La Vista Farm in Godfrey IL will be hosting their 2nd Annual Farm Dinner Fundraiser Sept. 13, 4 to 7 pm. The theme for this year's Seed to Table feast is Global Fusion. The dinner will be prepared by the farmers themselves, truly making it a unique field to plate dining experience.
Join fellow foodies for Hors de oeuvres on the terrace overlooking the beautiful Mississippi River. Then move inside the spacious dining room for a 4 course dinner featuring cherry wood smoked Chicken Salad and Korean BBQ Beef from Live Springs Farm, Moroccan Roasted Seasonal Vegetables, Heirloom Tomato Caprese Salad, Artisan bread and fresh herb butter, French Chocolate Cake, Hand crafted Baklava, Spiced Calendula Carrot Cake and much more. Vegetarian options are available. Visit www.lavistacsa.org to purchase tickets. Tickets are $40 per person or $75 per pair. Bring your own bottle of wine to enjoy with dinner.
---
By Dr. Vera Gabliani, Clinical Psychologist
The majority of parents I encounter worry about their child's self esteem and ability to cope with the stresses of life. Well-intentioned parents believe they need to protect their child from making mistakes and experiencing failures or disappointments in order to build their self esteem. So, when a difficult situation arises, they will typically problem solve for their child, overly reassure their child, or praise their child while trying to talk only about the positive.
Interesting research by Dr. Marty Seligman, a psychologist, suggests that children need to experience failures and difficult life experiences, in order to become resilient. The key is in the handling of these mistakes, inevitable disappointments, and painful life experiences.
A developmental task your child faces in these situations is learning to evaluate herself realistically, to persevere, and to move through these challenges while maintaining and further developing a sense of her own power and self worth. Our task as adults is to empathize with the discomfort associated with this learning process while teaching how to manage these painful emotions and thoughts constructively.
---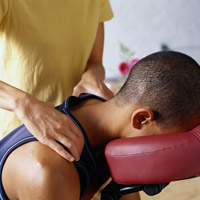 With so much interest in healthy lifestyles today, there are many avenues someone who would like to enter this field could pursue professionally. Missouri College offers several programs focused on healthcare and wellness careers as well as other fields.
Whether you're looking for hands-on involvement in caring for patients' healthcare needs or in work that supports those needs in an office setting, Missouri College can help you develop the essential skills and knowledge you need to get started.
Their programs put you in settings that simulate real world environments to help you experience what the workplace is really like. And you can learn from instructors who specialize in what they teach – including many practicing professionals.
Areas that are especially relevant for those who want to focus on wellness are the school's Massage Therapy, Fitness Training, and Occupational Therapy Assistant programs. They not only teach the range of techniques and skills needed to do the job but also help prepare you to work one-on-one with people, assessing their needs and adapting your therapies to the individual. This requires empathy, good listening skills, and confidence in your judgment and abilities – all qualities Missouri College can help you acquire through hands-on learning activities, clinical experience, and supportive, knowledgeable instructors.