---
The second annual Taste of Vegan Festival is happening here in St. Louis on Saturday, June 8, 2019 at the City of Ferguson Community Center (1050 Smith Ave. Saint Louis, MO 63135) from 10am to 6pm. Get ready for a day filled with FUN, ENLIGHTENMENT and most importantly FOOD! If you've never tasted good vegan food, in the words of Kevin Hart, "you gonna learn today"!! We want people to see that plant based food can be delicious and nutritious without containing harmful ingredients.
With this exciting, free, family friendly event we intend to give our neighbors and families the necessary tools and information to take back the responsibility of our communities' wellness and life. Speakers will discuss the steps needed to take control of our health and to understand the impact of diet on our mental and physical wellness. A variety of vendors will provide tasty nutritious options, along with other healthy and health sustaining products. We will also have a kids' corner, a variety of performances, food demonstrations, Zumba, yoga, and more!!
---
The St. Louis Water Gardening Society will present its 19th annual water garden and pond tour, Pond-O-Rama, Saturday, June 22 and Sunday, June 23 from 9 a.m. to 5 p.m. each day. The 2019 tour will have over 20 private gardens owned and maintained by Society members. Tickets covering both days of the tour are $15 each and are available early May at retail shops and garden centers throughout the metropolitan area. Everyone on the tour over age 18 requires a separate ticket.
The gardens are located throughout the St. Louis metropolitan area, including in Illinois. This self-guided tour is arranged each day by geographic location. This year many of our water features are "over the top". This year many of our members are new on Pond-O-Rama and excited to share their new ponds and waterfalls.
A 15-year-old young man built a huge pond himself, inspired by his grandfather that will be on tour. The water features range from spectacular high, thundering waterfalls to quiet streams. Many of our members have new water gardens to share, and many have enhanced their current ponds and gardens into outdoor rooms and quaint woodland spaces. This year you will see some very unique and creative designs in waterfalls and ponds, gorgeous koi fish, and fantastic gardens. A few gardens this year will also be on tour for the Master Gardeners tour, and one is featured in St Louis Home and Lifestyle Magazine in the April 2019 issue.
---
The Sustainable Backyard Tour, held each year in June, is becoming a much-anticipated event heralding summer in St. Louis.
A unique opportunity to see firsthand how homeowners in the St. Louis region are transforming their yards into heavenly havens of green, the tour is June 23, from 11 to 4 p.m. With dozens of stops in municipalities and neighborhoods throughout the region, this year's tour will showcase a range of green living practices, including low-impact lawn care, composting and using recycled materials creatively, organic gardening, chicken and beekeeping, gardening with native plants, cultivating mushrooms, fruit and nut trees, as well as rainwater conservation, pesticide and herbicide reduction, renewable energy production and backyard habitat creation.
"This free, self-guided tour opens the gates to private yards and gardens so that attendees can ask and learn, pick up new ideas, and share inspiration," says Terry Winkelmann, Founding Director of The Sustainable Backyard Network, the tour's producer. Tour goers design their own routes, choosing the listings nearest their own home or their own interests. Map booklets will be available at area businesses in June.
---
---
---
By Dan Zarlenga, Missouri Department of Conservation
Many people consider the month of June the start of summer. Among the many pleasures the warm season brings is a flurry of butterflies. We all admire these graceful, colorful insects, but with butterflies the beauty is more than scale-deep. There are some fascinating facts hidden under those flashy wings!
Butterflies are anything but delicate… they can be pretty tough. Did you know that some of them fly thousands of miles? The monarch butterfly, for instance, makes an amazing migration from the U.S. to one specific roosting area in Mexico. Their path takes them through Missouri each year.
To fuel all that activity, butterflies need plenty of food. They eat with a feeding tube called a proboscis. The proboscis unfurls like a tiny whip to slurp up food, then coils back up again when the butterfly is finished eating. Butterflies feed mostly on flower nectar, but some species get nourishment from tree sap, decaying fruit, and in some cases, even decaying animals.
---
By Kateri Meyer/Traveling Tea
When I founded Traveling Tea more than 10 years ago, I hoped some day I would visit farms and meet the hard working people who create fantastic teas. I met Rajen Baruah in 2016 at World Tea Expo when he received an award for helping small farmers find voice and opportunity in the world of commodity tea. My heart was touched as he spoke about helping small farming families craft better tea, and giving them an outlet to sell at sustainable prices. I resolved to use more Heritage teas, and reworked my popular iced tea blend to use leaf from his growers. It is my top selling tea and on the menu at a number of cafes.
In March my dream came true when I traveled to Rajen's home and factory in Assam India. Heritage Tea Farms is a group of small householder tea farmers, with relationships and good practices cultivated by Rajen for the ultimate purpose of giving back – to the planet, and the Spirit of Tea, which has provided for his family. Due to climate change and aging tea gardens it is becoming challenging to earn sustainable income based on old factory methods.
---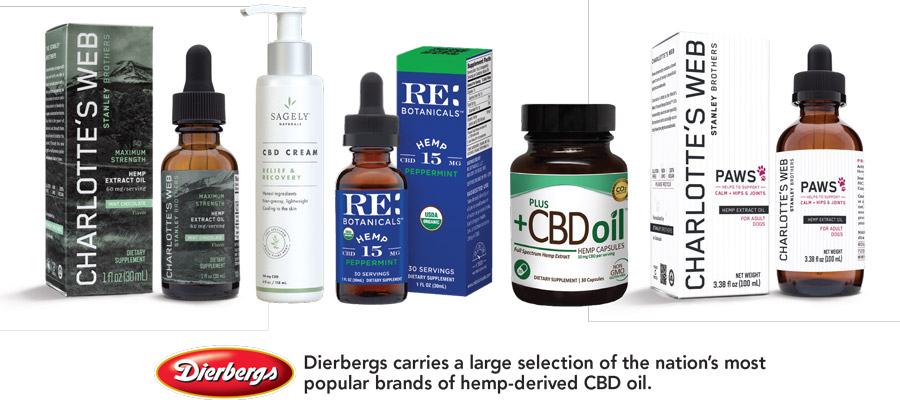 On June 3, 2019 Dierbergs Markets announced that hemp-derived CBD Oil products are now available at all 25 Dierbergs locations.
CBD, short for Cannabidiol, is one of 100-plus naturally occurring phyto-cannabinoids found in hemp and all cannabis plant strains. While scientific research on its medicinal qualities is still in its infancy, there is mounting consumer interest in CBD as an alternative care option.
Dierbergs started rolling out the products in the spring and now carries items from leading national brands including Charlotte's Web, Plus CBD Oil, RE Botanicals and Sagely Naturals.
"Customers were asking for CBD Oil," said Ron Edelen, Dierbergs Non-Foods category manager. "The interest was significant enough that we felt it was time to bring the product in. Now we hear from customers who appreciate its availability in our stores."
---