---
Saturday, June 4th, 9am–4pm. Bringing Sustainability Home — For All Ages!
By Jean Ponzi
The 15th annual Green Homes Festival returns to the Missouri Botanical Garden on Saturday, June 4 from 9 a.m. to 4 p.m. Visitors will discover affordable, practical options for sustainable living combined with positive ways to maintain personal well-being and a healthy planet.
This popular event fills the blooming walkways around the William T. Kemper Center for Home Gardening, highlighting the connections between plant-based green-living ideas and solutions to energy, water and waste issues. Festival attendees completing an event "passport" by visiting all exhibit areas will get a free gift!
Presented by Ameren Missouri and sponsored by many local partners, this festival showcases the region's leading businesses and organizations focused on Greening at home. You can talk one-on-one with experts about your project ideas to protect the environment while conserving household budgets.
More than 40 sustainability-themed exhibits and demonstrations will offer information about solar, wind, geothermal and other renewable energy systems; energy efficient lighting and appliances; cool roof retro-fits; efficient windows, insulation and weatherization. Explore options in heating and cooling systems; green home building materials and methods; home energy auditing; non-toxic home cleaning and decorating products; reducing waste by recycling, composting, and creatively "Upcycling."
Ameren Missouri, the Green Homes Festival presenting sponsor, will showcase a variety of energy efficiency programs that help homeowners and businesses reduce their energy costs and get cash back.
---
Bark in the Park has been Raising Dollars for Dogs for more than 20 years! The Humane Society of Missouri's largest fundraising event, Bark in the Park is a 5K Run, One-Mile Walk and Pet Festival benefitting HSMO's Animal Cruelty Fund. Register as an individual, form or join a "Pack" and raise dollars by asking friends, family and co-workers to sponsor you and help you achieve your fundraising goal. Then on May 21 gather your Pack and come to Cricket Field in Forest Park to run, walk or just enjoy the festivities at the Midwest's largest pet festival, with more than 5,000 people and their dogs attending each year.
Dollars raised through Bark in the Park help to provide second chances to animals who have suffered severe abuse and/or neglect. Sometimes living in deplorable conditions with no access to food, water or shelter, these animals are rescued by the Animal Cruelty Task Force and brought back to the Humane Society for treatment, rehabilitation, socialization and finally adoption into "fur"ever homes.
Saturday, May 21
8am to 1pm
5K Run at 9am – One-Mile Walk at 10am
Cricket Field, Forest Park
Register online at www.hsmo.org/bark
Registration Fee: $40
Kids 12 and under are free
---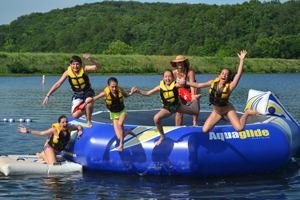 Ackermann's Swim Program
A Sports Facility – Teaching children 4-11 the life skill of swimming and water safety for 65+ years. Family owned and operated at the same location, 1044 Curran Avenue, Kirkwood, MO 63122. Group swim lessons in 4 heated pools with different water levels for progressive safe learning. Enrollment by one or two week sessions. Hours 9:10 a.m. to 2:00 p.m., Monday through Friday. Drop off and Pick up at curb. Well organized program with large playground. Red Cross Certified Teaching Staff. Providing children a non-competitive, safe, teaching environment in which to build confidence and self-esteem. Visit ASPKirkwood.com
Craft Alliance Center of Art + Design
Fun weekly art camps for children and teens, ages 4-18, June 6-August 12. Explore hot glass, pottery wheel, metal jewelry, drawing and painting, textile design, 3-D printing, digital photography, and more. Choose a morning and afternoon camp and spend the whole day being creative! Two locations to choose from – the Delmar Loop and Grand Center. For the 4th year, a two-week collaborative High School Art Camp with Saint Louis University, the Grand Arts Camp, allows students in grades 9-12 to explore 6 mediums at both institutions. Camps are taught by artist instructors and there are Teen Intern opportunities. Before-care and After-care options. Financial aid available, underwritten by the Staenberg Family Foundation. www.craftalliance.org
---
By Crystal Stevens
The benefits of eating with the seasons are profound and can truly make a difference in your health, for the environment, for the lives of small family farmers, for the community and for the greater good. When you support local farmers, you are supporting their livelihood; you are supporting their family, you are offering them a fighting chance. You are reducing the food miles and in turn reducing your own carbon footprint! Local farmers often use environmentally friendly growing methods such as cover cropping, crop rotation, companion planting, composting, soil amendments, and more. When you support a local farmer, you can rest assured that you and your family are eating clean. You are helping to circulate funds back into the local economy. Eating with the seasons is crucial for the future of the planet. The importance of eating local is crucial to the future of food. With the rise in health and environmental concerns due to toxic pesticides, monoculture, and the many miles food travels, we are in dire need of a shift in the way humans hold reverence for food. Now more than ever, people are becoming genuinely concerned about what they are putting in their bodies.
One way to make a difference in our daily lives is to support local farmers, local grocers, local chefs and local makers of artisan foods.
---
By Phyllis Thorpe
"Living in Harmony with Nature" is a topic which has great appeal to HEALTHY PLANET readers. This is the theme of a retreat at Rockhaven Ecozoic Center this Memorial Day weekend May 27-29. It will be led by David Lorimer, whose book PROPHET FOR OUR TIMES introduces a spiritual teaching, preserved throughout years of persecution in communist Bulgaria, which combines universal principles of love, wisdom, and truth with methods, both spiritual and practical, that support us in increasing our capacity to live in peace, productivity, and harmony within ourselves, with others, with all of "living nature."
The PROPHET who gave these vast teachings was Peter Deunov (1864-1944). Deunov led his followers into the high mountains where only robbers hid. Now more than a thousand followers gather there in August, living "as sisters and brothers" in the high camp, receiving inspiration and healing energy in these sacred mountains.
There, in the Seven Lakes region of the Rila Mountains, I met David Lorimer twenty years ago. His book had fallen out of print years later, when I received a call from my friend Phillip, a professional ballet dancer whose parents I had met in Rila. "Wayne Dyer is coming to St. Louis tonight. We have to go see him!" There I presented Dr. Dyer with David's book, along with this quote, attributed to Albert Einstein: "The whole world bows before me; I bow before the Master Peter Deunov of Bulgaria." Dr. Dyer read the book, applied the teaching of love in his life, and acknowledged it in his last public lectures. He arranged for the book to be republished last year, then passed away one week before its release.
---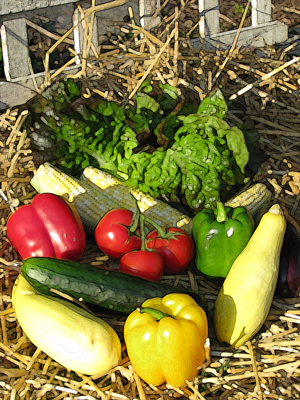 By Crystal Stevens
La Vista CSA Farm
There is a dire need for a shift in the way we source our food. Individuals around the globe are becoming more and more concerned about where their food comes from. Gardens are sprouting up across cities, towns and suburbs. There is a real need for change in our current food system. There are plenty of ways to source local produce, pasture raised meats, farm fresh eggs, and artisan foods. Our region has a plethora of farmers markets, CSA Farms and local grocers to choose from.
CSA-Community Supported Agriculture Farms are an excellent way to incorporate fresh local seasonal produce into the weekly diet. In a CSA Farm, members pay up front to help the small farmer with seed and operating costs. Members receive a share of the seasonal harvest each week during the growing season (typically mid May through October. The premise behind Community Supported Agriculture is that members share in both the risks and the benefits with the farmer; they enjoy the surplus and bounty during the great harvests, but also show patience and understanding when a crop failure occurs due to sometimes uncontrollable factors such as weather, plant disease, swarms of insects or wildlife. Members and their families build a relationship with their farmers and deepen their connection to where their food comes from and how it is grown.
A CSA box averages between $25 and $55 per week and may include vegetables and herbs. Custom boxes may be built to include local cheese, meats, dry goods and value added products.
Supporting localized food systems significantly reduces the carbon foot print by reducing the number of miles that food travels and also circulates funds back into the local economy.
---
Baker Creek Heirloom Seed Company is excited about its biggest festival of the year. The 16th annual Spring Planting Festival at Bakersville Pioneer Village near Mansfield, Missouri, is Sunday and Monday, May 1 and 2. The event that started with a small gathering of gardeners in the year 2000 has grown to 10,000 attendees each of the past 2 years. All come to enjoy a sense of community with fascinating seed collectors, old-time musicians, internationally acclaimed speakers, historic demonstrators, food activists, home schoolers, western re-enactors, organic growers, gourmet chefs, free thinkers, Ozarkian crafters, trendy vendors and herbal hippies.
Baker Creek owner Jere Gettle began hosting festivals to bring gardeners together to share and learn from one another. Learning and sharing are still the major components of the festival. Both days will be filled with presentations from some of the nation's leading experts on GMOs, healthy food, permaculture, heirloom gardening, seed saving, and so much more.
More than 100 vendors display and sell their traditional crafts, food, tools, homesteading supplies, and eco-friendly items. Visitors have opportunities to purchase handmade quilts, garden art, locally made blacksmith tools, essential oils, handmade and homemade clothing, leather goods, and so much more.
Probably the biggest draw of the festival is the food. The village restaurant will be serving healthy vegan lunches, while Debbie will have her world-famous cinnamon rolls and breads available at Baker's Flour Mill bakery. In addition, mobile food units will provide many kinds of foods from vegan to farm-raised meat menus, as well as snacks and drinks.