---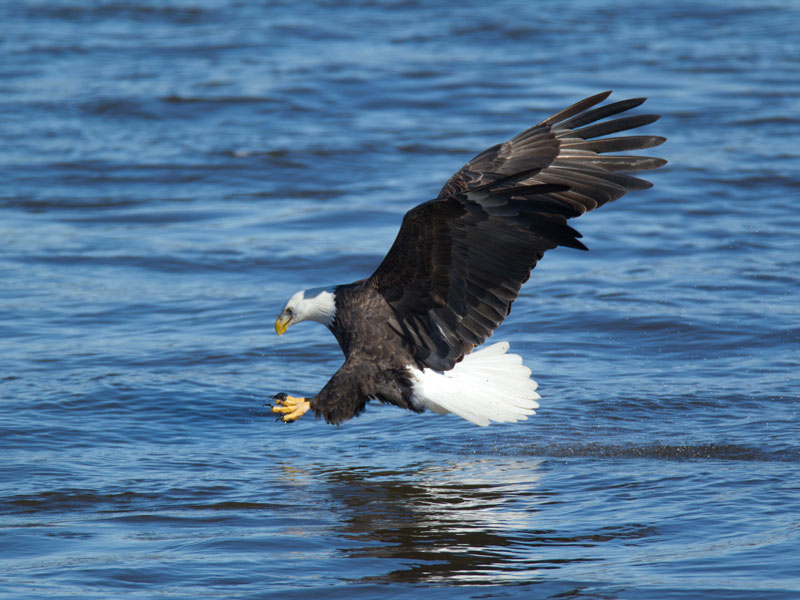 Visitors can discover our national bird in the wild and up close at this free eagle viewing festival.
Few words can describe the thrill of seeing America's national symbol soaring through the air in the wild, or close enough to touch.
The Missouri Department of Conservation (MDC) and its partners offer the chance to discover a close connection with the bald eagle. The Eagle Days at the Old Chain of Rocks Bridge Festival takes place from 9 a.m.-3 p.m. Saturday and Sunday, Jan. 18-19, 2020.
Visitors can view eagles through spotting scopes staffed by trained volunteers at any time from the vantage point of the historic Old Chain of Rocks Bridge. The bridge is part of the Mississippi Greenway, also known as the Riverfront Trail.
---
---
By Ian Wahl, founder and medical director of St. Louis Allergy Relief Center
As the seasons change and the cold sets in, we are often stuck indoors for most of the day. Although it may seem that winter arrives with his own set of allergens, some of the most common allergy triggers are the same throughout the summer and spring. Mold, dust and dander (and food allergies) don't go away in the winter months; in some cases, they become intensified. So, if you suffer from itchy eyes and runny noses in the spring, prepare yourself for the sneezing and wheezing of the winter. With windows closed and heat blazing, your winter home becomes the perfect environment to flare up your allergies. Don't worry, you're not alone: about twenty percent of Americans will experience some indoor allergy symptoms this winter. While your common outdoor allergens may have left for now, your indoor allergy triggers are about to increase.
Mold Allergens
Whether you know it or not, we breathe in mold daily. The only reason it goes unnoticed is because mold only affects those who have an allergy or sensitivity to it. From late winter to early spring, the outdoor conditions are ideal for mold. Though it may seem worse during the fall and winter, mold is present year-round. As winter comes, the rotting leaves that autumn has left behind and the moisture in the ground creates the perfect breeding ground for mold and mildew.
---
By Paul MacFarlane and Bill Grivna
You've probably seen people practicing T'ai Chi on TV, in a movie, or even locally, in a park or at the botanical garden. You know it's a slow moving, graceful exercise that is supposed to be beneficial. You may have heard that at advanced levels it is a formidable martial art based on relaxation, yielding, and using an opponent's energy against himself. But what do you really know about the many health benefits that can be gained from this wonderful, relaxing exercise system?
T'ai Chi, when practiced regularly, has been said to improve relaxation, concentration, coordination, flexibility, postural alignment, and both physical and mental balance or centering. T'ai Chi is a weight bearing exercise, and recent studies show that weight bearing exercises improve brain health. If some or all of this sounds intriguing to you, then we'd like to introduce you to the St. Louis T'ai Chi Ch'uan Association, a not-for-profit organization has been offering classes in the art of T'ai Chi Ch'uan since 1979.
---
Registration Now Open For Exhibitors
The Healthy Planet magazine invites everyone to come celebrate Spring at its 39th Natural Living Expo, Sunday, March 29, 10 am to 4 pm, at the Webster Groves Recreation Center in Webster Groves. The first 400 visitors to the expo will receive a free reusable tote bag. There will be numerous food and beverage samples including craft beer and wine tasting. Guests will also be able to get free health screenings, information and green products for your home and garden, your family and even your pets. Enjoy live music and enter a drawing for a $600 family weekend certificate to Trout Lodge YMCA of the Ozarks. Learn more about meditation, chiropractic, green home cleaning, organic beds, yard and garden compost and mulch, nutrition, non-toxic personal care products, essential oils, green energy, biking and hiking trails, organic produce, animal rights, energy healing, fitness, biomats, portable saunas, stem cell therapy, essential and CBD oils. Adult admission is $8.00. Children under 16 are free. Two-for-one tickets can be found inside the February and March editions of The Healthy Planet magazine and at Thehealthyplanet.com beginning in February, 2020.
---
By Jan Herzog,
Now is a perfect time to start yoga or come back to yoga.
Research suggests that yoga may help improve general wellness by relieving stress, and improving mental/emotional health, sleep, and balance. Yoga is also shown to relieve low-back pain and neck pain. The majority of adults who practiced yoga said that it helped in these wellness-related ways: 86% said it reduced stress, 82% said it improved overall health and made them feel better.
People of all ages, sizes and physical abilities can start yoga with the right class and teacher. Yoga class generally includes movement, forms called poses or postures, breathing, relaxation and meditation. Some styles of yoga have more movement and some are less active. Some have a combination. Yoga also can involve chairs, blankets, blocks and straps (called props) to support various needs and abilities. In some classes you can keep your shoes on and stay off the floor. In private and therapeutic yoga sessions the teacher creates an individualized practice to assist the client's goals.