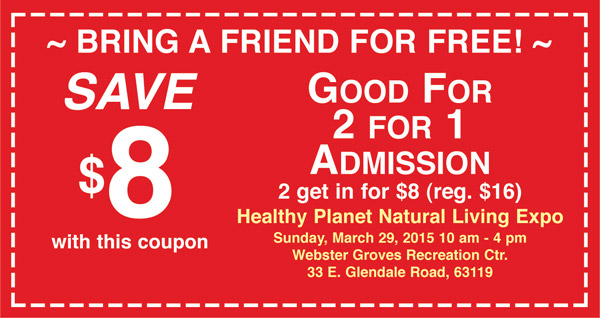 Enjoy the beginning of Spring as The Healthy Planet, St. Louis' Green & Healthy Living magazine, hosts its 29th Natural Living Expo Sunday, March 29, 10:00 a.m. to 4:00 p.m. at the Webster Groves Recreation Center, 33 East Glendale Road (I-44 at Elm Avenue) in Webster Groves.
This popular event will include more than 55 exhibit booths offering a variety of eco-friendly, healthy and natural products, services and information. There will be numerous food and product samples to enjoy including craft beer tasting by Schlafly and wine tasting by Edg-Clif Farms and Vineyard. Get a free health screening, a chair massage, and learn more about living a healthier life for yourself and your family. Eco-Friendly businesses and organizations will be on hand to show you how you can live a "greener" and more sustainable life at home, in your yard, garden, and your community.
"We have been hosting these expos for more than 17 years," said J.B. Lester, Publisher of The Healthy Planet magazine. "Each one has its own great energy and the crowds are always large and enthusiastic. I think people are very interested in finding the resources they need to live greener and healthier lives and this is the place to do just that. Not to mention all the great samples and giveaways at the expo. Between the free chair massages, free health screenings, food and beverage samples and reusable tote bags, our visitors go home feeling like they really got their money's worth!"
---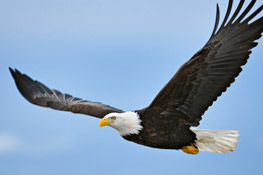 Join wildlife watchers around the state to view our nation's symbol in action.
Through February, Missouri's winter eagle watching is spectacular. Discover nature with the Missouri Department of Conservation (MDC) through Eagle Days events around the state, or enjoy eagle-viewing on your own.
Because of its big rivers, many lakes and expansive wetlands, Missouri is one of the leading lower 48 states for bald eagle viewing. Each fall, thousands of these great birds migrate south from their nesting range in Canada and the Great Lakes states to hunt in the Show-Me State. Eagles take up residence wherever they find open water and plentiful food. More than 2,000 bald eagles are typically reported in Missouri during winter.
MDC offers Eagle Days events on the dates and locations listed. The events include live captive-eagle programs, exhibits, activities, videos, and guides with spotting scopes. Watch for eagles perched in large trees along the water's edge. View them early in the morning to see eagles flying and fishing. Be sure to dress for winter weather and don't forget cameras and binoculars.
Jan. 10 from 9 a.m. to 3:30 p.m. and Jan. 11 from 10:30 a.m. to 3:30 p.m. at Smithville Lake Paradise Pointe Golf Course Clubhouse north of Kansas City. Call 816-532-0174 for more information.
Jan. 17 from 9 a.m. to 4 p.m. and Jan. 18 from 12:30 p.m. to 4:30 p.m. at the MDC Springfield Conservation Nature Center. Call 417-888-4237 for information.
Jan. 17-18 from 9 a.m. to 3 p.m. at the Old Chain of Rocks Bridge south of I-270 off Riverview Drive in St. Louis. Call 314-877-1309 for more information.
Jan. 24 from 9 a.m. to 4 p.m. and Jan. 25 from 10 a.m. to 3 p.m. at Lock and Dam 24 and Apple Shed Theater in Clarksville. Call 660-785-2420 for more information.
Feb. 7 from 9 a.m. to 4 p.m. at the Mingo National Wildlife Refuge off State Highway 51 near Puxico. Call 573-222-3589 for more information.
---
Be accountable to a workout group
A very common new year's resolution is to lose weight or to start exercising again. Make life easier on yourself by tackling this resolution with a friend or a workout group. Chiropractic Wellness Center starts new workout and weight loss challenge groups almost monthly. These groups keep each other accountable through facebook and are open to the public. We primarily use the Beach Body programs since they can be tailored to fit most body types and can easily be done from the comfort of your own home.
For more information please contact 636-825-0038 or visit our website at www.cwcchiropractic.com.
Make a vision board
A Vision Board is a visual representation of what you want to achieve. It works by shifting the energy you are sending out around your intentions. To make the board, you will need a poster board, pictures and glue. Go through magazines and pull lots of pictures. Select the ones you intuitively want and lay them on the board, then glue them on. Some people hang their boards, so they can see them often; others put them away and pull them out a year later to see what manifested. The intentions on the board are strong; this is a great way to manifest change.
Deborah Zorensky, RD, LD, CCN,
The Center for Mind, Body & Spirit
7649 Delmar, 314.725.6767
Tips for a Pets Body, Mind and Soul
Nurture the body. Feed grain free diets and less processed (dry) foods. Look to dehydrated formulas, especially for allergies. Vary the type of proteins offered so all amino acids are available. Research shows that 94% of dogs are calcium and magnesium deficient and 97% have inflammation, needing zinc to resolve symptoms. Adding these minerals can be beneficial for weak ligaments, mental nervousness or excitability. A gentle stretching ear massage can go a long way to calm the "beast" within. Slow traction starting at the head moving out to ear tips.
Oh, and never eat yellow snow!
Dr. Ava Frick, DVM, Pet Rehab & Pain Clinic,
100 Chesterfield Commons E. Rd., 636.489.5350.
www.animalrehabstlouis.com.
Focusing on Positive Goals for the New Year
Well, its that time of year again when people all over the world start setting their new years resolutions. And, that's always a good thing! By far, the most popular of all resolutions is losing weight and getting healthy. In 2015, Focus on Positive Goals with your diet, rather than deprivation. All too many people focus on "I'm not eating this", "I'm giving up that", "No more of this", etc. when they start changing their dietary habits. Instead, focus your dietary goals around eating more of what your body needs: Lots of Lean proteins, Fruits, Vegetables, and Water! Focus on getting good stuff in, not so much on "keeping the bad stuff out."
Dr. Adam Hughes
Kingen Chiropractic Wellness Center
www.KingenChiropractic.com
www.DrAdamHughes.com
---
By Cassandra Hage, Beekeeper
Five years ago, I came across a flyer that would change my life. It promoted the idea of learning how to "make your own honey," which I realize now is silly – the bees do all of the work!
A blossoming DIY-er and urban homesteader, I saw the workshop as an opportunity to learn about something else I could add to the mix. I love honey and bees seemed pretty interesting, so why not get some information? So I registered, then showed up for the workshop. Little did I know, before I left, I would be committing myself to beekeeping, committing my parents to hosting two hives, and embarking on an interesting and rewarding hobby unlike any other!
The Beekeepers Workshop was my introduction to the Eastern Missouri Beekeepers Association (EMBA). It's composed of a 100% volunteer core of highly dedicated individuals who are passionate about promoting beekeeping and training the next generation of backyard beekeepers. EMBA hosts monthly meetings that offer networking opportunities, Q&A, and high-quality presentations about topics ranging from how to do a hive inspection to how to make lip balm with your beeswax. Members range from experienced commercial beekeepers with 30+ years of experience to "newbees" who are just figuring it out.
In addition to monthly meetings, EMBA puts on an incredible annual workshop with sessions for beginners and sessions for experienced beekeepers. EMBA recruits nationally renowned honeybee scientists, professors, and beekeepers to train attendees on current best practices and share cutting-edge research.
---
By Crystal Stevens
The Missouri Organic Association (MOA), a non-profit all volunteer organization, is gearing up for its 6th Annual Conference on February 5th, 6th and 7th at the University Plaza Hotel and Conference Center, Springfield MO. Participants are comprised of farmers, ranchers, scientists, health officials, and consumers who want to learn more about the foods they produce and eat.
Sue Baird, Executive Director of the MOA welcomes everyone to attend. "This conference is not just for farmers and producers… Anyone concerned about independent food sources, the rising health issues in our children, supporting sustainable family farms, environmental issues and solution-based philosophies of biological and organic growing practices will have something to gain from this conference," Baird says. The Missouri Organic Association was just named in the 2014 Good Food Org Guide presented by Food Tank and The James Beard Foundation. According to Food Tank, The Good Food Org Guide is a definitive Guide which highlights nonprofit organizations that are doing exemplary work in the United States in the areas of food and agriculture, nutrition and health, hunger and obesity, and food justice.
Baird has been involved with the organization for 15 years and has served as the Executive Director for the past 5 years. Under her leadership, the MOA has been a conduit for educating thousands throughout the region on food related topics, and growing and producing organic, natural and sustainably produced crops. Baird says, "The mission of the MOA will always be to provide local, organic and sustainable family farms with the tools they need to run successful farming businesses; and secondly to educate the general public about why they should support local farmers."
---
By Paul MacFarlane and Bill Grivna
You've probably seen people practicing T'ai Chi on TV, in a movie, or even locally, in a park or at the botanical garden. You know it's a slow moving, graceful exercise that is supposed to be beneficial. You may have heard that at advanced levels it is a formidable martial art based on relaxation, yielding, and using an opponent's energy against himself. But what do you really know about the many health benefits that can be gained from this wonderful, relaxing exercise system?
T'ai Chi, when practiced regularly, has been said to improve relaxation, concentration, coordination, flexibility, postural alignment, and both physical and mental balance or centering. If some or all of this sounds intriguing to you, then we'd like to introduce you to the St. Louis T'ai Chi Ch'uan Association, a not-for-profit organization has been offering classes in the art of T'ai Chi Ch'uan since 1979.
"The five principles we practice are: relax and sink, separate the weight, waist as commander, body upright and beautiful lady's wrist, " said Michael David, President of the Association. Mr. David has practiced the Yang Style Short Form, as taught by the Association for nearly twenty years. And like most of the Association's students, T'ai Chi Ch'uan has changed his life in countless ways. Mr. David experienced a more relaxed manner at work, increased health and vitality, plus improved balance and strength. David adds, "These benefits come subtly, like laying a sheet of paper on top of a sheet of paper. Over time, you find the way you sit, stand and move tends to change. You gain strength, balance, suppleness, stamina, and most of all, a more meditative approach to daily living."
---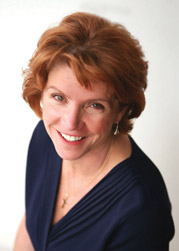 By Amy Davis, M.D.
The growing obesity problem globally has become too large to ignore. Almost one-third of the world's population is overweight and more than one-third of Americans are obese. The estimated global cost per year is 2 trillion dollars. Being overweight is not just a cosmetic issue – it causes serious health issues. Obesity-related conditions include heart disease, hypertension, stroke, diabetes and cancers. Fat is where much of the toxic burden is stored. The more fat we add – the more toxic we become.
A BMI (body mass index) over 25 is considered overweight and a BMI over 30 is considered obese. The BMI is an estimate of body fat.
What has changed in the last twenty years that is contributing to the problem?
Fast food restaurants
Prepackaged processed food
Hidden sugars and increased consumption, deceptive marketing and labels
High stress work and lifestyle
Poor quality foods are cheaper
Introduction of Genetically Modified
Organisms
Increased use of pesticides
Not enough exercise
Lack of balance between work
and relaxation
---
Fresh Thyme Farmers Market is opening its first St. Louis area store Wednesday, January 14, 2015. The store is located in Fairview Heights at 6569 North Illinois Street. Fresh Thyme grand openings are known as an exciting event for the whole family and showcase a free bag of groceries to the first 250 shoppers through the doors. The entire day will be filled with live entertainment, food samples and family activities.
"Fresh Thyme is excited to open its first store of 2015 in Fairview Heights," said Fresh Thyme's CEO Chris Sherrell. "This is a wonderful community we are joining. We look forward to providing value-priced, healthy and organic offerings to its residents."
Fresh Thyme Farmers Market opened ten stores in 2014 and plans to exceed that number in 2015. Fresh Thyme grand openings typically see large turnouts with hundreds of shoppers arriving in the early morning, and often a handful the night before, to get in line and claim one of 250 reusable shopping bags filled with $50 of free, healthy and organic groceries.
"As a new member of the Fairview Heights community, we want to introduce ourselves, have some fun and provide an enjoyable atmosphere where people can experience who we are and what we offer," said Sherrell. "Our mission is to improve the way our communities eat by combining the spirit of a weekend farmers market and the convenience of a neighborhood store, with the nutritious offerings of a natural food marketplace."
---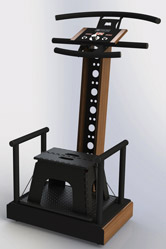 By Janie Oelke & Myriam Boter, LCLMT
According to extensive research, Whole Body Vibration (WBV) has gained momentum on the health front with revolutionary ways that are improving the many health challenges people are facing today. When injured, our bodies can become stagnant and out of balance. When standing on the plate, the body moves in a rocking movement that simulates walking; nourishing all the cells in your body, increasing lymphatic drainage to get rid of waste, easy on your joints and a myriad of other benefits listed to the side. But the best part is, 10 minutes on the Vibration Plate = an hour workout. Your muscles experience continuous contractions creating a more effective workout in a shorter period of time.
Vibration Therapy is being used throughout the world and it's proven benefits are detailed in medical journals and across the Internet. Once communism fell in Russia, the secrets of WBV made its way to Europe. Just like in Russia, other European athletes began using this form of effective exercise. Many athletes contribute their speedy recoveries and athletic improvement to WBV.
In addition, the European Space Agency and NASA are actively using vibration for combating the detrimental effect of prolonged exposure to zero gravity in space. Physicians who performed the NASA study believe that WBV holds promise not only for astronauts, but for others experiencing bone or muscle deterioration as well. Currently the WBV is being used by physical therapists, chiropractors, massage therapists, clinics and spa centers to help increase the benefits that their services provide. The WBV is safe for all ages and can be used for exercise, massage or therapy.