---
Registration Now Open For Exhibitors
Click here to download the registration form
The Healthy Planet magazine invites everyone to come celebrate Spring at its 37th Natural Living Expo, Sunday, March 31, 10 am to 4 pm, at the Webster Groves Recreation Center in Webster Groves. The first 400 visitors to the expo will receive a free reusable tote bag. There will be numerous food and beverage samples including craft beer and wine tasting. Guests will also be able to get free health screenings, information and green products for your home and garden, your family and even your pets. Enjoy live music and enter a drawing for a $600 family weekend certificate to Trout Lodge YMCA of the Ozarks and Chipotle food cards. Learn more about meditation, chiropractic, green home cleaning, organic beds, yard and garden compost and mulch, nutrition, non-toxic personal care products, essential oils, green energy, biking and hiking trails, organic produce, animal rights, energy healing, fitness, biomats, portable saunas, stem cell therapy and much more.
---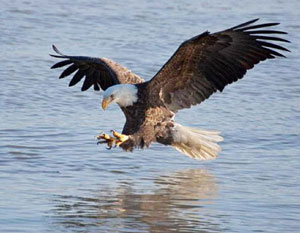 Visitors can discover our national bird in the wild and up close at this free eagle viewing festival.
Few words can describe the thrill of seeing America's national symbol soaring through the air in the wild, or close enough to touch.
The Missouri Department of Conservation (MDC) and its partners offer the chance to discover a close connection with the bald eagle. The Eagle Days at the Old Chain of Rocks Bridge Festival takes place from 9 a.m.-3 p.m. Saturday, Jan. 19, and Sunday, Jan. 20.
Visitors can view eagles through spotting scopes staffed by trained volunteers at any time from the vantage point of the historic Old Chain of Rocks Bridge. The bridge is part of the Mississippi Greenway, also known as the Riverfront Trail. On both days, the World Bird Sanctuary will be presenting an educational program featuring a live bald eagle, repeated every 20 minutes from 10 a.m.-2:00 p.m. Programming includes a hands-on exhibit of local birds presented by St. Louis Audubon, a full-size replica of an eagle's nest, and warming tent activities, including children's crafts.
Guests will also enjoy Lewis and Clark living history demonstrations at both sides of the bridge. The Missouri Bridge entrance will feature re-enactors from the Discovery Expedition of St. Charles both days. Visitors can see how Lewis and Clark and their crew lived, cooked, and traveled more than 200 years ago. Demonstrations will also include a flag raising at 10 a.m. and lowering at 3 p.m. on both Saturday and Sunday. The Illinois side will feature re-enactors from the Lewis and Clark State Historic Site in Hartford, Ill., on Saturday.
---
---
By Paul MacFarlane and Bill Grivna

You've probably seen people practicing T'ai Chi on TV, in a movie, or even locally, in a park or at the botanical garden. You know it's a slow moving, graceful exercise that is supposed to be beneficial. You may have heard that at advanced levels it is a formidable martial art based on relaxation, yielding, and using an opponent's energy against himself. But what do you really know about the many health benefits that can be gained from this wonderful, relaxing exercise system?
T'ai Chi, when practiced regularly, has been said to improve relaxation, concentration, coordination, flexibility, postural alignment, and both physical and mental balance or centering. If some or all of this sounds intriguing to you, then we'd like to introduce you to the St. Louis T'ai Chi Ch'uan Association, a not-for-profit organization has been offering classes in the art of T'ai Chi Ch'uan since 1979.
"The five principles we practice are: relax and sink, separate the weight, waist as commander, body upright and beautiful lady's wrist, " said Michael David, President of the Association. Mr. David has practiced the Yang Style Short Form, as taught by the Association for nearly twenty years. And like most of the Association's students, T'ai Chi Ch'uan has changed his life in countless ways. Mr. David experienced a more relaxed manner at work, increased health and vitality, plus improved balance and strength. David adds, "These benefits come subtly, like laying a sheet of paper on top of a sheet of paper. Over time, you find the way you sit, stand and move tends to change. You gain strength, balance, suppleness, stamina, and most of all, a more meditative approach to daily living."
---
January 29, 7:00 – 9:00 pm
Held at My Office.
Visit www.claytontherapy.com for location and directions.

Join us for a special seminar as Peggy Levinson shares with you how you can uncover memories from your past lives. Using a technique called past life regression. Peggy will guide you through the process of recalling these memories located deep inside your unconscious mind. She will explain what past life regression is and how it works, and discuss how your past lives may be impacting you right now in your current life.
She will also discuss a technique where we have a conversation with our higher self and contact our subconscious to obtain answers to physical and emotional concerns we may have about ourselves and the life we are living.
Peggy has studied Present and Past Life Regression Therapy with Dr. Brian Weiss, author of Many Lives, Many Masters, since 2013, as well as Quantum Healing Hypnosis Technique (QHHT) with Dolores Cannon.
"We will explore deep states of relaxation and metaphysical approaches that can help get to the root cause of current issues that originated in the past. We will expand our focus to further explore the healing potential of our Subconscious (or Higher Self or Source) which contains the answers to any questions we may have about ourselves. Many times we have an experience of an impactful situation in our past that keeps getting triggered in our present adult lives, affecting us emotionally, physically, and/or spiritually. In this workshop I will be guiding you to gain a better understanding of these issues which have their origin early in this life or in a past life."
---
Explains What All The Buzz Is About
MAN'S LOVE AFFAIR WITH THE HONEY BEE began even before recorded history, man was gathering honey from honey bees living in hollow trees. But honey wasn't the only reason for keeping honey bees because man soon learned that the honey bee was an interesting and exciting social insect. The story behind what appears to be the casual movement of honey bees from flower to flower is the discovery of an industrious and tireless society. They band together and divide labor. The honey bees' society is made up of three types of individuals with sharply defined duties and functions. The colony consists of one queen, several hundred drones (males) and thousands of workers (females). The female workers are the laborers of the colony. They gather all the nectar and pollen, feed larva, supply water, secrete beeswax, build comb and keep the hive clean. The male drones do not collect nectar, nor do they make beeswax and do not sting.
Except for mating, the drone is an expendable member of the colony. In fact, they are driven from the hive as winter approaches, and perish. Honey is just the sweet secondary reward that we collect from honey bees. If honey bees ceased to exist today, about one-third of all foods we eat would disappear. WHY? Because of pollination. Hundreds of thousands of people in all walks of life have become enthusiastic beekeepers. Whether it is in your own backyard, apartment rooftop, small community garden or farm, beekeeping can fit in anywhere. Find out first hand what it is all about at:
EASTERN MISSOURI BEEKEEPERS ASSOC.
12TH ANNUAL BEEKEEPING WORKSHOP
Saturday, February 9th, 2019 — 8:00a.m.–5:00 p.m.
at Maritz in Fenton, Missouri.
Spend an entire day learning about bees & beekeeping. There are 2 courses offered at the workshop, the Beginners Beekeeping Course is intended for novice beekeepers and those with no prior beekeeping experience. The instructors will cover all the basics and prepare students to start beekeeping in 2019. The Advanced Course is for experienced beekeepers and will place special emphasis on colony health and behavior. EMBA recruits nationally renowned honeybee scientists, professors, and beekeepers to train attendees on current best practices and share cutting-edge research.