---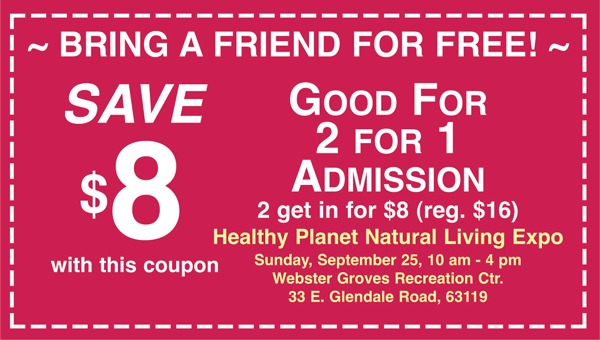 The Healthy Planet magazine is proud to host its 32nd Natural Living Expo, Sunday, Sept. 25, 10 am to 4 pm, at the Webster Groves Recreation Center, 33 East Glendale Road in Webster Groves
"We are very excited to be hosting our 32nd expo in 19 years," said J.B. Lester, Publisher of The Healthy Planet magazine. " We love offering the community the opportunity to find the resources they need to make their lives healthier and more sustainable. So many of our exhibitors are also clients of our magazine, and that makes this like a family get-together twice a year." Lester said that many of the exhibitors have been with The Healthy Planet from the very first expo back in 1998. "These are the companies and organizations that help create a healthier and greener community," Lester said. "I can guarantee that each visitor to our expo will go home with something that will help them live a healthier and more sustainable life. That's what this event is all about."
The first 400 visitors to the expo will receive a free useable tote bag courtesy of Dierbergs and Lucky's Markets. There will be numerous samples including a craft beer and wine tasting hosted by Edg-Clif Winery and Schlafly Beer. Many lucky visitors will receive food cards to Chipotle Mexican Grill and free tickets to Missouri Botanical Garden, The Butterfly House and Shaw Nature Reserve. Guests will be also able to get free health screenings, chair massages and plenty of healthy and sustainable resources for their home and garden, their pets, and their family.
---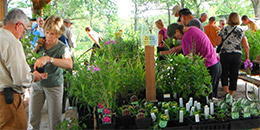 Wildflower Sale September 9
Get a jump start on your spring garden now! Both new and experienced gardeners will find a wide variety of native wildflowers, grasses, sedges, small-flowering trees and shrubs for home landscaping at the Shaw Nature Reserve's fall Shaw Wildflower Market on Friday, Sept. 9 from 4 to 7:30 p.m. Admission to the sale is included with Reserve admission of $5 for adults and $3 for seniors over 65. The sale is free of charge for Missouri Botanical Garden members, Reserve passholders and children ages 12 and under.
The practice of native landscaping supports biodiversity, creating sustainable landscapes. Novice and professional gardeners utilize native landscaping to manage storm water, reduce maintenance and promote plant and wildlife conservation. Wildflowers, flowering vines, shrubs and trees offer a wide range of colors, textures and forms to create dynamic displays. Choosing a wide assortment of plants ensures seasonal interest, with the bonus of attracting colorful birds, butterflies and insects. The Shaw Wildflower Market offers hundreds of native plants that are beneficial in attracting native species of birds and butterflies. Select from the showiest and hardiest native plants for sun or shade, including pale purple coneflower, butterfly milkweed, rose turtlehead garden phlox, Indian pink, blazingstar, black-eyed susan and cardinal flower among many others.
The Shaw Wildflower Market offers locally made products for a greener community, including wildflowers from Missouri Wildflower Nursery, wine, bread, meats, art, beer, assorted produce and more.
Enjoy the acoustic blend of guitar, fiddle, bass, percussion and harmony from Down Stream, a music ensemble featuring folk, blues, traditional and original tunes performed by local artists.
---
---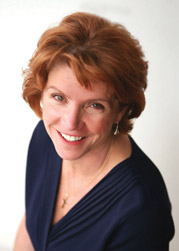 By Dr. Amy Davis, MD
We experience stress in various ways. Injuries, infections, allergies, sleep, work, diet, toxins and then there is LIFE!
Throughout our lives we are bombarded with stressful events, good and bad. Even exciting events can be stressful for your body – like a wedding or new baby. Difficult experiences result in emotions like fear, sadness, grief and anger. No one goes through life unscathed which results in a build-up of stored emotions. Chronic stress leads to a variety of physiological changes and emotional burdens which interfere with optimal health and the ability to heal.
Stress of any kind leads to:
Elevated cortisol levels and weight gain
Food cravings
Poor digestion and absorption of nutrients
Dysbiosis
Immune weakness
Sympathetic overdrive – chronic fight or flight
Sleep problems
Brain fog and poor concentration
These changes can create more stress which can spiral out of control creating disease.
---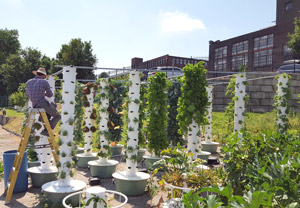 Paul Hamilton, Co-owner of Eleven Eleven Mississippi, Vin de Set and PW Pizza in Lafayette Square has upgraded his commercial urban farm this year to include 28 aeroponic towers designed to maximize space and use less water than traditional growing methods.
The additional towers, which are used to primarily grow greens and squash, supplement the 1/2 acre traditional garden that is planted with heirloom tomatoes, peppers, basil, cucumbers, eggplant, okra and a variety of other spring and fall root vegetables.
Currently the gardens are planted with a variety of swiss chard and kale along with endive, arugula, purslane, mustard greens and bok choy. Hamilton plans to move the tower garden farm indoors this fall to a new commercial greenhouse located adjacent to Vin de Set and PW Pizza.
In addition to the new towers, Hamilton has hired Nathan Wolff as the gardener in charge of planting and maintaining this year's crop, communicating with the chefs at each restaurant and keeping a log of the growing cycles for each planting and the yields produced. This year's yield for the overall operation is estimated to be close to 10,000 pounds of produce.
---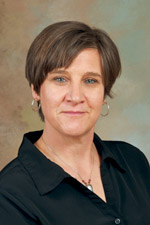 Christine Kniffen, MSW, LCSW
Now accepting Insurance
visit www.ChristineKniffen.com

Fixing your relationship does take work, but just how much work and how much energy has everything to do with you. Resistance is the greatest hurdle to overcome. Resistance slows the process as a whole and it is why you have probably come to couples counseling in the first place. The resistance I speak of has everything to do with one's seeming inability to accept, and eventually understand, how their words and behaviors affect their partner. The absence of this crucial factor, essential for creating an environment where intimacy and connectedness can thrive, is the primary issue for all couples having communication difficulties. Most people aren't intentionally trying to be resistant. There are a couple of prominent things to consider when attempting to help in the area of resistance. These include understanding why it happens, learning how to talk to someone who is resistant and finally beginning to understand the tremendous healing power of riding the relationship of resistance.
First, people are often resistant because they are extremely sensitive to anything they perceive as critical. This sensitivity can be the result of many things, but most often stems from previous experience in having felt criticized. Growing up with "critical" parents is often a common barrier to being receptive to your partner's feelings regarding how you affect them by what you say and do. You may feel that you were "picked on" for much of your childhood and simply feel that you can't handle another minute of those types of feelings. Or, perhaps you endured what felt like a "critical" relationship previously and vowed you would never put up with that again. The immediate reaction then, understandably, is to become defensive rather than receptive to the message that is being delivered. However, your partner's delivery has everything to do with your ability to receive the message.
---