---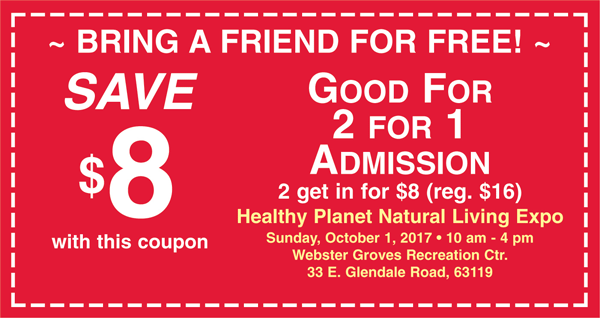 Set For October 1 In Webster Groves
The Healthy Planet magazine invites everyone to come celebrate early Autumn at its 34th Natural Living Expo, Sunday, October 1, 10 am to 4 pm, at the Webster Groves Recreation Center, 33 East Glendale Road in Webster Groves.
More than 50 exhibitors will share information, goods and services pertaining to health, wellness and sustainable living.
The first 400 visitors to the expo will receive a free reusable tote bag. There will be numerous food and beverage samples including craft beer and wine tasting. Attendees will also be able to get free health screenings, chair massages, and green products for your home, garden and your family. Enjoy live music as you explore the many exhibit booths.
Enter a drawing for a $600 family weekend certificate to Trout Lodge YMCA of the Ozarks and Amtrak train tickets. Hundreds of visitors will receive Chipotle Food Cards and the first 100 visitors will get a free pass to the Missouri Botanical Garden, The Butterfly House or Shaw Nature Reserve.
Learn more about topics such as meditation, chiropractic, green home products, organic mattresses & beds, yard and garden compost and mulch, nutrition, non-toxic personal care products, essential oils, green energy, sustainable living, organic produce, animal rights, energy healing, fitness, biomats, healthy relationships, healthy foods, and much, much more! You can even shop for unique clothing and jewelry!
---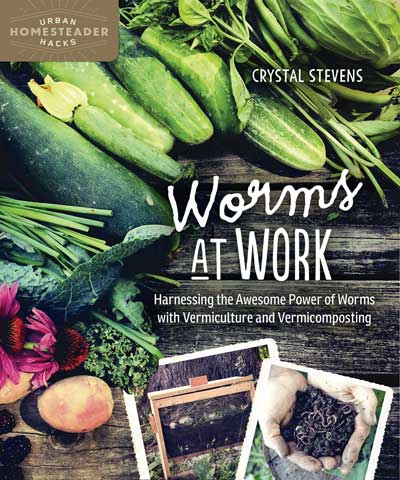 Increasingly, we want to know where our food comes from, who grows it and how it is grown, and interest in permaculture, backyard composting, and gardening in general, is growing. So how does the budding gardener ensure that the soil is healthy and nutrient-rich enough to support growing some great food? One answer — worms! Vermiculture is the healthiest and most cost-effective way to ensure that your soil receives the nourishment that it needs. A simple vermicompost bin can produce completely natural, nutrient-rich fertilizer that can be used to boost soil health and, in turn, increase crop yield.
Crystal Stevens' new book, Worms at Work: Harnessing the Awesome Power of Worms with Vermiculture and Vermicomposting is a practical, easy-to-implement guide to fertilizing and enriching your garden naturally. It discusses the vital role worms play in boosting soil health, and the reasons why every gardener should use vermicompost in order to decrease reliance on toxic synthetic fertilizers. Covering simple designs for building your own vermicompost bin, whether for a small backyard garden or for a larger farm or homestead, to the care and feeding of worms and how to use worm castings in the garden, Worms at Work will help you put your worms to work to grow happy, healthy plants in happy, healthy soil.
Matt Powers, permaculture educator says, "Worms at Work is a detailed, beautifully thorough treatise on worms. It delves into the details of vermicomposting, how to skillfully utilize vermicompost, the soil science behind it all, worm anatomy, and much more. It is well organized and easy to reference – perfect for anyone wanting to start or refine the usage of worms in a home or garden situation. Following in the footsteps of Darwin with her praise of the mighty earthworm, Crystal Stevens has done a superb job with this book"
---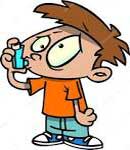 Article courtesy of the Clean Air Partnership
With the arrival of August, many area students are preparing to head back to school. For most kids, the start of the school year is an exciting time, filled with fun, friends and new adventures. But for kids with asthma, the new school year can come with serious health challenges.
This is because the trip back to class often brings with it a variety of asthma triggers that may lead to asthma attacks. These triggers can include emotional stress and anxiety, new sports routines and indoor and outdoor allergens.
The amount of pollution in our air is a major contributor to asthma attacks. Exposure to smog is dangerous for kids, especially since they are still growing and generally spend more time outdoors than adults. Dirty air can interfere with lung development and increase the risk of lung infections in all children, and the health risks are far greater for children with asthma. Currently, approximately 6.3 million children suffer from asthma, and the condition ranks as one of the leading causes of missed school days.
Smog is formed when heat and sunlight react with pollution – much of which is released from vehicle tailpipes. Consider where your own children attend school. Is there a long line of parents idling their vehicles as they wait to drop off their children? Are there idling buses near the school entrance? All those idling vehicles release emissions that are dangerous for children and can exacerbate asthma.
---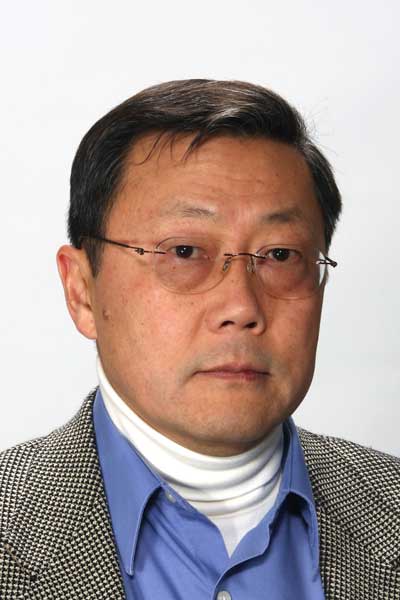 By Simon Yu, MD
What is a conundrum? By a definition, it means a riddle whose answer is or involves a pun (Merriam-Webster's Dictionary), or a confusing and difficult problem (Oxford Dictionary). The definition is vague and not clear to me, but somehow, I find the word, "conundrum" fascinating, as well as ambiguous and mysterious. I decided to name my Tenth International Medicine Conference in St. Louis, "Curing the Incurables: Fungus, Parasites and Dental Conundrum." It is designed for health professionals. Kindly share this information with interested health practitioners to help spread awareness.
When listening to chronically ill patients on their first visit – who have already seen a long list of specialists and other alternative health practitioners — the long, agonizing misadventure of medical histories can be quite confusing, ambiguous and mysterious: a conundrum of life.
As patients share elaborate detailed histories with the latest diagnoses and lab test results, including genetic DNA tests and information on MTHFR methylation pathways, my mind wanders off to the world of the conundrum: a quantum world of what-ifs and a myriad of unknown possibilities…
By the time patients are evaluated by Mayo Clinic or Cleveland Clinic and still have an unknown or mysterious illness (they may give it a fancy idiopathic Latin medical diagnosis), most likely, they have some combination of unrecognized dental problems, parasites and fungal infections-mycotoxins effects.
---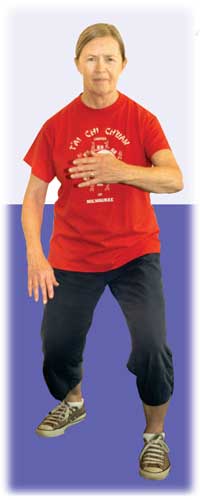 By Paul MacFarlane and Bill Grivna
You've probably seen people practicing T'ai Chi on TV, in a movie, or even locally, in a park or at the botanical garden. You know it's a slow moving, graceful exercise that is supposed to be beneficial. You may have heard that at advanced levels it is a formidable martial art based on relaxation, yielding, and using an opponent's energy against himself. But what do you really know about the many health benefits that can be gained from this wonderful, relaxing exercise system?
T'ai Chi, when practiced regularly, has been said to improve relaxation, concentration, coordination, flexibility, postural alignment, and both physical and mental balance or centering. If some or all of this sounds intriguing to you, then we'd like to introduce you to the St. Louis T'ai Chi Ch'uan Association, a not-for-profit organization that has been offering classes in the art of T'ai Chi Ch'uan since 1979.
"The five principles we practice are: relax and sink, separate the weight, waist as commander, body upright and beautiful lady's wrist, " said Michael David, President of the Association. Mr. David has practiced the Yang Style Short Form, as taught by the Association for nearly twenty years. And like most of the Association's students, T'ai Chi Ch'uan has changed his life in countless ways. Mr. David experienced a more relaxed manner at work, increased health and vitality, plus improved balance and strength. David adds, "These benefits come subtly, like laying a sheet of paper on top of a sheet of paper. Over time, you find the way you sit, stand and move tends to change. You gain strength, balance, suppleness, stamina, and most of all, a more meditative approach to daily living."
For centuries, T'ai Chi Ch'uan was kept a closely-guarded family secret in China. But today, anyone with a sincere interest can learn the basics of the Form. With dedicated practice, some, if not all of the above benefits can be realized — something of value for the remainder of any student's life.
The Yang Style Short Form taught at the Association was condensed (mostly by eliminating repetitions) from the Long Form by Professor Cheng Man-Ch'ing, a supremely gifted master of t'ai chi ch'uan, painting, calligraphy, medicine and poetry. Benjamin Lo, one of the Professor's senior students, and a reknown teacher himself, has taught most of the Association's current instructors in extended t'ai chi workshops. Now retired, Mr. Lo still possesses amazing t'ai chi skills.
---
---
---