---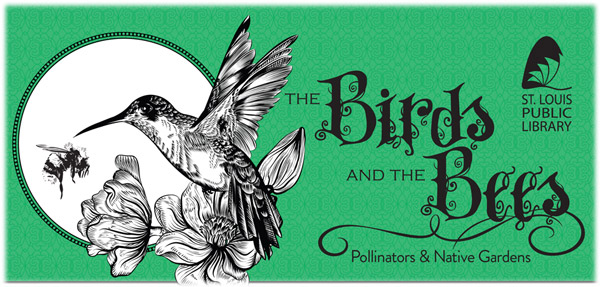 Pollinators & Native Gardens' Exhibit
At St. Louis Public Library Through Aug. 4
By Jen Hatton, St. Louis Public Library
It's summer time in St. Louis. The birds are singing and the flowers are in bloom. It's the time of year to spend outside, enjoying the sounds and sights of nature, and exploring and learning new things.
A new exhibit that runs through August 4 at the St. Louis Public Library's Central Library allows just that.
"The Birds and the Bees: Pollinators & Native Gardens" exhibit highlights the Library's new pollinator garden and explores the pollination process.
In 2017, SLPL installed Manolo Valdes' sculpture "Mariposas" (Butterflies) outside of Central Library. The enormous and breathtaking public artwork was installed in three separate pieces by way of a crane over Central's east terrace wall.
---
Article courtesy of the Clean Air Partnership
Breathing comes so naturally that we oftentimes give it little thought and take our lungs for granted. The reality is, every cell of our body counts on them and the oxygen they supply, which is why it is so important to prioritize lung health, especially during extreme weather conditions.
With the risks from airborne pollution so great, the Clean Air Partnership seeks to inform people who may be in danger during the hot summer months, including children and teens, anyone 65 and older, people who work or exercise outdoors, and people with existing lung diseases or cardiovascular disease. While cities all across the nation have made significant strides towards cleaning up the air, still, more than 141 million people live in counties with unhealthy levels of ozone or particle pollution—meaning the air we breathe could pose an increased risk of premature death, cause lung cancer or other harmful effects. According to the findings of this year's "State of the Air" report from the American Lung Association, more than 75,200 people with lung cancer live in counties that received an "F" for at least one pollutant. Similarly, more than 8,600 people with lung cancer live in counties failing all three tests. In St. Louis County alone, nearly 85,000 adults suffer from lung cancer or cardiovascular disease.
---
By Sara Biermann
Your mindscape is the internal landscape of your mind (your thoughts,beliefs,perceptions.) Your landscape refers to the outward manifestation of the way you think (the people in your life, the experiences you have, common themes that present.)
Take a moment to look at your landscape in this moment. Are you happy with what you see? Ok, let's say you'd like to change a thing or two about what you are currently experiencing in your life. Now what? If you want a flower bed of Lilys and Tulips you plant Lilys and Tulips right? Same holds true for anything you want to create in your life. You must plant the specific seeds you want to grow. Do your common thoughts and words match up to what you say you desire to see in your life?
This is where mindfulness comes in. Mindfulness is not hard, you are already mindful, such as taking your automobile in for oil changes, getting regular dental check ups, signing your children up for Summer camps. You already know how to be mindful so take that off your list of things to someday "learn" how to do.
---
---
Urban Chestnut Brewing Company
was recently named one of the EPA's sixteen national WasteWise Award Winners for their sustainability efforts in 2017, earning Small Business Partner of the Year. The WasteWise program recognizes organizations ranging from small nonprofits to large multinational corporations that demonstrate significant effort to prevent and divert waste.
"Sustainability has been a major focus of Urban Chestnut's business plan since our inception in 2011," said Quality Assurance Manager, Kurt Driesner. "Whenever possible, sustainable designs and processes are implemented at the point of installation." The company's commitment to sustainability has earned them the only LEED certification (silver) for a brewery in the state of Missouri. In the previous calendar year, UCBC diverted or repurposed 96-97% of its waste, including nearly 1.1 million pounds of spent grain and 28,000 pounds of wood pallets. The brewery added spent yeast to its waste diversion efforts in 2017 through a partnership with Center Ethanol in Sauget, IL and has prevented approximately 400,000 pounds of spent yeast from entering the municipal waste stream to date.
"This is yet another excellent example of the EPA partnering with communities and organizations to achieve environmental and economic benefits through waste prevention and management. The WasteWise award winners have exemplified tremendous environmental stewardship and fiscal responsibility, and we commend their efforts," said EPA Administrator Scott Pruitt.
---
Breathtaking natural beauty and unlimited opportunities for outdoor recreation, a trip to Giant City State Park and the Makanda area offers loads of fun. From camping and horseback riding to fishing and rappelling, it's an outdoor lover's paradise. You will love the many hiking trails. Especially popular is the Giant City Nature Trail, home of the "Giant City Streets"  — huge bluffs of sandstone formed 12,000 years ago.
Learn about the 'Giant Streets' that gave the park it's name and get maps and trail details. Giant City State Park Visitor's Center contains an exhibit hall with displays of the natural, cultural, and geological features of the park. Don't miss the 10 minute film about the park in the audio/visual room. There is a Discovery Corner that kids love to explore. Ask about the scavenger hunt for kids. Get a prize upon returning it at the end of the hike all filled out, but watch your time, the center closes at 4 PM.
Hiking is available year-round. Exploration of the picturesque natural wonders of Giant City State Park can be enjoyed along the Post Oak, Devil's Standtable, Giant City, Stonefort, Indian Creek, Trillium and Arrow wood trails. The Post Oak Trail has been designed for disabled visitors. The 12-mile Red Cedar Hiking Trail provides an invigorating challenge to the truly dedicated backpacker, and offers an overnight campsite at the halfway point. Be sure to use insect and tick repellent.
---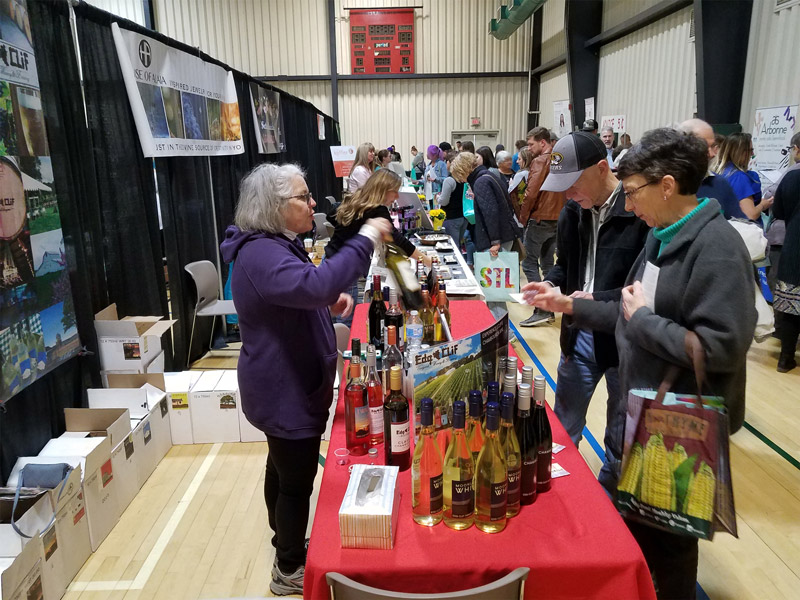 Click here for registration form.
The Healthy Planet magazine invites everyone to come celebrate the first week of Autumn at its 38th Natural Living Expo, Sunday, September 29 10 am to 4 pm, at the Webster Groves Recreation Center, 33 East Glendale Road in Webster Groves.
More than 60 exhibitors will share information, goods and services pertaining to health, wellness and sustainable living.
There will be numerous food and beverage samples, free health screenings, chair massages, free tote bags, live music, green products for your home, garden and your family. Learn more about topics such as meditation, chiropractic, green home products, yard and garden compost and mulch, nutrition, non-toxic personal care products, essential oils, green energy, sustainable living, organic produce, animal rights, energy healing, fitness, biomats, healthy foods, and much, much more!
---