---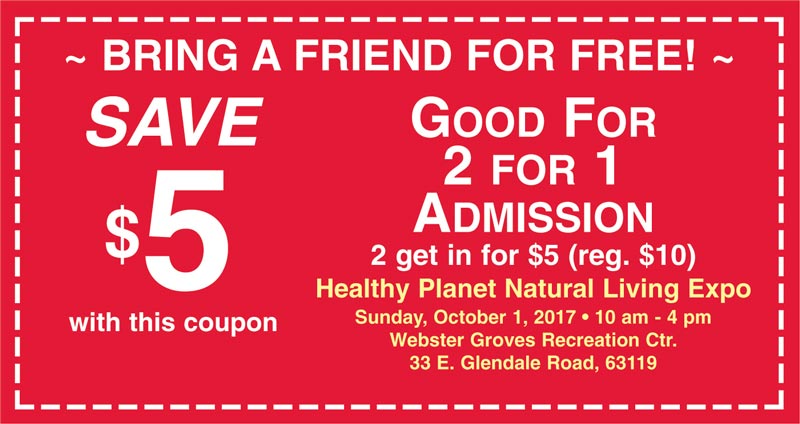 The Healthy Planet magazine is proud to host its 34th Natural Living Expo, Sunday, October 1, 10 am to 4 pm, at the Webster Groves Recreation Center, 33 East Glendale Road in Webster Groves.
"We are very excited to be hosting our 34th expo as part of our 20 year anniversary," said J.B. Lester, Publisher of The Healthy Planet magazine. " We love offering the community the opportunity to find the resources they need to make their lives healthier and greener. So many of our exhibitors are also clients of our magazine, and that makes this like a family get-together twice a year." Many of the exhibitors have been with The Healthy Planet from the very first expo back in 1998. "These are the companies and organizations that help create a healthier and greener community," Lester said. "I can guarantee that each visitor to our expo will go home with something that will help them live a healthier and happier life. That's what this event is all about."
---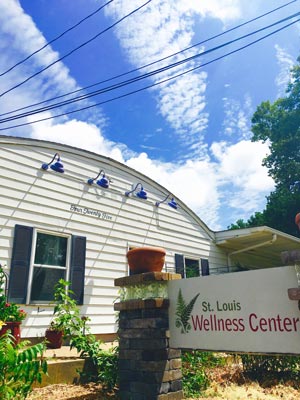 By Gwin Stewart,PhD, CRAADC, MARS
Discretely nestled in the residential neighborhood of Webster Groves, The St Louis Wellness Center provides holistic, wellness services to 20,000 visitors each year. If you haven't yet been to the StLWC, you are invited to attend the Open House and see for yourself how you might benefit from one or more of the many holistic services offered under one roof.
Ten expert therapists offer services in the realm of Mental/Emotional/Relational assistance. Included are: Addictions Counseling, Art Therapy, Biofeedback, Couples' Counseling, EMDR, Family Therapy, Group Therapy, Individual Psychotherapy, and Neurofeedback. The StLWC experts are ready to assist with your unique concerns.
For those interested in the area of Physical/Restorative/Somatic there are: Cooking Classes, CranioSacral Therapy, Essential Oil Consultations, Far-Infrared Sauna, Nutritional Consultation and Treatment, Structural Integration, Therapeutic Massage: La StoneR, Thai Yoga, and Whole Body Vibration. With seven experts on staff, there is bound to be one to help you with complete healing and wellness.
If Yoga/Meditation/Essence is your interest, twelve practitioners offer: Ayurvedic Consultation and Treatment, Cacoa Ceremonies, Essential Oil Consultations, Meditation (both individual and group), Past Life Regression, Reiki and Subtle Energy Work, Seasonal Moving Meditations, Shambhala Meditation and Training, Sound Healing, and a variety of Yoga Classes.
---
On October 1st, at the Webster Groves Recreation Complex, an event much larger and monumental than the Solar Eclipse will take place — The 34th Healthy Planet Natural Living Expo. If you thought the hoopla over the Eclipse was big, wait until you experience our expo. People line up to get in, parking lots will fill, anticipation will grow and hundreds of people will enjoy dozens and dozens of exhibitors offering healthy and sustainable products and services guaranteed to enhance the quality of everyone's lives. There will be live music, food and beverage samples (including wine and craft beer tastings), book signings, free health screenings, chair massages, drawings for Amtrak Train Tickets and a family trip to Trout Lodge YMCA of the Ozarks. There will be Chipotle food cards and Missouri Botanical Garden ticket giveaways. Well, there is too much to list here so take a look at the article and ad on pages 4 and 5. But if you are reading this column, you have to come see for yourself. You will go home healthier and happier! Come one, come all, to the greatest show on earth — The Healthy Planet Natural Living Expo Oct. 1.
Speaking of eclipses, I am writing this column the day after the total solar eclipse that passed over much of the St. Louis area. I am lucky enough to live in Webster Groves where we had no clouds and 1:15 seconds of totality. Instead of driving half an hour in traffic for a minute more of darkness, we just set up our chairs in the front yard and settled in with our Schlafly Helles Lager especially brewed for the Solar Eclipse. Surrounded by my two adult daughters, my wife and my future son-in-law we sat and starred into the August sky. It was an extremely hot day with a few random clouds floating by just close enough to make us wonder if one of those fluffy fellows would rain on our eclipse parade.
---
---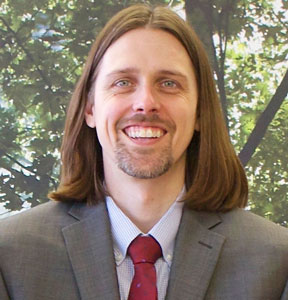 By TJ Williams, DC, PhD
News stories have downplayed the significance of non-celiac gluten sensitivity (NCGS), even suggesting that it does not exist. But there is a growing body of evidence that is proving that gluten intolerance is not only real, but there is little doubt among those familiar with the scientific literature that NCGS can have devastating effects on one's health.
Non-celiac gluten sensitivity (NCGS) should not be confused with celiac disease (CD). For clarification, CD is a condition characterized by enteropathy, or disease of the intestine, especially the small intestine, oftentimes accompanied by a myriad of gastrointestinal symptoms and complaints. People with CD will have elevated blood tests specific to CD as well as having CD identified by a biopsy of the small intestine. Those with CD must be on a gluten-free diet for their entire life.
Non-celiac gluten sensitivity (NCGS) on the other hand is a completely different kind of monster. People who have NCGS most often have non-gastrointestinal symptoms. Those with NCGS are more likely to have symptoms that include: skin conditions like eczema or psoriasis, depression, headache, foggy mind or brain fog, joint pain, numbness in the legs, arms, or fingers, and/or fatigue.
---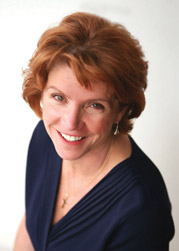 By Dr. Amy Davis, MD
The Standard American Diet is heavily laden with calorie dense nutrient-poor food and beverages, processed foods and includes few fruits and vegetables. It has been linked to the growing problem of obesity, diabetes, hypertension and heart disease to name a few. An inactive lifestyle, large portion size, and high stress worsens the negative impact.
Food is fuel. If you eat healthy fuel, your body can function optimally. Eat what your body is designed to handle – REAL FOOD! You wouldn't put fake fuel in your car and expect it to run, so why would you consume fake food and think you would feel well?
A healthy diet provides nutrients needed to perform (physically and mentally), maintain wellness, and fight disease. People whose diet includes fresh whole foods like fruits and vegetables, whole grains, legumes, lean meats, and fish have a lower incidence of chronic disease.
I suggest you eat and drink real food which I've listed in order of priority:
Water – drink approximately 1/2 your weight in ounces per day. E.g. 140 pounds = 70 ounces
Green vegetables – 5-7 servings per day – this is difficult for most to achieve so consider a green smoothie each morning.
Fresh fruits – 3-4 per day
Healthy fats – olive oil, coconut oil, avocados, free range eggs etc. Fats are calorie dense and satisfy hunger without elevated insulin levels.
Nuts – macadamias walnuts, almonds, cashews, pecans, not peanuts
Seeds – Raw is best – pumpkin, sunflower, chia, flax
Meats – lean, grass fed is best. Beef, chicken, turkey, pork cold oily fish (contain all essential amino acids)
Whole grains
Legumes – beans
---