---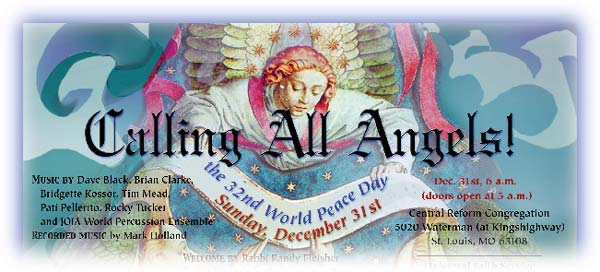 By Jeannie Breeze
I am Calling All Angels, celestial and terrestrial, because we need help here on Planet Earth! Now, more than ever, we need to LOVE ONE ANOTHER, to feel compassion for all our relations, to bless those who curse us, and to BE the change we want to see in the world.
One of the most wonderful ways to bolster your faith is to join with hundreds of other lightworkers and peacemakers at 6 a.m., Sunday, December 31st, as we celebrate "Calling All Angels", the 32nd annual World Peace Day, held at Central Reform Congregation, 5020 Waterman (at Kingshighway) in St. Louis' Central West End. Doors open at 5 a.m. so you can buy raffle tickets or bid on a silent auction for amazing prizes, or enter the sanctuary for silent prayer and meditation. As always, a potluck breakfast follows the service (no pork or shellfish, please). This Universal Faith service is always free and OPEN TO ALL!
The musical lineup is stellar this year, with guitarist Dave Black; singer/songwriter guitarist Brian Clarke; singer/songwriter Bridgette Kossor, singer/songwriter guitarist Tim Mead; Sound Healing Artist Pati Pellerito on singing bowls; pianist extraordinaire Rocky Tucker, and, of course, JOIA World Percussion Ensemble. Inspiration comes from Rabbi Randy Fleisher doing the welcome, J'Asa McCaleb sharing from her journal "The Book of Now", Jean Ponzi sharing earth wisdom, and Jeannie Breeze offering "Short Remarks" and leading the meditation. The light and joy and sense of family generated by this event are immeasurable! You will be so buoyed by the celebration, you will carry the light of love and joy and peace with you to uplift your family, friends and everyone you know!
---
With Jean Ponzi
Illuminating! Jeannie Breeze
It's December 31, at 6 a.m. local time. Hearty souls gather in an urban temple to celebrate, affirm and literally make Peace. Around our world, at the same time, many groups of humans tune into Peace.
Kindred spirits have been doing this since 1985, making this date World Peace Day. We in St. Louis are a bright arc in this sacred circle, and I'd say we have an edge: our leader is Jeannie Breeze.
Leading from the Center
She welcomes all with Short Remarks, meaning, she says, sharing as much as she cares to say, from a short person. She's the friend of musicians skilled and sublime, who coordinates a most inspiring message flow in song. She's the leader of call-and-response greetings and blessings for hundreds who each year heed this day's Call to Peace. She rallies an intrepid band of volunteers who move into action the annual plans to decorate, perform, and serve potluck breakfast. And she's given all this, her all, for each of WPD's 32 years, counting this one.
I love the music, the pre-dawn convergence of folk, getting to Speak for Earth at Jeannie's invitation – and the civilized presence of coffee. But my favorite part by far is the meditation Jeannie guides.
Peace is an Inside Job
She says, "It starts within us! The first challenge, first practice is finding a place of Balance and Peace within ourselves." So the purpose of her meditation is to take each one of us to that inner place, "where we can find stillness, find peace, and we can let THAT become who we are. Of course," she notes, as a good meditation master and practitioner would, "the trick is to maintain it!"
---
---
---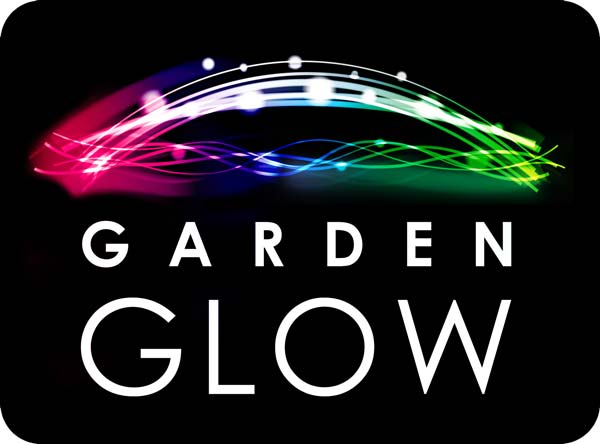 Missouri Botanical Garden Events
Through January 1
Garden Glow presented by Wells Fargo Advisors
The Garden's Fifth Annual Garden Glow runs nightly from November 18 to January 1. Hours are 5 to 10 p.m. with last entry at 9 p.m. The expanded event features more than 1 million lights, photo opportunities, food, drinks and music. New this year, Glow tickets include entry into Gardenland Express, the holiday flower and train show. Santa will visit Garden Glow on Monday, Tuesday, Wednesday and Thursday nights November 27 through December 14. Ticket prices vary by date, and range from $3 to $18. Visit www.mobot.org/glow for more information and to purchase tickets.
Through January 1
Gardenland Express presented by Wells Fargo Advisors
Stop by the holiday flower and train show, to see G-scale model trains wander through a floral wonderland of hundreds of colorful poinsettias and other traditional plants. This year's theme is "Felices Fiestas" and celebrates poinsettias and their native country, Mexico. Gardenland Express is open daily from 9 a.m. to 4 p.m. and is $5 in addition to Garden admission. Free for Garden members and children 2 and under. Gardenland Express is included in the price of evening Garden Glow tickets.
Through January 1
Holiday Wreath Auction
This display features some of the region's most talented floral designers. Designs range from traditional to whimsical and are sold by silent auction bidding with proceeds benefiting the Missouri Botanical Garden. Included with regular admission.
---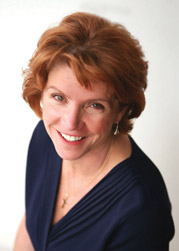 By Dr. Amy Davis, MD
According to the World Health Association, "antibiotics are serious medicine – not to be taken lightly. Overuse has led to increasing numbers of antibiotic resistant superbugs like – MRSA (methicillin-resistant Staph aureus) and VRE (Vancomycin-resistant Enterococcus).
So what options do you have when you get sick and would like to avoid unnecessary antibiotic use? The good news is that there are effective natural options that can help with viral, bacterial and fungal infections. I commonly use nutrients and herbals in my practice and have been pleasantly surprised with how effective they can be in lieu of antibiotics.
Here are some of my favorites for a Natural Medicine Cabinet:
Vitamin C – improves the immune system to help fight off bacterial and viral infections. Generally it's a good idea to take a moderate dose of Vitamin C to support your immune system during cold and flu season.
Vitamin D – boosts the immune system and can be taken at the start of a cold which frequently shortens the duration.
Probiotics – Healthy bacteria that improve the gut flora which favorably impacts the immune system.
Olive Leaf Extract – This herb has been found helpful to improve resistance to infections. It contains phytonutrients such as oleuropein, oleuropeoside and hydroxytyrosol that have antimicrobial and antioxidant properties. I have found this herb particularly helpful to shorten the course of respiratory infections to prevent the spread of infections within households.
---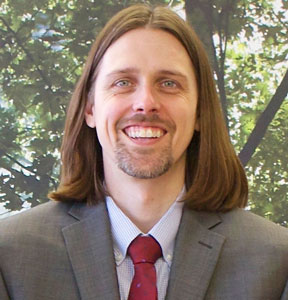 By TJ Williams, DC, PhD
I love the holidays. It's a time when we have the incredible opportunity to gather together with our friends and loved ones. However, if we're not careful, the holidays can also mean a time of unwanted weight gain, stress, and illness. Luckily, we have some tips to help you avoid these pitfalls.
Weight Gain:
Believe it or not, it is possible to enjoy yourself during the holidays and not gain any extra weight!! If you're attending an event, eat a high-protein snack before you get there. High protein snacks will help you feel fuller longer than foods high in carbohydrates. You'll make more objective choices about what you're eating when you don't have an empty stomach. If you're hosting an event, take some time to plan a healthier menu instead of typical holiday foods. Also remember that liquid calories count just as much as the ones you eat. Avoid holiday cocktails with heavy cream and sweetened mixes.
However, the biggest secret to avoiding unwanted weight gain during the holidays may be something you haven't heard of. Ever wonder how some people seem to eat and drink whatever they want, but still manage not to gain weight? We know a lot of those people because they are frequently in our clinic getting lipotropic (fat burning) shots. These shots contain a high dose of essential nutrients that enable you to burn fat more effectively. A lipotropic nutrient is what is used in the body to promote, encourage, and support the removal of fat from the liver. It also aids in ensuring that excess fat gets burned off for fuel and energy instead of being stored away. This allows you to burn off existing fat stores as well as the fats and sugars consumed today. So, while it is still important to be mindful of what you are putting in your body, our lipotropic shots are a great preventive measure in case you get off track during the holiday season. We also offer lipotropic IVs for those of you who are looking for something even more effective.
---