---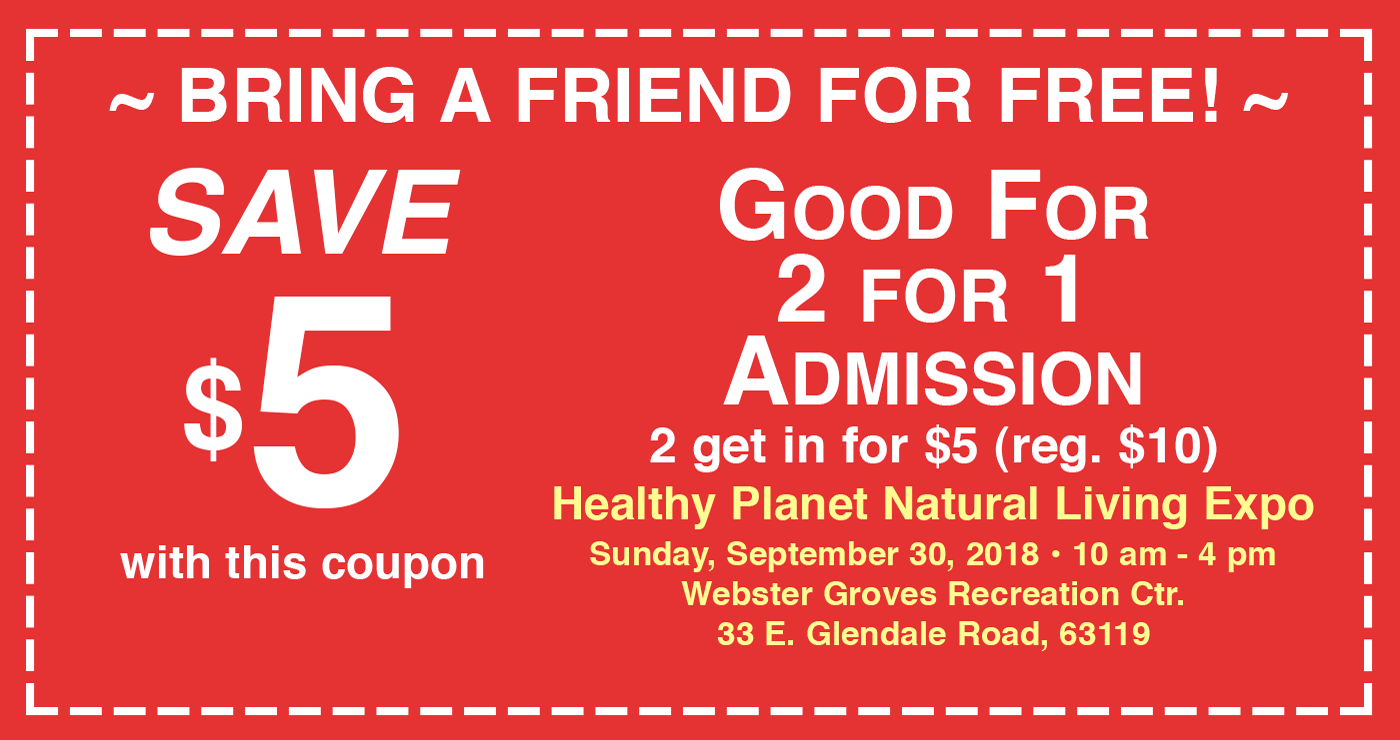 Expo Now Includes Speaker Series
Natural Living Expo Sept. 30
Expo Now Includes Speaker Series
The Healthy Planet magazine invites everyone to come celebrate early autumn at its 36th Natural Living Expo, Sunday, September 30, 10 am to 4 pm, at the Webster Groves Recreation Center, 33 East Glendale Road in Webster Groves.
The first 400 visitors to the expo will receive a free reusable tote bag courtesy of Diebergs and Fresh Thyme Farmers Market. There will be a number of samples including wine tasting by Edg-Clif Winery & Brewery and granola samples by Banner Road Baking Company. Attendees will also be able to get free health screenings, chair massages, green products for your home and garden, your family and even your pets.
Enjoy live music by Mark Holland on Native American Flute and Carol Eder on guitar. Enter a drawing for a $600 family getaway to Trout Lodge YMCA of the Ozarks and Fox Theatre Tickets. Hundreds of visitors will receive Chipotle Food Cards and the first 100 visitors will get a free pass to the Missouri Botanical Garden, The Butterfly House or Shaw Nature Reserve.
Learn more about topics such as acupuncture, allergies, chiropractic, green home products, natural health, nutrition, fitness & exercise, non-toxic personal care products, essential oils, green dining, sustainable living, organic produce, CBD oils, energy healing, fitness, biomats, supplements, healthy foods, better hearing, anti-aging, and much, much more!
---
Light morning rain begins to fall as a Gray Jay rustles in the trees just above us. The mountains cast a blue gray reflection on Sprague Lake, 8690 feet above sea level in Rocky Mountain National Park. The hike around the lake is an easy trek and the views are spectacular. My sister Jill and wife Niki are dressed in colorful rain gear contrasting against the variant greens of the willows and pines. A solitary fly fisherman tries his luck at the lake's stream source. A German couple with their two young children walk the trail just ahead of us stopping to read the informative trail markers. It has been years since I visited my sister in Estes Park Colorado, and when I am here in the mountains I always wonder why it takes me so long to answer the call of the wild again. I love to hike. I love to be in the woods. It is where all time stops and wonder begins. Such a nice break from the complications of daily life. I breathe in the cool crisp mountain air and realize I have acclimated well this trip to the thinner atmosphere. The well-groomed trail around Sprague Lake takes us in and out of evergreens beside large mountain boulders. The German family stops ahead of us and looks at something in the brush off to the right. As we catch up to them, we spy a mother moose and her youngster enjoying a late morning meal of willow sprigs. We stand ever so still and quiet as the pair moves slowly through the greenery. It seems so surreal to be standing just fifty feet from wild moose and they don't feel threatened, nor do we. We are in awe, watching the majestic animals in their natural habitat. As we continue on around the lake, the moose make their way down to the water for a snack of marsh grass. The lucky hikers who came out to Sprague Lake this day in the light rain are thrilled to witness just another day in the wild for the moose, but for us an experience we all will never forget.
---
By Dr. Ian Wahl
With the start of school, so starts the season for colds.
Do you have children? Are you a teacher? Can you tell the difference between whether you or a child has a cold or an allergy?
The symptoms of sinus allergies are very similar to cold symptoms – runny nose, watery eyes, cough, nasal congestion, sneezing – and it can be tough to tell the difference.
But there are ten telltale signs that point to whether a person has an allergy not a cold.
Just ask yourself the following 10 questions:
Does it seem like you or your child always has a cold? Colds usually wind down in no more than a week to 10 days at the most; allergies don't.
Is their nose continually stuffy or runny?
Is he constantly wiggling, wiping, or pushing his nose up with his fingers or hand in what doctors call the allergic salute?
Is the mucus that drains from her nose clear and thin (as opposed to yellow or greenish and thick)?
Does he seem to sneeze a lot?
Are her eyes itchy, red, and watery?
Does the skin under his eyes look dark or purplish or blue (what allergy doctors call allergic shiners)?
Does she breathe through her mouth?
Does he have a persistent dry cough?
Is her skin irritated or broken out in an itchy or red rash?
---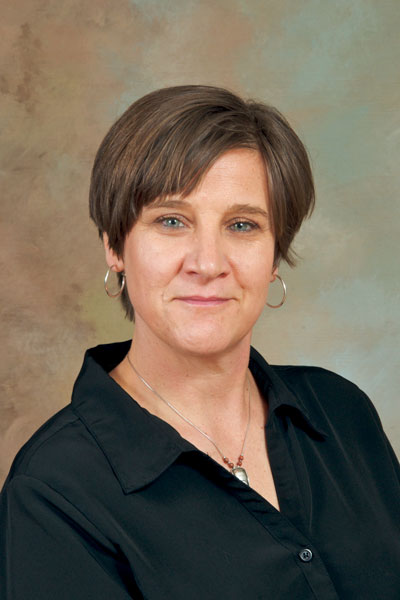 Christine Kniffen, MSW, LCSW
www.ChristineKniffen.com
Just about everyone has heard the saying, "No one can make you happy but you". We hear these sorts of platitudes so often, that they seem to go in one ear and out the other. It's as if the idea is so simple, that we can't believe it is really the answer to our struggle and the level of emotional turmoil we feel at times. Well, it is true. Happiness is not found outside. Those seeking it in external places (especially from others) wind up disappointed in life, constantly chasing the one thing that will finally make them happy.
Common thoughts include: "If only I had a great relationship", "If only I had a better job" or "If only someone else would act differently". I think most of us can relate those sentiments. When you look at happy people one common denominator stands out. Happy people like themselves. People who are unhappy or suffer discontent usually have three key areas that need to be addressed that are actively keeping them from this seemingly elusive state of mind. These areas involve improving self-esteem, coming to understanding their purpose in life and developing a confidence in their ability to design the life they want.
You don't hear happy people "beating" themselves up verbally all the time. You just don't. Happy people both like and accept themselves. They know who they are and what positive qualities they possess. If they feel they have some negative qualities, they more often relay them to others in a light-hearted, joking way. They are comfortable in their own skin. There is an ease about them. They come off genuine and consistent, not having to pretend to be something else, as who they are is perfectly good enough. Happy people do not relentlessly chip away at their self-esteem with unkind negative comments.
---
After suffering a debilitating shoulder injury, Jim Seidel, 57, initially thought he had just two options: living with the chronic pain brought on by the injury or undergoing major orthopedic surgery. Continuing on with the pain was out of the question, but Seidel was concerned about the risks associated with surgery and the recovery time that would be required. Fortunately, he discovered a third alternative after learning about the services available through Bluetail Medical Group's Dr. Kristin Oliver and Dr. Chris Wolf. Dr's Oliver and Wolf are partners at Bluetail Medical Group and pioneers in the field of regenerative medicine and stem cell therapy. By utilizing a patient's own stem cells and platelets to help to repair muscle, tendon, ligament, and other tissue, Dr. Oliver offered Seidel a safe and effective alternative to surgery with little downtime. After receiving his treatment, Seidel experienced a complete relief from his pain with only one week of recovery time.
Seidel's experience provides a great example of the benefits regenerative medicine can offer patients who are looking to avoid going under the knife. It's also a great option for those who want to avoid having to rely on opioid medications to manage their pain.
"When someone is no longer gaining relief from cortisone shots but would rather avoid surgery because they don't want to have the recovery time and possible side effects, including infection or possible addiction to opioid pain medication, regenerative therapy is proving to be a popular and effective alternative," notes Oliver . Per Dr Wolf : "People want to avoid missing work or having to put their active lifestyle on hold, and we've seen over the past decade that regenerative therapies address both of those concerns."
---
By the Missouri Department of Conservation
Fall is a great time to plant a tree. There's less chance of drought or sun scorch harming newly-planted trees, and the cooler temperatures encourage new root growth. As long as the hottest days of summer are gone and the ground isn't frozen, you can still plant trees.
Before you dig, consider exactly what kind of tree you want for the space. There's no one perfect tree for all situations. Some, such as dogwoods, stay small their whole lives; others, such as burr oaks, become large and stately. It's important that you pick a tree that is right for the place you intend to plant it.
Consider the tree's purpose
First, decide how you would like the tree to function. Are you planting this tree as a screen from the neighbors, an accent by your front door, for shade or for greening your surroundings? Are you interested in aesthetics such as fall color and spring flowers? Do you want to provide food and shelter for birds and other wildlife?
Look up, down and all around
Next, critique your site. Are there sidewalks, gardens or other trees to be avoided? How much space is there for a tree to grow? Don't forget to look up! A common mistake is to plant a small sapling that will mature into a large, shade tree directly under a power line. This is a no-win situation for you, the tree and the utility company. Large shade trees should be planted at least 45 feet from overhead utility wires. If your site is close to utility lines, consider planting trees that stay small or plant shrubs.