---
Green Homes Festival Spotlights Plant-Based Options for Sustainable Living
Are you looking for green living ideas? Do you want to learn how to live more sustainably? Are you planning to build a new house? Have comfort issues and want to make improvements to where you live now?
Missouri Botanical Garden has resources for you, at the 16th annual Green Homes Festival on Saturday, June 3 from 9 a.m. to 4 p.m. You'll discover affordable, practical options for sustainable living combined with positive ways to help make your home healthier and more comfortable, protect the environment, and save you money.
The Green Homes Festival is included with regular Garden admission of $12 for adults and free for children ages 12 and under. St. Louis City and County residents enjoy free admission on Saturday before noon and are $6 thereafter. This event is hosted by the EarthWays Center of the Missouri Botanical Garden.
---
You are invited to the Alternative Building and Sustainable Living Farm Tour, June 10, hosted by Solis Farm in conjunction with Farwig Farm and Silver Seed Farms. Entry to the Farm Tour is free but the sponsors ask that you bring a non-perishable food item to be donated to a local food bank. There will be live music, food, speakers, raffles, kids activities, vendors and much more. You can go online to get a free ticket and more information at Solisfarm.org. Below is information about the host farms. Visit their websites, email or call them for more information.
---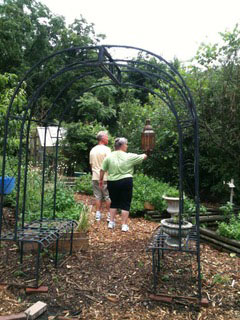 By Terry Winkelmann
Cats are great. Dogs are great, too. Anything you can snuggle up to that snuggles back, tends to be great. The Earth can be harder to snuggle, given its immensity and many sharp, pointy things and oh…snakes. But if you love the Earth as much as the cats and dogs that only the EARTH makes possible, as much as we love our kids and each other, it's time we tell our lovely planet just how much we'd really like to snuggle.
Sounds difficult, but it's not really. You could slather on the sunscreen and stretch out in a meadow. Plant an apple tree, pat the soil around it and gently water. Go camping in one of Missouri's many beautiful parks and listen to the woods at night. All good, snuggly options.
And if you're in town on Sunday, June 11th this year, you might also attend the Sustainable Backyard Tour. Now in its 7th year, the tour is an unusual animal. It's free. Everyone is welcome. It takes place in private yards all over the St. Louis region. And it's snuggly.
A grassroots, all-volunteer event, The Sustainable Backyard Tour recognizes that we flourish or fail together, that it is up to us as individuals and communities to share what we know and do better.
---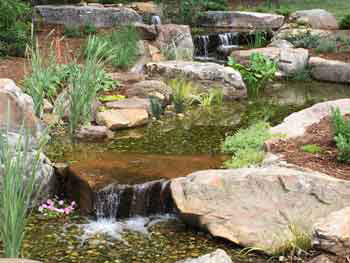 17th Annual Pond-O-Rama Set For June 24-25
By Ginny Mueller

There is nothing so calming and peaceful as the sound of gently moving water. If it doesn't exist in their current environments, members of the St. Louis Water Gardening Society create their own serenity in backyard gardens—and once a year, they are willing to show everyone how sweet it is–the 17th annual Pond-O-Rama will be held Saturday and Sunday, June 24-25.
There is something for every taste on this year's tour, from towering waterfalls, gentle trickling streams, pondless waterfalls and rain recovery systems. In them and in the surrounding landscapes are some of the most glorious gardens in the St. Louis area—a pleasure for gardeners and wildlife alike. Birds, butterflies and glorious photo opportunities abound!
Pondless waterfalls are a solution for those who want to have the soothing sounds of water, but either do not have room for a pond, or don't want the responsibility of caring for plants and fish. These kinds of water features have been growing in popularity, but now an ecologically friendly "wrinkle" has been added. Rainfall recovery systems are essentially pondless waterfalls that add an underground storage tank to collect rain water off rooftops and driveways. That water then can be used to water the landscape.
Of the 39 gardens on the 2017 tour, 14 are new to the event. Several others have undergone extensive renovations since previous tours.
---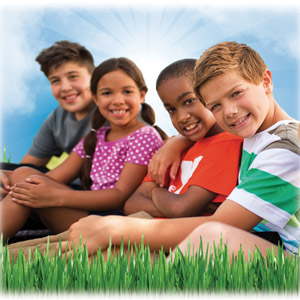 Ackermann's Swim Program
A Sports Facility – Teaching children 4-11 the life skill of swimming and water safety for 65+ years. Family owned and operated at the same location, 1044 Curran Avenue, Kirkwood, MO 63122. Group swim lessons in 4 heated pools with different water levels for progressive safe learning. Enrollment by one or two week sessions. Hours 9:10 a.m. to 2:00 p.m., Monday through Friday. Drop off and Pick up at curb. Well organized program with large playground. Red Cross Certified Teaching Staff. Providing children a non-competitive, safe, teaching environment in which to build confidence and self-esteem. Visit ASPKirkwood.com.
Craft Alliance
Center of Art + design
Fun weekly art camps for children and teens, ages 4-18, May 30-August 11. Explore hot glass, pottery wheel, metal jewelry, drawing and painting, textile design, 3-D printing, digital photography, and more. Come for a weekly half day camp or choose a morning and afternoon camp and spend the whole day being creative! Two locations to choose from – the Delmar Loop, 6640 Delmar Blvd. and Grand Center, 501 N. Grand Blvd. in the Kranzberg Art Center. Camps are taught by artist instructors and there are Teen Intern opportunities. Before-care and After-care options. Financial aid available, underwritten by the Staenberg Family Foundation. www.craftalliance.org
---
---