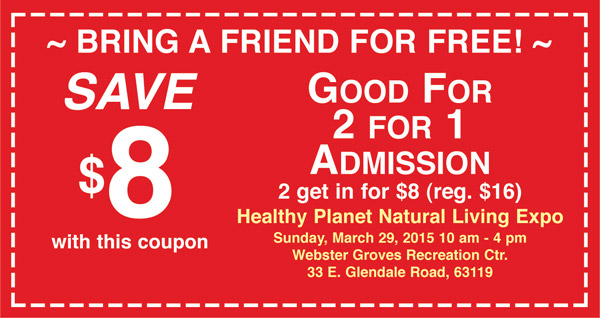 Enjoy the beginning of Spring as The Healthy Planet, St. Louis' Green & Healthy Living magazine, hosts its 29th Natural Living Expo Sunday, March 29, 10:00 a.m. to 4:00 p.m. at the Webster Groves Recreation Center, 33 East Glendale Road (I-44 at Elm Avenue) in Webster Groves.
This popular event will include more than 70 exhibit booths offering a variety of eco-friendly, healthy and natural products, services and information. There will be numerous food and product samples to enjoy including craft beer tasting by Schlafly and wine tasting by Edg-Clif Farms and Vineyard. Get a free health screening, a chair massage, and learn more about living a healthier life for yourself and your family. Eco-Friendly businesses and organizations will be on hand to show you how you can live a "greener" and more sustainable life at home, in your yard, garden, and your community.
"We have been hosting these expos for more than 17 years," said J.B. Lester, Publisher of The Healthy Planet magazine. "Each one has its own great energy and the crowds are always large and enthusiastic. I think people are very interested in finding the resources they need to live greener and healthier lives and this is the place to do just that. Not to mention all the great samples and giveaways at the expo. Between the free chair massages, free health screenings, food and beverage samples and reusable tote bags, our visitors go home feeling like they really got their money's worth!"
---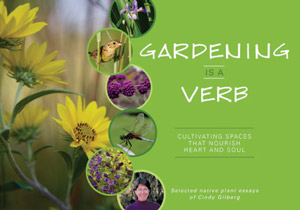 New Cindy Gilberg Essay Book Celebrates Native Plants
By Jean Ponzi
If you've picked up The Healthy Planet magazine or Gateway Gardener over the past few years, you've probably read the native plant landscaping columns contributed by Cindy Gilberg. Thousands of readers did, around St. Louis and across Missouri, as Cindy wrote for statewide publications too.
Her vivid verbiage moved many of us to start growing native plants, which are now transforming our high-maintenance (lifeless!) lawns into habitat that hops, flits, buzzes, blooms, fruits and bursts in all seasons. Evidence of Cindy's motivation (success!) is sprouting all over our area: in rain gardens, woodland borders around suburban homes, mini-ponds, and pocket prairies.
She influenced the horticulture business too, as a native perennial grower and designer. Her decades of experience proved native plant capabilities to conserve water, recharge soil, support biodiversity, and re-connect people and our neighborhoods to nature. Her colleagues in the landscape and nursery industry are hustling now to meet our demands for these "new" (timeless!) plants that can revive the eco-liveliness of our human habitats.
---
By Crystal Stevens
La Vista CSA Farm
(CSA) Community Supported Agriculture Farms operate under a subscription model. Shareholders or members pay up front to help the small farmer cover seed and operating costs at the beginning of the growing season. Members then receive a weekly share of the seasonal harvest grown throughout an allotted period of time, typically 20-25 weeks.
Some CSA Farms require or suggest that members volunteer on the farm in addition to paying a subscription fee. The members share in both the risks and the benefits with the farmer, meaning that they enjoy the surplus and bounty during the great harvests, but also show patience and understanding when a crop failure occurs due to sometimes uncontrollable or unforeseen factors such as weather, plant disease, swarms of insects or wildlife.
The members get to know their farmers and in turn develop a connection with their food. Often times, members visit the farms to pick their own herbs, fruits, flowers, peas, beans and cherry tomatoes. Local foods grown without pesticides help to improve overall health because the food is fresh, often harvested the morning of the pick-up, especially since you receive them weekly and will integrate them into your diet.
---
---
March brings a very special kind of madness to the Sophia M. Sachs Butterfly House — the annual March Morpho Mania® event! Visit during the month of March, when the Butterfly House floods the tropical conservatory with thousands of breathtaking Blue Morpho butterflies — a perennial favorite. What better way to celebrate spring?
Native to the forests of Central and South America, the Blue Morpho's dazzling, metallic blue is all in
the eye of the beholder: their wings are not actually colored blue, but are lined with many tiny scales that only allow blue light to escape. And what a sight to behold: thousands of these creatures catching the light in our sunny conservatory.
Despite their opulence, wild Morpho peleides prefer to stay in the forest understory, feeding on fermenting fruit, tree sap, even decomposing animals—keeping their wings folded to avoid catching the eye of would-be predators. But during mating flights, Blue Morphos rise high into the canopy, attracting mates with their iridescent splendor.
---
7th Annual Growing Green Celebration To Be Held March 26, 5:30-8:30pm, at Third Degree Glass Factory
By Steve O'Rourke, USGBC-Missouri
Gateway Chapter Marketing Committee
The Missouri Gateway Chapter of the U.S. Green Building Council is proudly recognizing a special group of people who have transformed our built environment in notable ways. For the past six years, the USGBC-Missouri Gateway Chapter has presented Growing Green awards to community and building industry leaders in a variety of categories, such as restoration and innovation. This year, the group will shine a spotlight on previous winners, plus highlight recently certified LEED and ENERGY STAR projects.
The dinner event will be held at the Third Degree Glass Factory, a unique venue housed in a working glass studio. In lieu of a keynote presentation, the event will feature fun, fast-paced PechaKucha-style presentations by last year's award recipients, where each winner presents 20 slides and speaks for only 20 seconds on each slide.