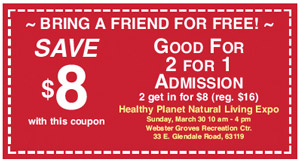 The Healthy Planet magazine is hosting its 27th Natural Living Expo Sunday, March 30, 10:00 a.m. to 4:00 p.m. at the Webster Groves Recreation Center, 33 E. Glendale Road, 63119 (I-44 at Elm Avenue) in Webster Groves.
The Spring Expo will include more than 65 exhibit booths offering a variety of eco-friendly, healthy and natural products, services and information. There will be numerous food and product samples to enjoy. Enjoy seasonal beer and wine tastings and enjoy live Native American Flute by Mark Holland and Guitar by Carol Eder.
Eco-Friendly businesses and organizations will be on hand to show you how you can live a "greener" and more sustainable life at home, the office and in the community. The first 300 visitors will take home a complimentary eco-friendly, reusable tote bag courtesy of Whole Foods Market and Schnucks Markets. Get a free health screening or chair massage. Enter a free drawing for a family weekend at Trout Lodge YMCA of the Ozarks ($600 value), or Amtrak train Tickets.
---
Your guide to fresh, local produce grown responsibly.
Know your Farmer, Know your Food!
Living La Vida Local
By Crystal Stevens
When it comes to conscious eating, Saint Louisians have a copious amount of options. Individuals who value healthy fresh food grown within their community may support the local foods movement through many different avenues:
Shop at Farmers Markets (don't forget your cloth bags)
Join a CSA (Community Supported Agriculture) Farm. CSA farms offer an affordable and continuous supply of fresh sustainably grown produce harvested within a day or even a few hours of pickup. Most vegetable CSA's average $25 per week. CSA's that offer local eggs, meats and cheeses will average about $55 per week. CSA members demonstrate their loyalty to small family farmers by paying for their share up front which gives farmers the funds necessary to purchase seeds and supplies for the season. With nearly 2 dozen CSA Farms serving the St. Louis Metropolitan area, there are plenty of options to chose from.
Shop at grocers who support sustainable farming such as Local Harvest Grocer.
Learn how to farm! La Vista CSA Farm (between Alton & Grafton IL) is offering a limited number of reduced cost Beginning Farmer Training Apprenticeships for the 2014 Season. Visit www.lavistacsa.org for more info. EarthDance Farms is a renowned Farm School right here is The Lou's backyard. Visit www.earthdancefarms.org for more info.
Grow your own!
Slow Foods Saint Louis
www.slowfoodstl.org is an excellent resource which gives a detailed list of Where To Eat Slow which includes CSA's, Farmers Markets, Grocers, and Restaurants.
---
---
by Karen Klaus, Director of Development
Operation Food Search
Being "green" means considering the possible impact of our actions on the planet and choosing to live in a way that leaves the smallest footprint. We think of reusing, recycling and reducing.
Also, when we think "green" we often think of spring! The color green symbolizes nature, growth, harmony, freshness and fertility. Combine both concepts and voila! – You have a fresh take on clothing courtesy of Rung and Sprung boutiques modeled by Operation Food Search nutritionists and friends.
Operation Food Search, Rung, and Sprung are all intrinsically green!
Since its inception, Operation Food Search has rescued food no longer saleable, yet safe, nutritious and edible. The organization immediately distributes this food to emergency food pantries, shelters and soup kitchens to get it onto the plates of hungry individuals and families throughout the St. Louis region. This operation has saved tons of good food from going into landfill to use for a higher purpose – to nourish our neighbors in need.
Rung brings fashion full circle and provides women with an uplifting experience by offering upcycled professional attire at affordable prices in a fun boutique atmosphere. A significant portion of Rung's net profits support the Women's Foundation of Greater St. Louis to be granted out to women's charities. Likewise, its offshoot Sprung supports families by offering affordable and fashionable maternity and kids' attire with proceeds benefiting Nurses for Newborns.
Operation Food Search, Rung and Sprung are happy to partner for this green fashion shoot that highlights the culinary-based nutrition education outreach and child-focused hunger relief programs of Operation Food Search. We hope our feature has the virtues that will leave you feeling refreshed, renewed and inspired!
---
By Dr. Adam Hughes, DC, IHS
Over the last 10 years, many doctors and researchers have come to find that changing the type of fat and oil in an individual's diet is perhaps the most important issue in health care. We now know just how terrible trans fats are for your health, but it wasn't so long ago that cardiologists were advising patients to eat margarine (made with trans fats) instead of butter. However, many people are still following the "low fat" and "no fat" diet trends of the past. Our bodies are dependent on good fat sources, therefore avoiding all fats in general in order to lose weight is not the healthiest choice.
Avoiding trans fats and consuming omega-3 fatty acids benefits so many aspects of health. Consuming the right kind of oil can mitigate inflammation. Research the harm caused by trans fats, and that they promote inflammation. Research appearing in the Journal of Nutrition (2005; 135(3):562-6), the Journal of Cardiac Failure (2005; 11(8):613-8), and theAmerican Journal of Clinical Nutrition(2004; 79(4):606-12) all support this. Omega-3 fatty acids, on the other hand are anti-inflammatory. Omega-3 Fatty acids are found in fresh water fish, such as salmon, walnuts, almonds, and leafy green vegetables. Other good sources include high quality extra virgin olive oil, coconut oil, avocados, and organic butter, or better yet grass-fed organic butter. When using supplementation, choose High Quality fish oils, cod liver oil, and flaxseeds. Do your homework when choosing supplements. Many of the "bargain" supplements found in most drugstores are of poor quality and often contain harmful synthetic chemicals. Work with a health care provider who is trained in clinical nutrition when searching out supplementation.
The benefit of omega-3 fatty acids to the heart, and the harm to the heart caused by trans fats is also very well researched. Research appearing in the Asia Pacific Journal of Clinical Nutrition (2005; 14(4):307-12), the Journal of Nutrition (2004; 134(4):874-9), the American Journal of Medicine (2002; 113(4): 9B:9S-12S), and the European Journal of Nutrition (2003; 42(4):188-94) are just a few of the research articles that support this idea.
---
by Linda Wiggen Kraft
Have you heard of Slow Food? Probably. Have you heard of Slow Flowers? Probably not. The Slow Flower movement is part of Slow Food's effort to promote sustainably and locally grown plants. Instead of plants we eat though, Slow Flowers are cut flowers we share in our homes, celebrations and life transitions.
Slow Flowers are all about locally and sustainably grown. The Slow Food movement has brought awareness to the deplorable conditions and impacts of factory farms and long distance food shipping. Slow Flowers bring awareness that the cut flower industry is not much different than factory farming. Most cut flowers are grown out of the country where toxic chemicals banned in the U.S. douse both workers and land. Some of these flowers never see sunlight or soil.
The passion and calling to change the way flowers are grown and sold has inspired growers and florists who are bringing beautiful, fresh, fragrant, unique and organic or sustainably grown blossoms to people. Many of these flower farmers are bringing back old ways of growing, along with new attitudes of caring for the communities of life that live in the soil and upon it. Saint Louis is fortunate to have some of these growers and sellers. They provide small bouquets, buckets full of flowers and arrangements for weddings, special occasions and everyday beauty.
Growing cut flowers is not new to the St. Louis region. Cut flowers were grown in greenhouses throughout the area starting in the early 1900s. Carnations and long stemmed mums were the largest crops. In the 1950s there were close to fifty different greenhouse businesses growing just cut flowers. As the ability to ship by plane increased, the cut flower greenhouses closed or changed to growing bedding plants for the garden.