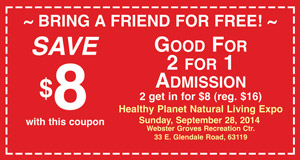 Enjoy the first weekend of Autumn as The Healthy Planet, St. Louis' Green & Natural Living magazine, hosts its 28th Natural Living Expo Sunday, September 28, 10:00 a.m. to 4:00 p.m. at the Webster Groves Recreation Center, 33 East Glendale Road (I-44 at Elm Avenue) in Webster Groves.
This popular event will include more than 55 exhibit booths offering a variety of eco-friendly, healthy and natural products, services and information. There will be numerous food and product samples to enjoy including craft beer and wine tasting. Eco-Friendly businesses and organizations will be on hand to show you how you can live a "greener" and sustainable life at home, in your yard, garden, and your community. Get a free health screening, a chair massage, and learn more about living a healthier life for yourself and your family.
"We have been hosting these expos for more than 17 years," said J.B. Lester, Publisher of The Healthy Planet magazine. "Each one has its own great energy and the crowds are always large and enthusiastic. I think people are very interested in finding the resources they need to live greener and healthier lives and this is the place to do just that. Not to mention all the great samples and giveaways at the expo. Between the free chair massages, free health screenings, food and beverage samples and other giveaways, our visitors go home feeling like they really got their money's worth!"
The first 500 paid visitors will take home a complimentary eco-friendly, reusable tote bag courtsesy of Dierbergs, Schnucks & Whole Foods Markets. Chipotle is offering 500 free food cards to expo visitors throughout the day.
The Healthy Planet Natural Living Expo has something for everyone. Enter a free drawing for a family weekend at Trout Lodge YMCA of the Ozarks ($600 value), or Amtrak train Tickets. If you are interested in living a healthier and "green" life, then don't miss this event! The first 100 paid visitors receive FREE passes to Missouri Botanical Garden, too!
---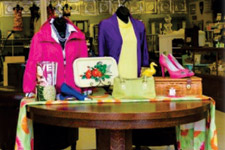 There is nothing more exciting than a bargain! And this love of a "great find" has spawned an enormous growth in resale shops throughout the greater St. Louis area. From clothes, to furniture, to collectibles to any sort of knick knacks you can imagine, thousands of bargain-hunting consumers are out in droves frequenting resale shops, used furniture stores, antique malls and consignment shops. While the main focus may be finding something wonderful for less, the end result is one of environmental significance. Resale shops have created a wonderful pipeline between unwanted items and those people who still want and can use them. Before the growth in resale shops, many of these items made their way to the landfills. There is nothing better than reusing and repurposing because it creates enjoyment for all concerned. People sell their older items, people get those items at a bargain, new jobs are created at resale shops, and the environment becomes less burdened. The old adage is certainly true: "One man's trash is another man's treasure." We hope you enjoy using this guide and finding whatever it is you are looking for at the best bargain possible!
---
Story & Photo by Linda Wiggen Kraft
Purple coneflower is one of the best-known and best-loved native prairie plants.
Its daisy-like composite shape with its large spiky orange and brown seed heads and pink/purple flower petals is well loved by gardeners living in prairie lands and way beyond those borders. It is also well loved by insects and birds for its nectar and seeds.
Echinacea purpurea is the botanical name of Purple Coneflower. The name "echinos" comes from Greek and means hedgehog, referring to the spines of the cone shaped seed head. Purpurea means purple, which is the color of the original purple coneflower. There are now orange, white, pink, yellow and other colors and shapes that show the range of hybridizers' talents with new garden offerings.
It is the original purple coneflower that has for the longest time graced our gardens, native wilderness and medicine chests. The powers of Echinacea plant, and all the species of Echinacea, start with their beauty but go way beyond with their healing powers.
The composite shaped seed heads carry the intersecting spiral pattern that is a symbol of the Fibonacci numbers. Purple coneflower, sunflowers, pinecones and many plants have spirals that always total one of the Fibonacci numbers…5, 8, 13, 21, 34, 55 etc. In sacred geometry these spirals are a living manifestation of nature's pattern of growth seen from the smallest cells to the movement of the galaxies. These nature shapes are a blueprint of creation and a mandala that lets us experience the meditative beauty of life.
---
By Maureen Zegel
Tom Behnen has been selling beer in St. Louis for more than a decade. He talks beer history in compressed archeological terms to describe the craft beer movement. Layer upon layer, new beers arrived in the St. Louis market, he says, and the beer-drinking public responded with enthusiasm.
"You can see the evolution of St. Louis' taste buds in beer, says Behnen, director of operations for Llywelyn's Pub's six locations. Llywelyn's opened in 1975 in St. Louis' Central West End neighborhood. Behnen has been with them since 2006.
"Given Llywelyn's Celtic heritage and food, we used to sell a lot of imported beers. Then Schlafly came along (1991) and we made a commitment to them. Then O'Fallon Brewery opened (2000) followed by a whole lot of other local breweries. Four years ago we started getting Colorado beers, East and West Coast beers – all really good, really different beers. They were savory and thick and went well with our food."
Llywelyn's Pub in Webster Groves has 44 taps serving up a variety of draft beers at any given time. It's bottle beer choices number in the hundreds. Its five other locations (Central West End, Soulard, St. Charles, O'Fallon and Wildwood) all offer similar selections.
"Craft beer is so diverse, it can be paired with anything. There really are no restrictions any more," says Behnen. "Because we make a concerted effort to use locally grown and raised produce and meats, our local craft beers are a natural."
---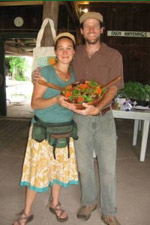 By Nancy Smith
Not far from St. Louis, near the village of Godfrey, Il, itself a charming place on the Great River Road, lies a farm that is unique in its conception and its covenant with the community. Originally founded by an Oblate, Maurice Lange, 12 years ago, La Vista farm and CSA provides boxes of produce grown with love, care and organic methods in service to the community. The project is a manifestation of the Oblate Ecological Initiative, and focuses on ecological justice in a hands-on and sustainable way.
For five years, Eric Stevens has been farm manager, and his wife Crystal has been Greenhouse Manager and Assistant Farmer, following in the footsteps of the first La Vista farmer, Amy Cloud, and Chris and Stacey Larson, who were the second farmers to undertake this mission.
Maurice Lange conceived the idea of a farm with CSA on the Oblate property when he visited another CSA 12 years ago. The first customer for La Vista CSA wrote a check for the whole season on the spot, and since then, the CSA has grown exponentially, with great community support.
All the produce is grown using organic methods, and the farm is a model of permaculture. Medicinal herbs, an orchard protected with underplantings of alliums like chives, bees, and sustainable pollinator plantings are tended for the good of the farm, the community and the planet.
The CSA season is 26 weeks, from May through mid-November. In addition to pick-up at the farm, subscribers are offered a choice of pick-up points at either Garden Heights Nursery on Big Bend Rd. on Saturday mornings from 7 to 8 or Green Earth Grocery in Edwardsville, IL on Tuesday evenings from 5:30 to 6:30.
---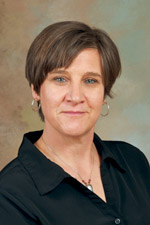 Your Personal Relationship Coach
Christine Kniffen, MSW, LCSW
Are you currently struggling with some aspect of your relationship or do you feel that there is certainly room for improvement? A relationship is like a car. It has many components and all need to work seamlessly together in order for a satisfactory ride.
Perhaps you have even tried to address certain issues previously, but to no avail. Having seen scores of couples throughout the last 15 years, I have become quite adept at observing the patterns of interacting and recognizing where the wheels tend to fly off the track, resulting in a rather bumpy ride. Generally, couples diverge off into several predictable paths that need to be righted in order to feel satisfied for the long-haul of their trip.
Learning how to navigate the differences is one of the biggest hang-ups couples have. And, if not done successfully for too long of a period, this can lead to arguments, hurt feelings, anger and eventually the possible demise of the relationship. Differences between the partners often fall into unhealthy patterns of being viewed as right or wrong.
This is where the real damage begins to take hold and start chipping away at the foundation of the couple. Eventually, we begin to feel hurt that our partner can't see our side or how important something is to us and why. We then begin to dig our heels in even harder and thus begins the slow death of compromise and understanding towards our partners. This then festers and becomes pervasive throughout the relationship. I remember one client who came in by herself several years ago. This pattern of seeing things as right and wrong, accompanied by the then predictable lack of compromise, had reached a breaking point. She said, "I can't even stand to hear him talk anymore". As a counselor, we all hope that couples take the initiative to address the struggle of navigating the differences before things reach this point, as it makes for a much better chance to steer the relationship back on the right track.