---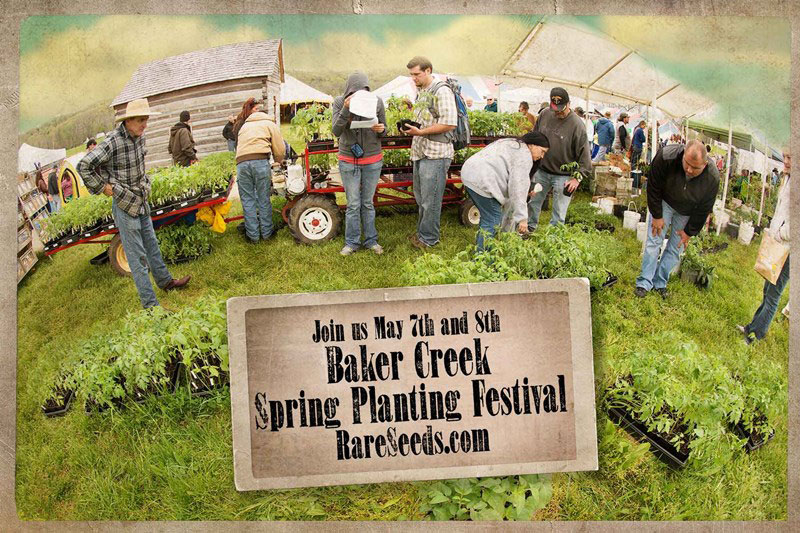 Baker Creek Heirloom Seed Company is excited about its biggest festival of the year. The 17th annual Spring Planting Festival at Bakersville Pioneer Village near Mansfield, Missouri, is Sunday and Monday, May 7 and 8. The event that started with a small gathering of gardeners in the year 2000 has grown to 10,000 attendees each of the past 2 years. All come to enjoy a sense of community with fascinating seed collectors, old-time musicians, internationally acclaimed speakers, historic demonstrators, food activists, home schoolers, western re-enactors, organic growers, gourmet chefs, free thinkers, Ozarkian crafters, trendy vendors and herbal hippies.
Baker Creek owner Jere Gettle began hosting festivals to bring gardeners together to share and learn from one another. Learning and sharing are still the major components of the festival. Both days will be filled with presentations from some of the nation's leading experts on GMOs, healthy food, permaculture, heirloom gardening, seed saving, and so much more.
More than 100 vendors display and sell their traditional crafts, food, tools, homesteading supplies, and eco-friendly items. Visitors have opportunities to purchase handmade quilts, garden art, locally made blacksmith tools, essential oils, handmade and homemade clothing, leather goods, and so much more.
Probably the biggest draw of the festival is the food. The village restaurant will be serving healthy vegan lunches, while Debbie will have her world-famous cinnamon rolls and breads available at Baker's Flour Mill bakery. In addition, mobile food units will provide many kinds of foods from vegan to farm-raised meat menus, as well as snacks and drinks.
---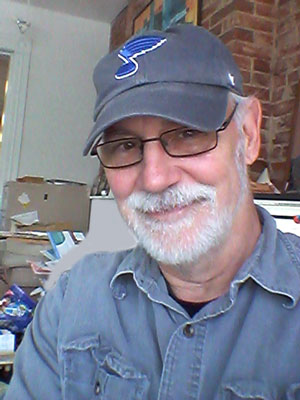 Twenty years ago this month, The Healthy Planet magazine rolled off the press for the very first time. I lugged some bungles of that inaugural edition down to the Earth Day Festival in Tower Grove Park where I set up shop and handed out the our new publication. Obviously it was well received by a very eco-friendly crowd since our mission was Health, Wellness and Environmental News. But I have to tell you, I was scared witless. Having been in publishing for more than 17 years as co-founder of the Webster-Kirkwood Times I was a bit in shock starting totally over in an "alternative" market. Back then the terms such as "Wellness" and "Eco-Friendly" were considered fringe. Today, 20 years later these terms have become mainstream along with "Green", "Integrative", and "Sustainable." No matter what it is all called, we have been working hard to bring St. Louis a magazine which offers resources for improving your life and the life of our planet. The mission has not changed in 20 years and it continues with much work to be done. It is no wonder that our cover this month is Rosie The Riveter. History buffs will recognize this symbol of the many women who entered the workforce during World War II in factories and shipyards in support of the war effort.
---
Article courtesy of the Clean Air Partnership
Data from the American Lung Association's 2017 "State of the Air" report has revealed that the St. Louis area is no longer ranked among the top 25 most-polluted cities in the U.S. This news reflects an overall trend in improved air quality nationwide, highlighted by lower overall ozone levels and lower year-round particle levels.
Despite this positive news, the report also notes that 40 percent of Americans are still living with unhealthy air. As the St. Louis region prepares to settle into the summer months when air quality conditions are often at their worst, the Clean Air Partnership is reminding area residents that their voluntary efforts to reduce emissions remain critical in the fight for cleaner air.
"While it's good to see that our region wasn't on the list of the 25 most-polluted cities in the 2017 'State of the Air' report, our struggle with poor air quality conditions is far from over," said Susannah Fuchs, Director, Clean Air for the American Lung Association in Missouri. "During the summer season, and year-round, we need area residents to continue to remain steadfast in their efforts to reduce emissions because these actions play an important role in improving air quality conditions and lung health across the region."
---
Green Homes Festival Spotlights Plant-Based Options for Sustainable Living
Are you looking for green living ideas? Do you want to learn how to live more sustainably? Are you planning to build a new house? Have comfort issues and want to make improvements to where you live now?
Missouri Botanical Garden has resources for you, at the 16th annual Green Homes Festival on Saturday, June 3 from 9 a.m. to 4 p.m. You'll discover affordable, practical options for sustainable living combined with positive ways to help make your home healthier and more comfortable, protect the environment, and save you money.
The Green Homes Festival is included with regular Garden admission of $12 for adults and free for children ages 12 and under. St. Louis City and County residents enjoy free admission on Saturday before noon and are $6 thereafter. This event is hosted by the EarthWays Center of the Missouri Botanical Garden.
---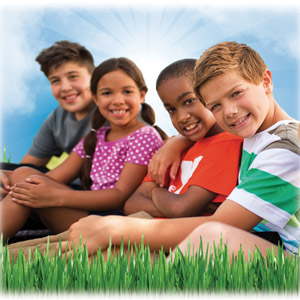 Ackermann's Swim Program
A Sports Facility – Teaching children 4-11 the life skill of swimming and water safety for 65+ years. Family owned and operated at the same location, 1044 Curran Avenue, Kirkwood, MO 63122. Group swim lessons in 4 heated pools with different water levels for progressive safe learning. Enrollment by one or two week sessions. Hours 9:10 a.m. to 2:00 p.m., Monday through Friday. Drop off and Pick up at curb. Well organized program with large playground. Red Cross Certified Teaching Staff. Providing children a non-competitive, safe, teaching environment in which to build confidence and self-esteem. Visit ASPKirkwood.com.
Craft Alliance
Center of Art + design
Fun weekly art camps for children and teens, ages 4-18, May 30-August 11. Explore hot glass, pottery wheel, metal jewelry, drawing and painting, textile design, 3-D printing, digital photography, and more. Come for a weekly half day camp or choose a morning and afternoon camp and spend the whole day being creative! Two locations to choose from – the Delmar Loop, 6640 Delmar Blvd. and Grand Center, 501 N. Grand Blvd. in the Kranzberg Art Center. Camps are taught by artist instructors and there are Teen Intern opportunities. Before-care and After-care options. Financial aid available, underwritten by the Staenberg Family Foundation. www.craftalliance.org
---
You are invited to the Alternative Building and Sustainable Living Farm Tour, June 10, hosted by Solis Farm in conjunction with Farwig Farm and Silver Seed Farms. Entry to the Farm Tour is free but the sponsors ask that you bring a non-perishable food item to be donated to a local food bank. There will be live music, food, speakers, raffles, kids activities, vendors and much more. You can go online to get a free ticket and more information at Solisfarm.org. Below is information about the host farms. Visit their websites, email or call them for more information.