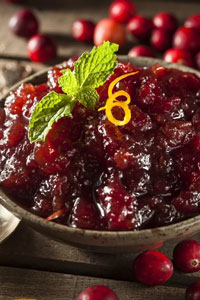 By Natalie R. Toney M.F.A., C.H.,
The Healthy Planet Food Editor
Is the holiday season upon us already? The hint of peppermint mocha while pumpkin spice still lingers in the air, wafting over Black Friday deals and decorations in the aisles, indicates we are indeed! Soon meal planning, and prepping for Thanksgiving, and Friendsgiving gatherings will be commencing, along with considerations to dietary concerns and personal preferences. Last year, I presented recipes for Gluten-free, Cornbread, and Cauliflower stuffing and dressing (available in the Nov.2022 Healthy Planet Archives), while this year I take on the Great Cranberry Debate! It seems there are some pretty strong opinions on how these tart little gems should be prepared. Some like a sauce made from scratch, and there are those who feel jellied is the only way to go, others prefer a fresh relish, some can do without altogether(since this is the Midwest there are probably Cranberry Fluff fans as well).While I might not be able to put an end to the war of the rose colored berries, I can at least tell you that most of the benefits are the same whichever way prepared. Packed with vitamins B6, C and E, fiber, Iron, antioxidants, and anti-inflammatory properties, cranberries can be enjoyed year-round in salads, smoothies, baked goods, cheeses, spreads, and drinks. And who says cranberry sauce is only for the holidays? My preferred method is boiling with fresh orange juice, zest, cinnamon, clove, nutmeg, maple, walnut, and a bit of Brandy or Cointreau when company permits. I 've made relish a few times (once adding carrot, ginger, and pecan, another with apple, walnuts, and champagne) which is a bit more tart, yet brings out some nice bright complex flavor great for spreads, and such. For those that crave the "out of the can" jellied sauce, simply make your own by straining the ingredients for cooked sauce through a sieve, let cool, and pour liquid into containers or a festive mold. Since cranberries are abundant this time of year, there are opportunities to experiment and serve more than one recipe!
Tips:
For more intact cranberries, simmer on low- the higher the heat, the more "bursts", and smoother texture. Apples, dates, figs, carrots, dried fruits, jalapeño, nuts, etc. Can be added for variety. Toast nuts to bring out full flavor. When making relish, omit "zest" and use whole orange with peel in the processor. For more orange flavor, use 1 C. Orange juice, and omit water. Fresh, unused cranberries can freeze for 12 months.
Cranberry Delight Orange Sauce Ingredients:
12 oz. Cranberries (fresh or frozen)
1/2 C. Water
1/2 C. Fresh orange juice
1/2 -1 teas. Zest (approx. 1 orange)
1 C. Dark brown sugar (or 1/2 C. Maple, honey, or agave)
Cinnamon stick (or 1 teas. Cinnamon)
1/4 teas. Clove
1/8 teas. Sea Salt
Pinch or two nutmeg
1/2 C. Walnuts (opt.)
2 Tbsp. Brandy, Grand Marnier, Triple Sec, or Cointreau (opt.)
Directions:
In a saucepan, bring water, orange juice, and chosen sweetener to boil as sugar dissolves. Lower heat to gentle boil, stir in cranberries, any remaining ingredients, then simmer while stirring occasionally and cranberries continue to burst (about 15 min).Remove from heat, sauce will continue to thicken as it cools. Can be stored in the refrigerator for about 2 weeks, and in the freezer 3 months.
Yields approx. 6-8 servings.
*Please modify to suit personal dietary needs, allergies, and as always consult a physician regarding specific medical conditions.