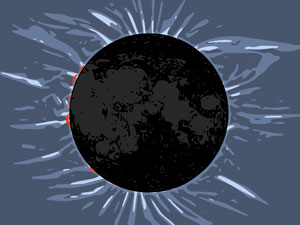 Grab your eclipse glasses and head to Carbondale or Makanda, Illinois. Both towns are in the centerline of the total solar eclipse that will occur at 1:59 p.m. CST on April 8, 2024, and will last more than 4 minutes in totality.
So, what exactly is a solar eclipse? A solar eclipse is a lineup of the Sun, Moon and Earth and only happens during a New Moon. During the eclipse, it will look and feel like nighttime, with bright stars visible in the sky and street lights lit. The black moon will be rimmed by flares of the sun.
Best viewed in Southernmost Illinois, thousands of people are expected across Shawnee Forest Country for the occasion. And it's an especially incredible event given that this is the second solar eclipse for the region in seven years. In fact, the 2017 total solar eclipse in Illinois was the first total solar eclipse in the Continental United States in 38 years, and after the 2024 eclipse, there won't be another until 2045 and 2078. Illinois residents and those in the surrounding area definitely don't want to miss this particular total solar eclipse, as there won't be another in the state until September 14, 2099.
Always remember the rule for using eye protection during an eclipse: If there's any bright part of the Sun showing, then you have to use your eclipse glasses to watch the event. As you make plans, consider these eclipse-viewing events near you:
Eclipse Day at SIU and Carbondale, a four-day Southern Illinois Crossroads Eclipse Festival
Southern Illinois University is hosting a variety of events on campus the day of the eclipse, including a public viewing at the football stadium. Mat Kaplan, host and producer of "Planetary Radio," which airs on 150 stations and online, will serve as host and guide. There will also be indoor viewing, talks and presentations, an arts and crafts fair, and an area dedicated to eclipse citizen science. The event will provide a unique family-friendly experience rich with activities centered on the arts and sciences. Festivities will span 4 days and can be seen here: https://eclipse.siu.edu/festival/.
Bald Knob Cross Eclipse Day Viewing Get your tickets early to this 360-degree, unobstructed viewing experience! There has already been a great amount of interest shown in this "spot-on" location. With two ticket options, Bald Knob Cross will be a very popular spot for viewing this phenomenon for serious and casual viewers alike. Gates will open at 8 a.m. Plan on arriving by 10 a.m. to set up your spot and catch the partial eclipse, which should begin around 11:30 a.m. Tickets include eclipse glasses and a T-shirt. For more information, visit https://www.baldknobcross.com/tickets/.
Lodging + meals packages at Touch of Nature Outdoor Education Center, Makanda, IL
Located in the path of totality, Touch of Nature is offering a 4-day package from April 6- 9, 2024 that includes lodging, meals and activities. The perfect location to turn the eclipse into a fun-filled experience, the staff, along with other amateur and professional astronomers, will be on hand to help everyone in attendance enjoy this amazing event. Registration is open now. The extended weekend price includes lodging, all activities, all meals on Saturday, Sunday and Monday, educational sessions, and a prime eclipse viewing space. Live streaming will be available in the event of inclement weather the day of the eclipse. Visit https://ton.siu.edu/community-events/2024- solar-eclipse.php to register and for more info.
Additional packages are available at Camp Ondessonk, Ozark, IL. Whether you stay for the entire weekend, or just for the day. Packages can include camp lodging surrounded by the forest, meals and activities, starting on Saturday through Monday. https://ondessonk.com/2024- solar-eclipse/
Experience the Eclipse from a canoe in a secluded wetland!
The Cache River is in the path of totality for the Great American Eclipse! Observers there will see (appx.) 2 minutes 28 seconds of totality! Come join us for a Cache River Canoe Solar Eclipse Tour like no other! We will set out on the swamp in the early morningthe perfect time to witness dozens of warblers, great blue herons, ospreys, cormorants, egrets, kingfishers, and eagles. Southern Illinois is at the apex of the area of longest duration for viewing the eclipse which will occur at 12:42 pm on the Cache River. What better way to experience it by canoeing through an ancient cypress swamp! During the tour a presentation will be given from our professional naturalist guides about solar cycles and lunar eclipses. Additionally, we will share stories from around the world pertaining to beliefs and customs surrounding these solar and lunar events. Followed by a catered meal of BBQ pulled pork sandwiches or veggie option,. The trip will be for the duration of 4-5 miles. For more info visit https://www.eventbrite.com /e/solar-eclipse-cache-river-tour-tickets-691069747217
Visitors are welcome across Shawnee Forest Country and the surrounding Southern Illinois area for the eclipse. Experience the event from one of the wineries. Enjoy nature and the many rock formations at nearby State Parks and Shawnee National Forest. Sign up for a farm dinner and plan to stay for the extended weekend. The possibilities are endless. To help you plan your Southernmost Illinois experience, visit www.southernmostillinois.com or call 1-800-c-it-here.