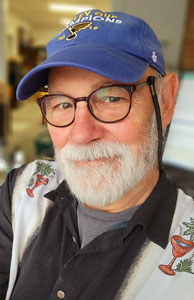 By J.B. Lester
I have learned so much from my mother. She was a nurturer and a best friend. She taught me to follow my dreams and encouraged my creativity and individualism. She loved to cook and taught me the basics of preparing comfort foods. In fact, she embodied the word comfort. Mothers give comfort like the sun gives sunshine. Day in and day out, mothers are there to bandage skinned knees and tuck you in at night. Motherhood has certainly changed over the years, as it often takes two working parents to make ends meet. And yet working moms still hug away tears and read books at bedtime after an 8-hour shift. My mother was so important to me in my life and died way too young. She had her struggles, but she was still there for me and my siblings whenever we needed her. I miss her every day and smile when I walk by her photo on our wall. The kindness and love in her eyes take me back to so many great times of joy and happiness. She will always be fondly remembered on Mother's Day and every day.
My two daughters are mothers now. They may parent in different ways, but their love for their children is strong and steady. Motherhood in this day and age comes in a variety of packages. Some moms have to work full time and have to pay the high cost of childcare to get by, while others are stay-at-home moms and work every waking minute. All mothers are the hardest working individuals in our society without question. And no one knows that more than we husbands and dads. There aren't enough hours in the day to properly thank my mom, my daughters, my wife and all the moms out there for your contribution to the family. Multitasking is a phrase created to explain the role of mothers. Mothers are the balance that all children need in life, the yin and yang of growing up. Even as we age, we find ourselves passing along the wisdom of our mothers to our children and grandchildren. How many times have you caught yourself saying, "Oh, I sound just like my mother." Remember all those times we fought our upbringing and rules of the house, only to share that same love and parenting with our kids.
I want to personally thank all the moms out there. Mother Earth, Mother Nature, Mother Bear, the Mother Lode … You are the foundation of not only the family but of our society. While we may live in a world of uncertainty and chaos at times, we can always count on our mothers to give us a warm hug and tell us that everything is going to be okay. Even hugs from heaven.
Happy Mother's Day