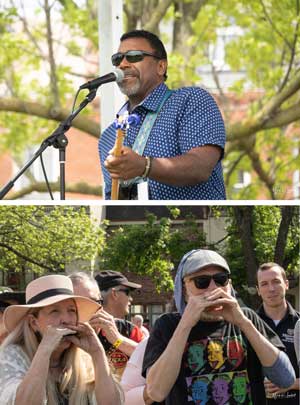 Photo Captions: Chris Shepherd and Harp Workshop

The Soulard B3 Fest is on May 21st from 11:30AM to 7:30PM at the Soulard Market park, and features the 3 B's – Blues, Brews and Bites – and some of the best blues acts in St. Louis, as well as an art village & art activities, a beer tasting festival, and a variety of art and music activities for children in the B3 Kids Zone.

The B3 music lineup features an exciting and diverse lineup of local artists. The fun begins at 11:30 with the Normandy HS Vikings leading a New Orleans style Second Line through the festival grounds, and continues throughout the day with our world class St. Louis bands.

Artists like Bob Kamoske – Mondin, Schaefer, Row – Kingdom Brothers – Marsha Evans & The Coalition – RJ Mischo Harp Extravaganza w the LA Jones Blues Band – John McVey band w special guests Tom 'Papa' Ray and Frank 'Spanky' Perry!

The B3 beginners harmonica workshop is a fun crowd engaging event, hosted by Eric McSpadden, one of St. Louis finest musicians!

The B3 Fest will also feature lots of art, with the 'Brushes and Blues' event, Plein Air art contest, and art village adding an exciting aspect to the 2023 B3 art offerings. The 2023 B3 Kids Zone will feature kid friendly activities like Celia's dance party, shaker egg decorating, story telling, and more! And of course before, during and after the B3 Fest, feel free to explore all that Soulard has to offer!

For more information, and to register for the B3 art activities or beer tasting, please visit the official Soulard B3 festival website at SoulardB3Fest.com.

The B3 Fest is put on by SHARE Inc., a 501 (c)(3) nonprofit organization.
Visit SHARE Soulard online at SHARESoulard.org.