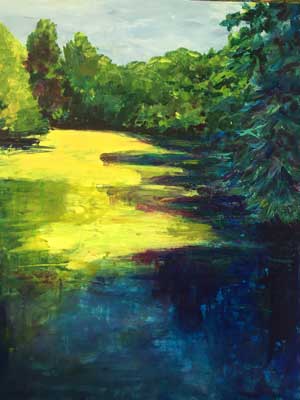 By Christine Ilewski
www.chrisilewski.com
www.facesnotforgotten.org
This body of work began before Covid, a loose freedom and joy of expression; flowers in my backyard against the river twinkling at a distance. I wanted an escape from the somber heaviness of the portraits in the Faces Not Forgotten project and the serious traumas of two detached retinas.
Then the pandemic hit, and I painted from my studio window, backyard and small, isolated world, my walks around a few blocks and the endless glorious sunsets I watched from my perch on the great river.
But as I was reviewing all of this work and assembling this show, I realized that what had appeared so beautiful also depicts the effects of climate change. That much of this "beauty "and intense color is like a sugary cupcake masking the toothache that is climate change.
Clean skies and waters of the 1700s were blue not red from air pollution and neon yellow from the algae.

Like the smiling children of my Faces project, a closer deeper look into these environments reveal the shadows of our human hands. The gorgeous sunset that is, Summer Valentine is pink from the debris and dust in the air. The intense neon yellow of Swelter depicts runaway algae and extreme heat.

I still find refuge in the landscape yet now, with a bit of a guilty conscience. What have we done? Where are the other Ancestor cottonwood trees? Winter's whistle was an icy plunge in temperature of a polar vortex. Would Pere Marquette's paddle make it through Stymied, the thick invasive underbrush in the back waters now?

There are paintings where I hope I did find true still points that I treasure; the protected state parks of Beaver Lake Undammed, the cool, clean, clear, crisp, waters of the Blush Berries, A Solitary View, where spirits rest to just sit a while, and a little bit of wonder that is Still Point.
And I ponder what I will leave my children and grandchildren in the pieces: Red Door, Shelter Me on a tattered, baby quilt, Shimmer the last light on the Mississippi, and The Key, the ancestral cottonwood tree glimpsed through a lacy curtain.
For further information on the work: Christine.ilewski@gmail.com