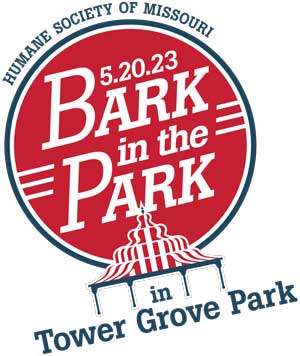 Grab your friends and your four-legged companion and join us in beautiful Tower Grove Park on Saturday, May 20 for the 28th annual Bark in the Park, presented by Purina! Known for its beautiful landscaping, popular Farmer's Market and dozens of major St. Louis events each year, Tower Grove Park is going to be a Paws-atively perfect place for you and your furry friends to celebrate the largest pet festival in the Midwest!
All of your favorite activities are back: 5K Race, One-Mile Walk for Animals, and Pet Festival for you and your furry friends to enjoy.
Registration is $35 and includes a Bark in the Park t-shirt featuring the 2023 Mascot, Hank; a Purina Goodie Bag and all festival activities. Register at www.hsmo.org/bark and check back frequently for event updates.
All proceeds from Bark in the Park support the Humane Society of Missouri's Animal Cruelty Task Force (ACT), a team of animal cruelty investigators dedicated to intervening for animals at risk from abuse, neglect and natural disasters and emergencies. ACT investigators work 24 hours a day, 365 days a year in ST. Louis City, County and throughout the state of Missouri to rescue animals in distress and transport sick and/or injured stray animals to shelter at the Humane Society of Missouri.
Registering for Bark in the Park and fundraising with your peers ensures that more animals will be rescued from harmful conditions, receive the care they need and eventually find their forever homes.