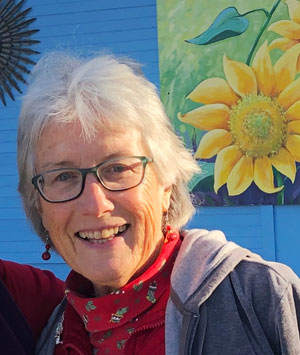 By Melissa Vatterott
Photo caption: Jeanne Heuser
At the 2022 Missouri Coalition for the Environment (MCE) annual meeting, Jeanne Heuser received MCE's R. Roger Pryor Citizen Activist Award for rallying citizens to support conscientious defense of the environment. Roger was described as "a Missourian in the best sense of the word: pragmatic, humble and, when need be, uncompromising and stubborn as a mule" in a Riverfront Times eulogy.[1] He charismatically and articulately presented environmental concerns to the press and before governmental agencies, advocating for corrections with informed insight and leadership. Jeanne "hopes her activism reflects Roger's spirit."
Jeanne believes in her responsibility to guide the actions of the government agencies mandated to protect the environment, like our Missouri Department of Natural Resources (MDNR). She learned over the past 50 years that if the government and legislators do not hear the citizen voice, then environmental protections fall to the wayside as industrial and business interests weaken environmental protections. As part of the "back-to-the-land" movement of the 1970s, Jeanne arrived in southwest Missouri when MCE was a fledgling non-profit. She thought MCE was a leader in environmental advocacy then, and over the decades, MCE has proven to be a major voice at MDNR from consistent stakeholder participation and issue research, and if necessary, litigation.
Jeanne recounts that her "activism was not a choice in my life, but a compulsion to right the wrongs humans do to the Earth." Like many baby boomers, Rachel Carson's 1961 prediction that pesticides have terrible public and environmental health consequences was her wake up call. She became an avid promoter and producer of organically-grown food and opened Springfield Community Foods (SCF) in 1976 to sell it to her community. The Ozark Cooperative Warehouse in Fayetteville, AR, was the major SCF supplier, but the best suppliers were those local farmers selling locally produced honey, tofu, bread, cheese, meat, and produce.
Simultaneously to opening SCF, she stopped eating meat from "food animals" raised inhumanely in concentrated animal feeding operations (CAFOs). The new practice at the time of using growth-promoting hormones in animals was a dangerous precedent that she would not support as it was inevitable the residue would damage public and environmental health. We now know this to be true.
CAFOs proliferated over the years and now about 80% of all the antibiotic use in the world is for food animal production or the animals would die from disease in the unnaturally crowded conditions. The overuse has caused antibiotic resistance with an associated worldwide public health crisis. Jeanne learned this is the tip of the iceberg with CAFO problems when the Tipton East CAFO near the Moniteau/Cooper County line sought a permit in 2018. She had retired ten years previously from the U.S. Geological Survey (USGS) where she was an "information specialist" with a lifelong passion for conducting and translating scientific research into understandable information. The CAFO supporters ignored her attempts to present the facts about CAFO air and water quality pollution, and public health risks from disease and antibiotic resistance. Instead, they demanded that she "change the rules if you don't want CAFOs."
That challenge led Jeanne to co-found the Moniteau County Neighbors Alliance (MCNA) and MCNA commenced to become an active stakeholder at the Missouri Department of Natural Resources (MDNR) "bargaining table." Recently MCNA teamed up with MCE and other organizations to focus on establishing greater CAFO protections for our rural communities. She invites you to join MCE's new CAFO Action Network (CAN), a citizen activist network to change the CAFO rules. CAN shares how to become a stakeholder and provides the tools and alerts needed to participate effectively. Jeanne finds it's empowering to be part of a team helping to protect our communities and environment, and hopes you will join.
In lieu of a typical plaque or other award symbol, MCE had 25 trees planted in Jeanne's honor in Mark Twain National Forest.
---
[1] Riverfront Times, March 31, 1999
https://www.riverfronttimes.com/news/r-roger-pryor-1945-1999-2481308