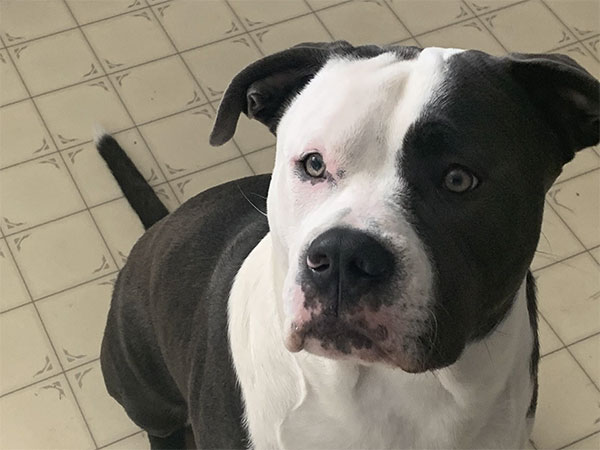 Our dog Storm is a healthy, vibrant dog with a ton of energy and personality. He's a Pit-Bull Bull Mastiff mix that became part of our family in spring of 2021 when covid-19 had just become the new normal.
We chose to adopt a Pit-Bull specifically because we felt that they are often unfairly labeled and discriminated against, always being thought of as ferocious and inappropriate as family pets. We've seen them struggle to be adopted out to families.
Storm is a very fun, playful dog. He has a somewhat ferocious look that sometimes intimidates people, but it couldn't be more opposite to his personality. He's very friendly, extremely sweet, and sometimes goofy. He often forgets his size, mistaking himself for a small lap dog, and he refuses to sleep anywhere at night except in bed with his humans. Storm gets along well with our parakeets and our Guinea Pig Jazzy. 
– Lindsey Green
If you'd like to submit your pet for consideration as pet of the month, send an email with your pet's photo and information about him/her to healthyplanetpets@yahoo.com.