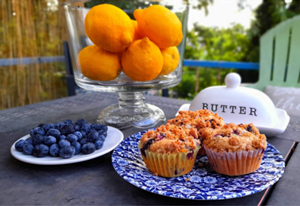 Original recipe created by Julie M. Hale and Matt Allen
Preheat oven to 400 degrees F.
Prep time 15 minutes
Cook time 20 minutes
Ingredients for blueberry muffins:
1 cup plain yogurt
½ cup honey
½ cup olive oil
2 eggs
¼ cup fresh lemon juice
Save some lemon zest for on top
1 tbsp vanilla
2 ½ cups All Purpose Flour
1 tbsp baking powder
¼ tsp salt
2 tsp lemon zest
1 ½ cups blueberries
Crumble topping: 
2 tbsp butter room temperature
½ cup brown sugar
¾ cup of flour
Pinch of cinnamon and nutmeg
Directions: 
In a medium bowl mix all of the ingredients for the muffins except for the lemon zest. Transfer batter to muffin liners in a muffin tin.
Crumble Topping: 
In another bowl add 2 tbsp of butter to ½ cup brown sugar and ¾ cup of flour. Add a pinch of cinnamon and nutmeg. Add on top of the 12 muffins before baking.
Bake 20 minutes. Add lemon zest if you'd like. Cool then ready to eat.
Makes 12 muffins.