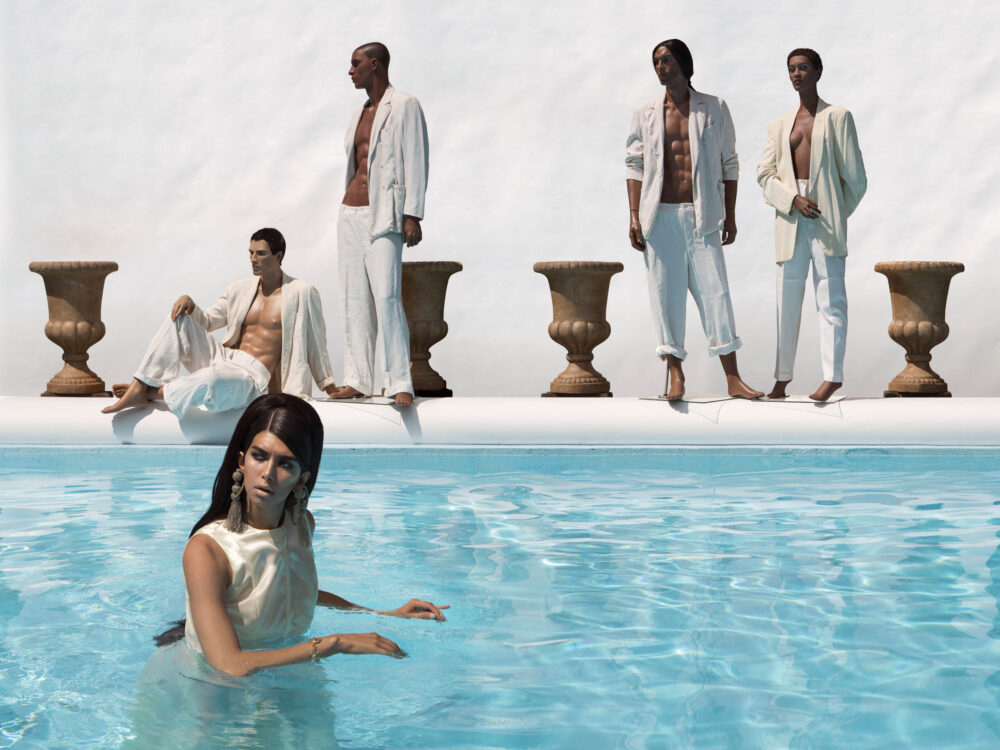 By Michelle "Mike" Ochonicky, Healthy Planet Arts Editor
Photo Caption: Martine Gutierre: Hit Movie, Vol. 1 at Contemporary Art Museum
As I write this column, pandemic precautions are still in place, but loosening. Plan to present your CDC vax cards and wear a mask (properly: over nose and mouth) at most venues. Please always check the provided website links for all events and exhibitions for updated info.
March is a month of magnificent and moving ARTful options.
Always creative, the St. Louis Symphony Orchestra, 718 N. Grand, offers a casual Happy Hour Concert on March 11, 6:30 p.m. Drink specials and complimentary snacks are available prior to the one-hour concert of spirited works (Paul Dukas' La Peri; Stravinsky's Suite from The Firebird), with Music Director Stephane Deneve.
On March 18 (10:30 a.m.) and March 19 (8 p.m), the SLSO with Music Director Stéphane Denève and pianist Jean-Yves Thibaudet revel in the high spirits of Gershwin's Piano Concerto in F. Explore the joys, sorrows, and triumphs of Harriet Tubman's life in James Lee III's Chuphshah! Harriet's Drive to Canaan, finishing with Rachmaninoff 's Symphony No. 3, written while in exile, balancing melancholy, exuberance, prayer and triumph. Tickets for the above events at www.slso.org.
The Bach Society of St. Louis performs John Rutter's Requiem, with texts in both Latin and English, on March 13. The selection presents an unmistakable message of optimism and hope, at First Presbyterian Church in Kirkwood, 3 p.m. Advance tickets available at www.bachsociety.org .
Classical pianist Einav Yarden makes her Sheldon debut, March 15 at 8 p.m. Included are selections by Johann Sebastian Bach, Carl Philipp Emanuel Bach, Péter Eötvös, Johannes Brahms and Ludwig van Beethoven. The Sheldon is located at 3648 Washington; tickets available at www.thesheldon.org.
Croce Plays Croce brings singer/songwriter A.J. Croce to The Sheldon on March 18 to present a heartfelt tribute to his father, the late Jim Croce ("Time in a Bottle", etc.) at 8 p.m. Following on March 19, The Lonely Fighters kick off the Sheldon's Nashville Concert Series at 7:30 p.m. Singer/songwriters Claire Wyndham and Chris Roberts blend harmonies reminiscent of classic '70's West Coast sounds (think Fleetwood Mac, The Eagles, John Denver). Reserve tickets at www.thesheldon.org.
If classical guitar is more your taste, head to the Ethical Society, 9001 Clayton, for a superb concert by Mak Grgic, presented by St. Louis Classical Guitar also on March 19. Born in Ljubljana, Slovenia in 1987, this award-winning guitarist performs music of his Balkan (Bosnian) heritage. Tickets at www.stlclassicalguitar.org.
Art Saint Louis opens its "Varsity Art XXVI" exhibition of original artworks by 44 regional artists on March 4. Represented artists are undergrad and grad students at 23 area colleges and universities. The exhibition remains in the gallery at 1223 Pine through March 31. www.artstlouis.org.
From March 4-July 31, The Pulitzer at 3716 Washington presents Assembly Required by nine artists and collectives whose work invites/requires active participation. Visitors build, shape, and use these artworks, collaboratively or individually. The works are inspired by social and political moments, from U.S. unrest during the Vietnam War to Peru's military dictatorship. Each work offers unique perspectives on social change, addressing the need for optimism and hope in the face of global tensions. www.pulitzerarts.org.
Bruno David Gallery, 7513 Forsyth, hosts an opening reception on March 26, 5-8 p.m. for its April-June exhibition of works by Texas and Connecticut-based artist Cindy Tower (Good Will Combines), Chicago-based William Conger (Allusive), St. Louis-based Tom Reed (Gone Fishing), Illinois-based Chris Kahler (Remix), and New York-based Andréa Stanislav (Surmatants-Mars Rising). More details at www.brunodavidgallery.com .
Cathy Gregory Studio Gallery, 2000 S. 39th, presents Tim Hamilton: American Landscapes (paintings and photographs) with an opening reception 4-7 p.m. on March 26. More info at www.cathygregory.com.
Through May 15, the St. Louis Art Museum hosts Paintings on Stone: Science and the Sacred, 1530-1800. Some 70 works by 58 artists display vibrant images painted on 34 different types of stones, ranging from simple slate to precious amethyst. Purchase timed tickets at www.slam.org or in person, with free exhibition admission (but tickets are required) on Fridays.
The Luminary, 2701 Cherokee, hosts "Open Sesame: The Story of Seeds," a free documentary film screening on March 20, 1:30 p.m. The film explores corporatization of the seed industry and its resulting effect on the food system. No reservations needed, but masks are required. www.theluminaryarts.com.
Contemporary Art Museum, 3750 Washington, begins its Spring/Summer exhibitions on March 25 with Martine Gutierrez: Hit Movie, Vol. 1; Gala Porras-Kim: Correspondences towards the living object; Alia Farid: solo exhibition. All viewable through July 24. www.camstl.org.
The month closes with a powerful click of the camera by photographer Jerry Tovo. In the Faces of Patriotism: The Homeless Veterans Project exhibition is on view through May 7 at the International Photography Hall of Fame and Museum, 3415 Olive. Said the St. Louis-based photographer, "On any given night, more than 60,000 U.S. veterans can be found living on the streets or in shelters…13 percent of homeless men are veterans." These statistics may shock but their faces that will stir the viewer. Tovo hopes these images help awaken the American conscience, asking "What if people of means could unite, pull together and prod those who can make a difference in eliminating this blight on our discarded patriots." www.iphf.org.