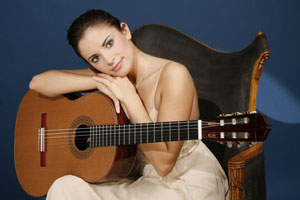 By Michelle "Mike" Ochonicky,
Healthy Planet Arts Editor
Photo Captions: top, Classical guitarist Ana Vidovic performs at the Ethical Society. bottom, Sculpture in Odessa, Ukraine protected from bombings.
(Please note: Covid-19 restrictions continue to change. Please check provided websites for up-to-date guidelines. Be prepared to show proof-of-vaccination at most venues. Masks are still required at many locations.)
Just as we see some relief from the pandemic's restrictions, the world is shaken by horrific attacks upon Ukraine. It seems almost ridiculous to speak of art at times like these. But as I write this column, I understand that this is exactly the time when we must look to art. It is art that lifts the heart and the spirit.
Reuters reported, "Civilians in Ukraine are taking steps to protect monuments and artwork from Russian attacks. In the city of Odessa, workers built walls of sandbags around a monument. In the city of Lviv, workers used plexiglass, fire-proof padding and canvas to protect outdoor statues. Museum workers in Kharkiv moved pieces of art to safer places. Organizations outside of Ukraine, including the Smithsonian Institute and UNESCO, are taking their own steps to protect Ukrainian culture."
Art defines culture. It speaks an international language.
Mother Nature's artistry undoubtedly shines at this time of year as spring blossoms arrive, and Missouri Botanical Garden agrees. Enjoy "Flower Hours" every Wednesday evening until 7:30 p.m. (last entry at 7 p.m.). To complete these happy-hour strolls, special cocktails and other beverages are also available. Details at www.mobot.org. 
Through May 15, MOCRA (on St. Louis University campus) showcases 28 works of art spanning 7 centuries from 3 museums in Double Vision: Art from Jesuit University Collections. This exhibition presents art as an instrument for finding meaning in life through imagination, feelings and reflection. Learn more at www.slu.edu/mocra .
Jazz St. Louis, 3536 Washington packs the month with concerts: Henry's Agbara Quintet (April 6), Janet Evra (April 7), Carter/Coss/Mulherkar/vonKleist (April 8-9), Kenny Barron Trio (April 13-17, with an April 11Coffee Concert ), Brady Lewis (April 20), Celebrating Montex Coleman (April 21), and Keyon Harrold (April 22-23). More info at www.jazzstl.org. 
The choices don't get any easier for April 16:
St. Louis Classical Guitar Society fills the Ethical Society, at 9001 Clayton, with classical guitar favorites and masterful playing by Ava Vidovic at 8 p.m. Recognized as a child prodigy from Croatia, this now-international touring artist is considered one of world's masters of classical guitar, having racked up over 20 awards and 6 albums since she was 18. In-person and virtual tickets available at www.stlclassicalguitar.org. 
Or, if it's Irish music that you crave, UMSL Global presents
The Martin Hayes Quartet also at 8 p.m., at the Touhill. This group expands traditional themes with Irish fiddler Martin Hayes, guitarist Dennis Cahill, violist Liz Knowles and bass clarinetist Doug Wieselman. Ticket info at www.touhill.universitytickets.com . 
Or, take in the world-renowned Les Ballets Trockadero de Monte Carlo, presented by Dance St. Louis, 7:30 p.m. at the Touhill. Founded in 1974 as an all-male drag/comic ballet following the Stonewall riots, the "Trocks" (as they're called) deliver an unforgettable en pointe performance—talented dancers with a charming wit. (I saw them perform in Chicago years ago, and have been a fan ever since!). Ticket info at www.dancestlouis.org. 
The St. Louis Bach Festival kicks off on April 23 with its free Young Artists Showcase. Advance registrations are strongly encouraged to assure a seat at this concert! The festival continues April 30 with a performance of Bach's Brandenburg Concerto. Both concerts are set for 3 p.m., with location and ticket details at www.bachsociety.org/festival .
The St. Louis Symphony Orchestra invites families to Powell Hall on April 24 for a special Family Concert: SoundLab Live. This 1-hour concert introduces orchestral concepts through music to children ages 5-12 (yes, you read that correctly—bring the whole family!). Don't miss the pre-concert activities! Bravo, SLSO! Tickets at www.slso.org. 
April 29 promises to be extra-special when Tony-award winner Laura Benanti makes her St. Louis debut, presented by The Cabaret Project of St. Louis at The Sheldon, 3648 Washington. Tickets for either full-gala (with pre-show dinner and after-show reception, etc.) or concert-only are available at www.thecabaretproject.org. 
What better place to showcase the soaring stars of Circus Harmony than St. Louis International Airport? Through September 15, see Circus Harmony Watch Out for Flying Children Photography Exhibition on display in the Lambert Gallery (near Baggage Claim Gate C). Founded in 1989, these acrobats remain St. Louis' most beloved ambassadors of high flight.
Get some exercise plus a hearty architectural and history lesson during Landmarks Association of St. Louis' Guided Walking Tours, beginning its 25th season this month. Through October 29, 15 participants each Saturday (10 a.m.-12:30 p.m.) get a healthy 3-mile walk through different St. Louis neighborhoods. Reserve your spot at www.LandmarkTours-STL.org .