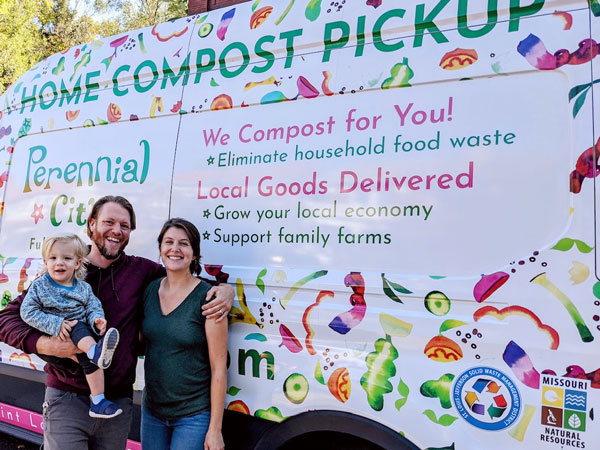 Perennial City was founded in 2017 with a mission to help transform vacant, unused land into beautiful and productive urban farms through full circle food production. Now into their fifth year, founders Beth Grollmes-Kiefer and Tim Kiefer, along with their team of couriers diverts would-be waste from area landfills and transforming it into nutrient rich compost to grow local food.
The seeds were sown for this urban agriculture endeavor long before, when the Kiefers first met and immediately got into deep conversation about food and farming. Having a family farm was always their dream. Then one day, Beth came across an article about a service in Arizona that collected residential food scraps for composting and couldn't wait to tell Tim! This model provided essential elements for a successful family farm — a way to build fertility to enrich and enliven poor soil, plus economic sustainability — all while offsetting significant carbon emissions, reducing waste, and connecting members to full circle food production. Here's how it works!
Scraps are collected in green buckets from households across St Louis City and surrounding metro. Members can choose to have their buckets swapped each week or every other week and have the option to receive finished compost back twice a year for their own home gardens. Though many members aren't gardeners at all — they contribute their scraps to lessen their environmental impact and to grow the local food web. Perennial City offers a simple solution.
While this initially started as a way to support urban farm dreams, by listening to members' and communities' needs, Perennial City has grown into so much more! Perennial City was never able to meet the demand for their own produce, as St Louis loved the service more than they could imagine. With the pandemic, folks staying in producers losing sales from locked-down businesses, Beth and Tim realized their routes were a great opportunity to provide more to their members and support many other local farms and businesses.
Along with scrap collections, members are able to order from over 50 local farms and businesses, including Theodora Farms in Alton, Buttonwood Farms eggs and poultry, fresh baked bread from Union Loafers, Blueprint Coffee, Companion Kombucha, Ozark Forest Mushrooms, and so much more, growing each week! To keep with the zero-waste theme, these offerings are made available in compostable and reusable packaging wherever possible. What started out as a creative solution to starting the Kiefers' family farm has turned into a thriving full circle food operation! Perennial City looks forward to serving St Louis for many years to come!
Perennial City's current service area includes St Louis City, Brentwood, Clayton, Des Peres, Frontenac, Glendale, Kirkwood, Ladue, Maplewood, Oakland, Olivette, Richmond Heights, Rock Hill, Town and Country, University City, Warson Woods, and Webster Groves.
Interested in becoming a member? Sign up at compost.perennial.city.