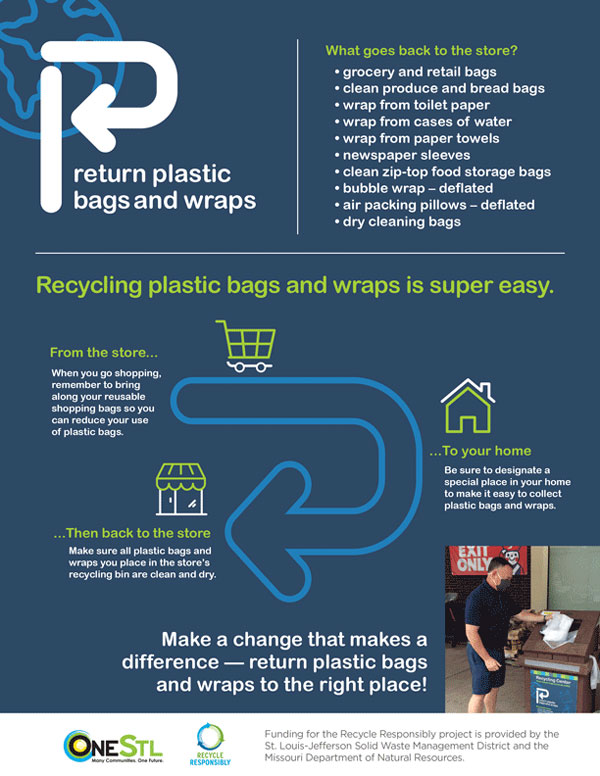 Most people know that recycling is good for the planet and that it's the right thing to do. People also understand they play a role in recycling efforts, that's why so many people regularly participate in recycling programs offered in their communities. But few people are sure of what exactly to do with the various types of recyclable goods in their households. And fewer people know that the #1 thing they can do to help the single-stream recycling process is simply keeping plastic bags and wraps out of residential recycling bins.
Plastic Bags and Wraps Are Recyclable, Just NOT Through Single-Stream Process
When plastic bags and wraps get mixed with the six acceptable items, they create a few challenges, including:
They DIVERT good recyclables to the landfill – about 20% of good recyclable items are mixed with contaminants like plastic bags, this can cause good recyclable items to end up in the landfill
They cause DOWNTIME at recycling facilities – some recycling facilities are offline up to 20% of the time due to contaminants, this increases processing costs by millions and causes inefficiency at processing facilities
They create DANGEROUS worker conditions – where workers have to climb into sorting machinery and cut the tangled bags and wraps out by hand
Raising Awareness — Recycle Plastic Bags and Wraps Back at the Store
To help drive change, the OneSTL Materials and Recycling Group is working to raise awareness and encourage St. Louis area residents to return their plastic bags and wraps to local retailers.
In 2020, the group partnered with Schnucks to rebrand existing collection bins (SEE PHOTO) at the entrance of each St. Louis area store. All you have to do is drop your plastic bags and wraps in a store-based recycling bin that you are likely already walking by at least once a week. It's simple – any plastic bags and wraps you get from the store… go to your home… then back to the store. NOT in the trash. In addition to Schnucks, many other retailers accept plastic bags and wraps, look online to find a recycling location near you.
In September of 2021, the OneSTL Materials and Recycling Working Group launched the "Bags2Bench" tour. The touring bench was produced locally by students in the construction training program at Ranken Technical College, and the prime material of the bench is Trex composite decking, an eco-friendly product. The traveling bench is a tangible symbol of how recycling efforts allow new valuable products to be created from recycled materials. And here's a fun fact, the bench is made from 13,500 recyclable plastic bags! You can learn about and follow the Bags2Bench tour online as it travels across nine area university campuses.
OneSTL is a collaboration of individuals and organizations from across the St. Louis region that are working together to create a more sustainable future. For more information, please visit www.recycleresponsibly.org and follow @OneSTL on Facebook.