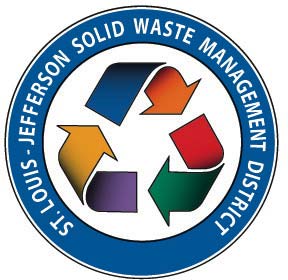 The St. Louis – Jefferson Solid Waste Management District is a regional agency that was created in 1993 to assist the public, private and nonprofit sectors in establishing and expanding programs for recycling and waste reduction. The service area includes the City of St. Louis, St. Louis County, Jefferson County and St. Charles County. Funding for this program is provided by the Missouri Department of Natural Resources. For more information visit www.swmd.net or call 314-645-6753.
Plastic Bags and Wraps Impact the Single-Stream Recycling Process
Most people know that recycling is good for the planet and that it's the right thing to do. People also understand they play a role in recycling efforts, that's why so many people regularly participate in recycling programs offered in their communities. But few people are sure of what exactly to do with the various types of recyclable goods in their households. And fewer people know that the #1 thing they can do to help the single-stream recycling process is simply keeping plastic bags and wraps out of residential recycling bins.
Plastic Bags and Wraps Are Recyclable, Just NOT Through Single-Stream Process
When plastic bags and wraps get mixed with the six acceptable items, they create a few challenges, including:
They DIVERT good recyclables to the landfill — about 20% of good recyclable items are mixed with contaminants like plastic bags, this can cause good recyclable items to end up in the landfill
They cause DOWNTIME at recycling facilities — some recycling facilities are offline up to 20% of the time due to contaminants, this increases processing costs by millions and causes inefficiency at processing facilities
They create DANGEROUS worker conditions — where workers have to climb into sorting machinery and cut the tangled bags and wraps out by hand
Raising Awareness – Recycle Plastic Bags and Wraps Back at the Store
To help drive change, the OneSTL Materials and Recycling Group is working to raise awareness and encourage St. Louis area residents to return their plastic bags and wraps to local retailers.
In 2020, the group partnered with Schnucks to rebrand existing collection bins (SEE PHOTO) at the entrance of each St. Louis area store. All you have to do is drop your plastic bags and wraps in a store-based recycling bin that you are likely already walking by at least once a week. It's simple — any plastic bags and wraps you get from the store… go to your home… then back to the store. NOT in the trash. In addition to Schnucks, many other retailers accept plastic bags and wraps, look online to find a recycling location near you.
In September of 2021, the OneSTL Materials and Recycling Working Group launched the "Bags2Bench" tour. The touring bench was produced locally by students in the construction training program at Ranken Technical College, and the prime material of the bench is Trex composite decking, an eco-friendly product. The traveling bench is a tangible symbol of how recycling efforts allow new valuable products to be created from recycled materials. And here's a fun fact, the bench is made from 13,500 recyclable plastic bags! You can learn about and follow the _Bags2Bench_ tour online as it travels across nine area university campuses.
OneSTL is a collaboration of individuals and organizations from across the St. Louis region that are working together to create a more sustainable future. For more information, please visit www.recycleresponsibly.org and follow @OneSTL on Facebook.
Midwest Recycling Center (MRC) Diverts Electronic Waste From The Landfill
Midwest Recycling Center (MRC) is a R2/RIOS Certified electronics recycler with four (4) locations in the State of Missouri. MRC provides to its clients electronics recycling services, Information Technology Asset Disposition (ITAD), Data Destruction Services, and e-Waste Collection Events with the goal of properly diverting electronic waste from the landfill while offering convenient solutions to the ongoing issues of identity theft and environmental liability.
MRC follows the mantra of Recycling, "Reduce, Reuse, Recycle." Based on the requirements of each client, MRC either de-manufactures items down to a component level or finds a home for the item to be reused. Since reuse is the most environmentally friendly form of recycling, MRC tries to reuse items in the form of parts or as a working unit (as long as the client does not require the item be destroyed). Once all recycled material is broken down to a component level, such as circuit board, steel, aluminum, plastic, lead, etc., it is shipped to an EPA and R2 approved facility to continue processing into a commodity. The raw material is then melted or smelted and recycled back into a new product. Since MRC has a zero-landfill policy, no material is landfilled. MRC provides documentation to show proper data destruction and/or recycling.
MRC provides e-Waste Collection Services to over 100 event hosts annually throughout the State of Missouri. These are full-service events that allow attendees to remain in their vehicle while MRC associates unload their unwanted e-waste. Most electronic equipment is accepted free of charge however fees are charged for some items including Cathode Ray Tube (CRT) and flat screen TV's and Freon containing equipment. Household appliances such as washer/dryers, stoves, and refrigerators/freezers are accepted, in addition to computers, printers, scanners, radios, audio equipment, and much more. For more information about becoming an event host, please visit MRC's website: http://mrcrecycling.net/ and click the "Host an Event" link. Fill out the brief questionnaire and MRC will prepare an event proposal specific to your event.
Missouri Organizations Working Toward a Healthier Planet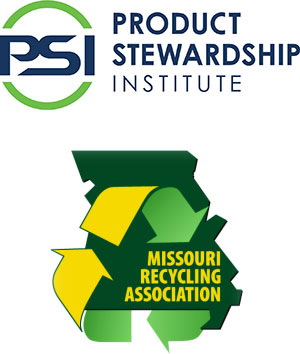 Missouri local and regional organizations are working together to assure a Healthy Planet. The Missouri Product Stewardship Council (MO PSC) represents local governments, and other stakeholders and businesses working jointly to reduce waste, increase reuse, and help grow the economy. The Council was created by the Product Stewardship Institute who coordinated with many states to establish Product Stewardship Councils. The group is working toward product manufacturers sharing responsibility for managing their post-consumer product waste. The Missouri Council, missouripsc.org, is focused on Paint, Mattresses, and Pharmaceuticals.
Pharmaceuticals impact every household. Due to Covid, mail order pharmacies stepped up to service communities. Mail order medicine arrives either in small boxes with inflated plastic protection or Styrofoam buffers, or in padded envelopes. When possible, ordering from a local pharmacy where the medicine can be picked up instead of delivered by mail would have an impact on the amount of delivery waste generated. Proper disposal of leftover or expired medicines can be found at missouripsc.org/initiatives/pharmaceuticals
Safe pharmaceutical disposal saves wildlife, waterways, and community water facilities. Check out your community for safe "Drug Take Back" programs usually coordinated by local police departments.
According to MO PSC, Missouri residents generate 1.3 million gallons of paint waste every year. Community HHW programs manage leftover paint costing taxpayers millions in disposal costs. MO PSC is an educational organization offering presentations and written materials about proper waste disposal strategies to the public. Extra paint can be donated to a local Habitat for Humanity where they often mix small batches of different paints to make a new color. More information can be found at missouripsc.org.
To ensure a Healthy Planet for all there are many options to consider for a healthier ecosystem. When possible, reuse as much of the packaging materials available to separate fragile items for delivery such as glass or pictures in frames. Be conscious when ordering paint to not have many gallons left over that may be discarded in an HHW facility. Educate your family about reuse and recycling options in your community.
The Missouri Recycling Association, the only statewide organization focused on recycling and reuse has advice and links on their website, www.MORA.org. MORA educates Missourians about recycling or reuse of Food Waste, Construction and Demolition waste, Textiles, and E-scrap. The MORA Annual Conference is being held in Branson on November 15-17 and we encouraged readers to check out the programs and speakers being presented at www.moraconference.org.
Perennial Gets Creative to Host Safe Clothing Swaps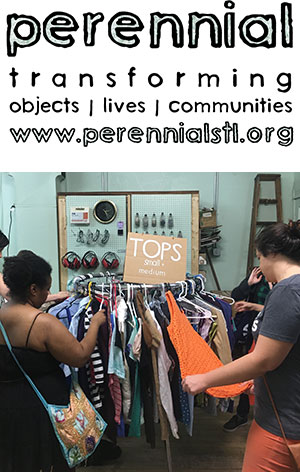 At the beginning of pandemic Perennial, a sustainable non-profit workshop, paused their popular clothing swaps. "People were heartbroken, but they understood we needed time to figure out how to safely host an event that regularly attracted over 100 people to a small space," says Perennial Executive Director, Katie Carpenter. After some brainstorming Perennial was able to reinstate the swaps in a new socially distant format with participants dropping off their gently worn items in advance, a group of dedicated volunteers working extra hours to get everything set up ahead of the event, and a limited number of people attending across staggered timeslots. "It took more work, but it was worth it to see familiar faces back in the workshop finding perfect items again," says Carpenter. At a time when people were thinking about resourcefulness and looking for community, it was no surprise that the swaps sold out fast.
Clothing swaps are becoming more popular between friends as folks look for ways to refresh their wardrobes while combating fast fashion. But what happens when your friends aren't the same size or don't have the same taste as you? That's where Perennial comes in! When you get to choose items from a wide variety of donors the chances of finding something you'll love goes way up. Perennial collects donated gently worn clothing in all shapes, styles, and sizes (but unfortunately, they can only take clothing on designated days ahead of swaps due to lack of storage space) then volunteers sort items by type and size, kind of like a department store. Then participants are encouraged to take as many items as they like. All Perennial asks is that they weigh the items on their way out so the organization can track how many pounds of textiles the events keep out of the landfill. On average participants take home about 10 pounds of clothes. Each swap diverts between 600 and 1,000 pounds of material.
One reason people love the swaps is because the quality of items is so high. "We tell folks that the swaps are only as good as the donations we receive, so if something is in awesome condition but no longer fits it's going to find a good home," says Carpenter. The clothes that are leftover at the end of the swap tend to be worn out and lower quality, prompting folks to think twice when they buy new items and consider how the item was made, what materials were used and how long it will last. Perennial offers free access to swaps for their community outreach partners, they take materials they can use for their creative reuse classes, and anything that is left at the end gets picked up by Remains, a local textile recycling company. Perennial looks forward to hosting more people at the clothing swaps in 2022. www.perennialstl.org
America Recycles Day and Missouri Recycles Day, November 15!
America Recycles Day is celebrated on November 15 to remember and acknowledge the need to recycle. Recycling is one of the main steps we can take to protect our deteriorating environment and this day commemorates this.
Why America Recycles Day?
These days we're living in a nightmare. We're in the middle of a mass extinction event. Carbon emissions are off the roofs, and global warming is disastrously close to making us reach dystopic futures, with many cities in danger of flooding. It is impertinent to take steps against this as soon as possible. Some of the main steps are the 5 Rs: Refuse, Reduce, Reuse, Recover and finally Recycle. Recycle is probably the most important out of all of them since it involves completely repurposing one object to create a new one. If we can recycle most of our waste, we will not need to accumulate more resources to fulfill our needs.
Most biodegradable waste can be converted into compost, or it degrades on its own. But plastics are a whole different beast. They cannot be degraded for millions of years, and even though scientists are trying to find enzymes to degrade them, there have been very few commercially successful options. So our best bet if we don't want a planet full of plastic is to slow down the creation of new plastics as much as possible and recycle the older ones into new products, so our system isn't burdened.
Recycling reduces the sheer amount of resources it needs to mine or quarry. It reduces the amount of carbon waste needed in the form of power to fuel machines that extract ores. It reduces the amount of petroleum needed to synthesize plastic. It's very important since we're estimated to run out of our fossil fuel resources in a very short time on a global scale. Recycling is pretty easy for a person on the individual level. One just needs to separate their waste based on whether it can be recycled or not and put it in the recycling bin. Just this! Professionals will handle rest, and you'll have done your part in a quite world-saving activity. It's so easy and convenient that it's a wonder most people don't do it. What is missing is awareness and legislation. Even though a lot of us are environmentally conscious. A lot of the population doesn't care. This is what we need to change. And this is why America Recycles Day is celebrated every year on November 15th: to commemorate those who've worked for the environment, to educate those who don't know better, and to motivate those who do.
How Can We Observe America Recycles Day:
Start Recycling
Go on a recycling spree! Sort out waste with the family's children and then go on a trip to the nearest recycling bin. Maybe invite the entire family for an extended day full of America Recycles Day activities. This is a great opportunity to educate the children as well as the elderly.
Recycle At Home
Why not have a fun-filled competition for the little ones? Have a contest, the child who makes the best-recycled creation out of all the waste at home wins! It'll be a fun bonding activity, and you get to nurture your kid's interest in art and craft. Post the child's creation under #AmericaRecyclesDay and show all your friends and family the wonders the young ones can create! Maybe make this a yearly tradition, so it enriches the value of sustainability while giving the children something to bond over every year.
Educate Your Peers
Just talking about the day is enough! Ask people what's the last thing they recycled, what's the last thing they did sustainably, get those brains running! It might motivate them to recycle and perpetuate the chain themselves.
Interesting Facts on America Recycles Day:
The USA recycles 105,800 cans of aluminum every minute.
Electronics like mobile phones often contain trace amounts of precious metals like gold, which are very sought after in a recycling process.
Costa Rica holds the world record for recycling the most plastic bottles at 30,162 kilos.
FIND IT ON THE WEB — RECYCLING INFORMATION
Associations, Organizations and resources
America Recycles Day – www.americarecyclesday.org
Earth 911 – www.earth911.org
e-cycle Missouri – www.dnr.mo.gov/ecyclemo/
Envirolink – www.envirolink.org
Global Recycling Network – www.grn.com
Household Hazardous Waste (HHW) Program – www.HHWSTL.com
Keep America Beautiful – www.kab.org
Missouri Recycling Association – www.mora.org
National Recycling Coalition – www.nrcrecycles.org
The Healthy Planet magazine
Local Recycling Information – Government
City of St. Louis – www.stlcityrecycles.com/
City of St. Charles – www.stcharlescitymo.gov/346/Recycling
Jefferson County – jeffcomo.org/312/Recycling
St. Louis County Recycling Information – www.stlouisco.com
St. Louis-Jefferson Solid Waste Management District – www.swmd.net
St. Charles County – www.sccmo.org/861/Recycling