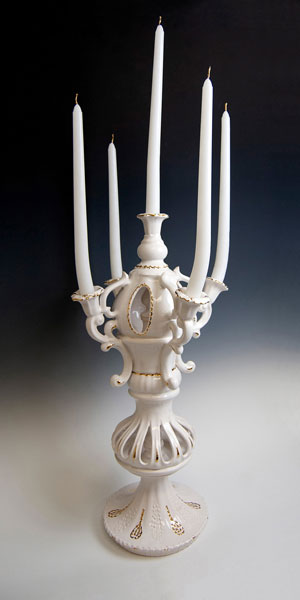 By Michelle "Mike" Ochonicky
Healthy Planet Arts Editor
Photo Caption: Christina McNealy. "Illuminating Entropy." 2018. Porcelain, Luster, Candles, 7"x7"x3.
NOTE: Please use the links provided to verify any recent COVICD-19 guidelines that may have changed since this was published.
Summer in St. Louis has arrived! The days are steaming and the lightning bugs are flickering each evening. Better yet, many of our beloved summer ARTful favorites have also returned this year — and boy, have we missed them!
There is nothing like spending a hot summer day in a cool art museum. I think the Mildred Lane Kemper Museum, on Washington University's campus, is a gem. It's a great space, seldom overly crowded, and it underwent a full renovation just prior to the pandemic. On exhibition now are the following: A Thing Like You and Me: 2020 MFA/Visual Art Thesis Exhibition (through July 25), Amy Sillman: After Metamorphoses (through July 30), smoke, signals, space: 2021 MFA/Visual Art Thesis Exhibition (through August 1), Women's Work/Arthur Greenberg Undergraduate Curatorial Fellowship Exhibition (through August 1), and Christine Sun Kim: Stacking Traumas (through January 31). Info at www.kemperartmuseum@wustl.edu. 
Opening on July 2 at the St. Louis Art Museum is Architectural Photography from the Collection, 1850-2000. On July 16, the Oliver Lee Jackson exhibition opens. Nubia: Treasures of Ancient Africa remains on display through August 22. Awesome way to beat the heat on a July day! Details at www.slam.org.
Through July 15, Art St. Louis presents Honor Awards 2021 in the gallery at 1223 Pine. Featured in the exhibition are 53 works by ten award-winning artists from Missouri, Illinois and Kentucky. Find details at www.artstlouis.org. 
Bilingual: Abstract & Figurative is a group exhibition of abstract and figurative works by emerging and represented artists at Bruno David Gallery, 7513 Forsyth. The works showcase parallel theoretical and philosophical concerns across various media, through August 15. Info at www.brunodavidgallery.com. 
Botanicals & Blooms opens July 1 at Green Door Art Gallery, 21 N. Gore. Blossoming in this show are fresh, all-media works by a diverse group of artists. The show continues through August 28. Details at www.greendoorgallery.com. 
Meet some of the artists that museum curators from across the country have judged "America's Best" for Early American Life magazine's 2021 Directory of Traditional American Crafts, July 17-18 at ASL Pewter in Ste. Genevieve. Spend some time to chat with the artists, view and purchase their impressive handmade works (indoors with air conditioning!) and maybe stroll the historic town, recently designated as a National Park historic site. Contact www.aslpewter.com for info.
St. Louis Symphony Orchestra offers a summer slate of digital concerts, beginning with a free concert available through July 3. A second free concert, featuring chamber music, will be offered beginning July 29 and a digital continuation of the SLSO's annual Equal Play: Celebrating Women Composers community concert will be available through August 28. Music Director Stephane Deneve leads favorites including Aaron Copland's original instrumentation of his Appalachian Spring Suite, available July 15. Learn more at www.slso.org. 
Mlima's Tale, the powerful story of an African elephant and the ivory trade, continues at the Rep, presented by COCA. Use coupon code MlimaCOCA for 10% off tickets at www.repstl.org. There's more sizzle on the end of the month when Billy Elliot, the Musical opens, in-person at COCA's Catherine B. Berges Theatre July 30 through August 1, with virtual access through August 5.
Union Avenue Opera is back this summer, with "Opera Under the Big Top" at 3401 Washington in Grand Center (no sweat—the tent is air-conditioned!). July 21-24 is Offenbach's Les contes d'Hoffmann; July 22-24 is Rossini's Il barbiere di Siviglia. Enjoy these favorites that have delighted French and Italian (respectively) audiences for over two centuries. Order tickets at www.metrotix.com ; details at www.unionavenueopera.org. 
Meet me at the Muny on July 26 when Smoky Joe's Café kicks off the season's line-up. The long wait is over for this beloved summer tradition! It's a sure bet that tickets will sell out for all performances, so reserve your tickets early at www.muny.org. 
Pack up the family and motor out to Drive-In St. Louis at 5555 St. Louis Mills Drive for some laid-back outdoor concerts in the socially-distanced comfort of your car. Named one of "America's Top Drive-Ins" by Forbes magazine, this creative outgrowth of the pandemic hosts a crazy-diverse list of musical groups every week. Too many to list here! Pack some homemade snacks, or support the on-site food trucks. Info at www.driveinstl.com.