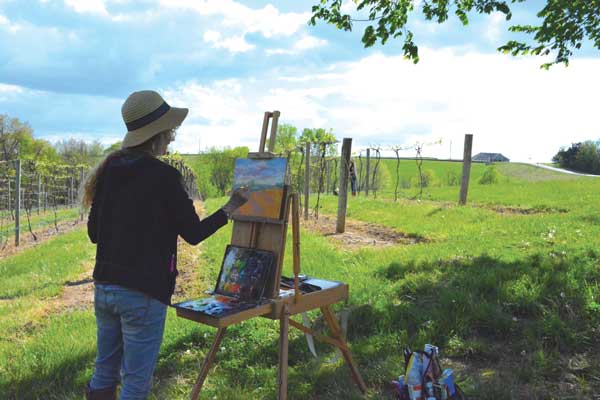 The Greater Augusta Chamber of Commerce is proud to celebrate the cultural heritage of historic wine country as it hosts the 15-year anniversary of the Augusta Plein Air Art Festival in Missouri Wine Country. The unique festival that attracts amateur and professional artists from across the country runs April 20-30, 2017. Art, wine and culture enthusiasts are invited to participate in the festivities.
The artists will spend 10 days scattered about the small towns of Defiance, New Melle, Washington and Augusta painting "en plein air," a French term for in the open air. Inspired by a visiting Kansas City artist, Joan Parker, the first Augusta Plein Air Event was held in 2003 as part of the Augusta Spring Festival.
Events include sunrise and sunset paint outs, all day paint outs, quick paints, and children's paint outs. Workshops are offered to participating artists and the public who are interested in learning more about painting with oils, watercolors, acrylics and pastels.
Visitors will have the opportunity to meet the artists and observe art unfold before their eyes each day at events hosted by wineries and neighboring communities. One of a kind art will be available for purchase from the easel at each event as well as at a pop-up gallery at the Augusta Visitor Center in Augusta, MO. Judging and awards and the Final Sale will take place at Mount Pleasant Estates on April 30, 2017.
"We are excited to be celebrating the 15th anniversary of Augusta Plein Air this spring. The festival has grown and evolved over the years, now featuring more than 130 artists from around the nation painting "in the open air." Augusta has a rich cultural history of art and music. This year we will feature both as we travel throughout the greater Augusta area with more than 20 events in the 10 day festival," says Kathy Kessler, event coordinator.
The artist focus on the scenery around them, listen to the sounds, take in the atmosphere, and feel the climate, which inspires them to express their vision on canvas.
For a full event schedule and further information on the 2017 Plein Air Art Festival, follow us on Facebook, visit Augustapleinair.com, email augustapleinair@gmail.com or call (314) 369.6804.