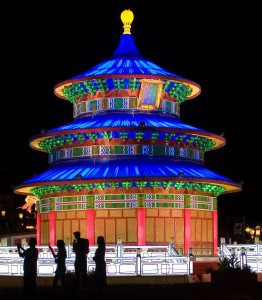 Elaborate, illuminated works of art from China will take center stage this summer at the Missouri Botanical Garden in St. Louis. "Lantern Festival: Art by Day, Magic by Night" showcases Chinese culture, traditions and symbolism through larger-than-life, detailed scenes crafted from colorful silks and molded steel. The striking sets, ranging in size up to three stories tall, will be lit for special evening viewing, giving visitors the opportunity to experience a cultural event that is rarely staged outside of Asia. "Lantern Festival: Art by Day, Magic by Night" runs for a limited 12-week engagement, May 26 through August 19, 2012, and is presented by Emerson.
Lantern festivals are deeply rooted in Chinese history and myth, dating back more than 2,000 years to ancient dynasties. Modern-day lantern festivals typically mark the culmination of the 15-day Chinese New Year celebration, when giant, ornate lanterns of complex design fill cities with light in vivid, festive displays.
The summer exhibition at the Missouri Botanical Garden highlights its "Year of China," celebrating the Garden's long-tenured tradition of botanical research and collaboration with China through the Flora of China project, a 25-year endeavor nearing completion, and the inspiring Grigg Nanjing Friendship Garden (the Chinese Garden).
Join or renew your Missouri Botanical Garden membership on site during the Lantern Festival and receive free same-evening admission for two adults and children ages 12 and under, plus enjoy discounted evening tickets of $15 for adults and $5 for children (ages 3 to 12) for the remainder of the exhibition (the number of member-rate tickets available for purchase is based on the level of membership). Visit www.mobot.org/membership or call (314) 577-5118.