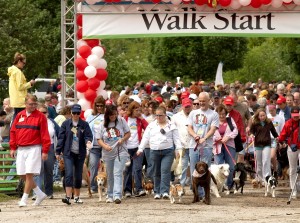 Come! Walk! Stay! Play! Fetch your family, friends, co-workers and canines for the can't-miss event of 2012! Join the Humane Society of Missouri on Saturday, May 19 from 10 a.m. to 3 p.m. for Bark in the Park at Cricket Field in Forest Park. Presented by PurinaONE®, Bark in the Park is the largest dog walk and festival in the Midwest – hosting more than 5,000 participants for a fun-filled day the whole family will enjoy. Register online at hsmo.org/bark. Each registration includes the dog walk at 11 a.m., family fun festival and an official t-shirt. Activities include:
Amazing free-style performances by the Purina® Incredible Dog Team
Pet contests to show off your pooch's greatest talents – Best Dressed, Best Howl, Best Dog/Owner Dance, Best Stunt/Trick, and the hilarious Doggie Derby Races
Serenity the Llama, Twister the Miracle Horse and other Barn Buddies from Longmeadow Rescue Ranch
Heartgard/Frontline® Family Fun Center where kids get to adopt a stuffed pet, give it a name and learn how to give it love and great care for a lifetime of sloppy kisses and waggin' tails
Funnel cakes, kettle corn, picnic fare and more at our Festival Food Court
Face painting, balloon animals, inflatable activities and more for our younger participants
Meet this year's Bark in the Park Mascot, GI Joe, and get his "pawtograph" at his celebrity tent. GI Joe is a 4 1/2 year old black Labrador Retriever mix who came into his owner's life after she was encouraged to get a service dog to help her with painful arthritic conditions and Post-Traumatic Stress Disorder from her service in the U.S. Army and in Baghdad, Iraq in 2003. His owner says he has given her a reason to get up in the morning, a reason to take a walk when she's stressed or in pain, and has helped her re-connect to the St. Louis community in so many ways. She says, "We are bonded for life, and I would not be alive and thriving today without GI Joe!"
All proceeds from Bark in the Park benefit the Humane Society of Missouri's Animal Cruelty Fund – dedicated to investigating, healing and preventing animal abuse. It's going to be a howling good time!
For more information please visit online at www.hsmo.org/bark