by J.B. Lester, Uncle of the Bride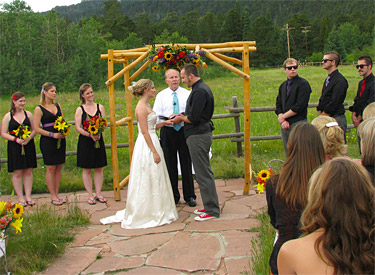 With the holidays rapidly approaching, so too are the anxieties of many young men who will be popping the question of their lives.  More than one in five couples get engaged at Christmas and twenty-one per cent of all the engagement rings are sold at this season of marriage and mistletoe.
So this seems to be a great time for a wedding article. Better yet, how about a GREEN WEDDING article? According to St. Louisan Rachel McCalla of Lucky You Productions, green weddings are not that hard to plan. "Just a few tweaks here and there and in a snap, you've added 10 or more things to make your wedding more sustainable," she explained. "What I like to tell my clients is to try to do as much as they can.  If they recycle and compost, they're already doing so much more than the average couple."
Hallie Lancaster and her fiance Josh Smyth are hardly the average couple. They decided their wedding was going to be as earth-friendly as possible from day one. Their dream came true this past summer in the mountains just outside Estes Park, Colorado, when they made their commitment to each other while honoring the planet as well.
"I was raised to be environmentally responsible, by parents who made me a Barbie doll house out of shoe boxes and toilet paper rolls," Hallie explained. "Sustainability has always been an underlying theme to everything I do. There was never a question of whether I would do a "green" wedding or not. It was wonderful being able to share my green passion with all my closest friends and family. I hope that I inspired at least one person at that wedding to think twice about what products they purchase or how much paper is really necessary."
Hallie did a lot of leg work to make this Green Wedding a success. And the obvious question is, "Was it harder to plan and put together a Green Wedding?
"It was actually easier planning this wedding. My choices were dramatically slashed. I was able to filter out all the kitch and unnecessarities that abound in the wedding world. I've known since I was a little girl that I wanted to wear my grandmothers wedding dress on my wedding day. At the time I thought it was perfect in every way, from the hoop skirt to the pointy 40's boobs and pilgrims collar. Now that I am older and wiser I decided I would tweak the dress a bit. Having a vintage dress redesigned gave me a one of a kind dress fit perfectly to my body for half  the price of a new wedding gown. Having our wedding in the peak of blooming season in Colorado was great when searching for a local florist that sold only local flowers. The green wedding community is small, but what it lacks in quantity it makes up for in quality. We were lucky enough to find an amazing venue that sources all its food locally. The chef picked up all the vegetables for our reception at a farmer's market on his way to work the day of the wedding! Going almost paperless was one of the BEST moves of the whole process. We sent out electronic Save-The-Dates, designed by me. All our information about registries, maps, helpful tips about traveling to Colorado as well as our RSVP's were all on our wedding webpage. We did send out paper invitations designed by Ellie LLC, which were made from post consumer paper with soy based inks (our guests needed something for their scrap books!)
Green Wedding Planner, Rachel McCalla helped us list some things people can do to make their wedding a GREEN event here inSt.Louis or anywhere.
1. Reuse as many items as possible
a. use centerpieces made from reused items.
b. have your bridemaids and groomsmen wear a nice dress/suit they already own.
2. Recycle at your wedding.
a. Find a venue that recycles: The Mad Art Gallery, Third Degree Glass Factory, NEO on Locust.
b. Bring in Recycling on the Go. They're so fantastic because they can tell you how much you saved from going into the land fill.
3. Ask your caterer to compost as much as they can.  St. Louis Composting is a great resource and Butler's Pantry has its own food composting machine.
4. Buy locally as much as you can: meats, veggies, flowers, favors, etc…
a. Local Harvest or Butler's Pantry for caterering.
b.Lucky You Productions (Floral & Decor Division) or Flowers to the People for flowers.
c. Kakao Chocolate makes a delicious, all natural two truffle favor for a great price.
5. Offset your energy by buying wind credits through Ameren Missouri's Pure Power program. A typical wedding only costs about $15.
Hallie and Josh's Green Wedding took place just outside Estes Park, Colorado at the Wild Basin Lodge. It was a storybook outdoor wedding with the Rocky Mountains as a backdrop. It's hard to imagine a more beautiful place to have a wedding than this.  The Wild Basin Lodge website explains, "Situated at the Wild Basin entrance to Rocky Mountain NationalPark, the lodge is conveniently located near the town of Estes Park. Guests have the opportunity to walk, hike, fish, or ride horses during the summer months. Winter brings pristine terrain for cross-country skiing, ice climbing and snowshoeing. The lodge offers indoor and outdoor locations for your wedding ceremony. Whether you select a riverside ceremony under blue skies, or an elegant service in a meadow viewing aspen trees, our staff will work with you to create a special event that will be remembered for a lifetime. The Wild Basin Lodge & Event Center continues to garner national awards in part through its commitment to excellence and its cutting edge policies. The lodge proudly adheres to a 'green' policy that provides consumers with a superior experience while mitigating environmental impact. Routinely winning acclaim for its cuisine, the lodge serves only organic meats and seafood that are never farm raised, color added, or hormone treated. Likewise, all produce is organically sourced whenever possible – providing superior ingredients at affordable prices. Wild Basin Lodge is an Eco-Cycle Zero Waste Community Partner. (Please visit www.wildbasinlodge.com and look for a feature article on the Lodge in the December edition of The Healthy Planet Magazine.)
Hallie suggest to all aspiring brides to see what you can get donated. She had a friend who worked at Two Beer Brewery, in Seattle, Washington (where Hallie and Josh met in college.) Most micro-breweries try to be as sustainable as possible by keeping their mission local, and Two Beer Brewery adheres to this policy. "With our attempt to be a hyper-local business our hope is to get as many local ingredients as possible. Although this is easier to do in Washington than probably anywhere in the entire United States it is still a difficult thing to do. Most of the world's hops are grown in the surrounding Columbia River area but a lot of the grain has to come from Wisconsin. But as a way to offset this Two Beers Brewing Company uses a local supplier so that the money spent stays local. The yeast that we use comes from across the border, in Oregon. All other additives, such as honey, spices, chocolate, cherries, or anything else that is experimented with at Two Beers Brewing Company will be at minimum Washington native and Washington grown."
When Hallie was looking for wedding party favors, she of course was thinking outside the box. No money clips or engraved key chains would do. Being an avid outdoors lover and river raft guide, Hallie decided on eco-friendly, bio-degradable, BPA-Free, personalized water bottles from Inkhead Promotional products. www.inkhead.com and look for a link at www.thehealthyplanet.com. With each bottle Hallie and Josh handed out came the invitation to "enjoy this bottle and take a hike."
The invitations were done by Ellie Wedding Paper Designs (www.elliellc.com). According to Ellie, "At Ellie LLC, Wedding Paper Designs, we are committed to providing paper products that are not only beautiful, modern and unique but also friendly to our environment. All of the paper we print on is made of 10% post-consumer recycled fibers. It is FSC (Forest Steward Council) certified as well as SFI (Sustainable Forestry Initiative) certified. We use envelopes made from 100% recycled paper.
"Unlike other companies, we only print on matte uncoated card stock so it can be recycled by your guests. Some companies choose to print items on coated papers which cannot always be recycled.
"We often use reused materials for packing our orders. No box is ever thrown away, or packing material wasted. We believe that when you are conscious about taking care of your environment and valuing the resources available to you, you are making a difference." Hallie & Josh's invitations prove that you can create both stylish and sustainable!
McCalla has a few more tips to make your wedding a memorable and sustainable memory.
"Have guests RSVP online. Use a printer that uses soy ink, offers 100% recycled paper and purchases wind energy credits," she suggested. "Use a venue that is part of the Pure Power Program like Third Degree Glass Factory. Have your dress and bridesmaid's dresses constructed and sewed locally. Use non-traditional components for centerpieces: rocks, soy candles, found wood, paper flowers, etc…Find a baker that only uses organic ingredients… it will taste 1,000 times better. Find a caterer that is "farm to table." Host your ceremony and reception in one location. Register at sustainable/local stores. Offer local beers and wines."
Attending an out-of-town wedding got us thinking about the most eco-friendly way to travel there as well. Since we were taking multiple people and lots of luggage for a week, we needed the largest vehicle with the best gas mileage. We chose the Dodge Grand Caravan from Hertz because it offered us the room we needed and around 26 miles per gallon. (Better mileage than our older personal van and by renting we didn't put the wear and tear on our aging vehicle. Newer more tuned up vehicles are on average better for the environment.) Hertz also offers a "Green Fleet" that includes the Toyota Prius and other fuel-efficient cars that are rated at least 28 miles per gallon. I was also curious how driving to an out of town "Green Wedding" compared to other forms of travel. I visited www.carbonfootprint.com and entered in my travel information and they calculated that train travel was the most eco-friendly creating only .02 metric tons of CO2, driving was second at .88 metric tons of CO2 and flying came in at 2 metric tons of CO2. Use this website to calculate your carbon footprint, too. If your trip is longer than one day, might I suggest any accomodation offered by InterContinental Hotels Group (IHG) which includes the well known Holiday Inns and other brands. Their corporate "Green Engage" program led to IHG being the first hotel group to receive a LEED endorsement. Over 1000 of their employees have taken part in Green Training and their energy saving goal includes achieving energy savings of 6% to 10% in their owned and managed hotels over the next three years (2010-2012) on a per available room night basis.
Once we got to Colorado, the question remained "Where do we stay." I wanted to make sure it was somewhere "Green" to reflect the Green Wedding theme. I was pleased to discover that one of our favorite places in Estes Park, the YMCA of the Rockies, has recently been awarded LEED certification by the U.S. Green Building Council (USGBC) for three of its newest lodges. LEED is the USGBC's leading rating system for designing and constructing the world's greenest, most energy efficient, and high performing buildings. The three lodges, Longs Peak, Rams Horn, and Emerald Mountain Lodge, were completed in 2009 and 2010 at YMCA of the Rockies' Estes Park Center. The YMCA of the Rockies is a wonderful family destination just outside Estes Park, Colorado. The Rams Horn Lodge, where we stayed, was a great home base for our week of Green Wedding family festivities. There are no t.v.s in the lodge rooms or cabins (just the same as Trout Lodge YMCA of the Ozarks in Potosi, Missouri.) But who needs television when you have the great outdoors to explore and family and friends to enjoy? The Y is known for helping to bring people together for building bodies, minds and spirits. And they are stewards of the environment as well. Our stay at the YMCA of the Rockies was a breath of fresh air and something we will always remember. Everywhere you look are beautiful mountains. And as we found out, elk who like to wander into the area and eat the grass just outside the Lodge entrance. I mean, the groundhogs are one thing, but a full grown male elk is a sight to behold just outside your door. Now that's getting back to nature. For more information visit www.ymcarockies.org.
Stay tuned: in part 2 of our "Green Wedding" article you will hear about where Hallie and Josh spent their GREEN HONEYMOON and more about the Wild Basin Lodge in Allenspark, Colorado. Look for it in the December edition of The Healthy Planet Magazine.