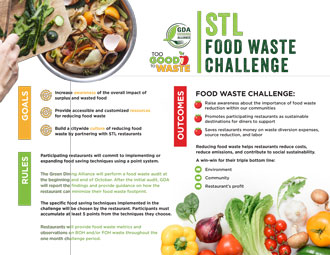 Check out all the Green Dining Alliance members at www.greendininigalliance.org
The Green Dining Alliance, a program of earthday365, is now in its 11th year as the St. Louis region's sustainability certification program for businesses in the food and beverage industry. The GDA works with restaurants, breweries, bars, coffee shops, university campus cafes, catering companies, community outreach kitchens, bakeries, and ice-cream shops. With close to 90 GDA member establishments, its impact is large: the GDA convinces businesses to go styrofoam free, lowers emissions in our region, and helps strengthen our local food system. In 2022 the GDA program helped divert 6000 tons of material from the landfill. The GDA provides an opportunity for businesses and diners to connect, take environmental action, and make a tangible impact on sustainability in the region.
Choosing sustainability within the food industry can be challenging in this economic climate, but the GDA helps to identify ways that being green can also save restaurants money. Ben Daugherty, GDA Manager for earthday365, explains that "GDA members work tirelessly to implement sustainable practices like recycling, composting, and food waste management – and reducing food waste can dramatically lower a restaurant's costs. The GDA program offers grants and incentives to switch to environmentally friendly to-go packaging and a monthly composting rebate. Energy efficient upgrades like implementing LED lighting and scheduling regular refrigeration and kitchen equipment maintenance is another area of focus to help restaurants save money and reduce their environmental impact."
The GDA program consults with businesses to establish sustainability-driven goals, provide resources and support, and celebrate sustainable achievements. The program's core concepts include: bans on styrofoam and all #6 plastics, recycling, waste reduction and diversion goals, phasing in LEDs, and assembling and sharing baseline data from utilities and service providers.  The GDA certification audit focuses on 7 areas: Recycling and Waste Reduction, Sourcing and Procurement, Energy Conservation/Efficiency, Water Conservation, Chemicals, Awareness and Education, and Innovation. Primarily funded by grants from the St. Louis & Jefferson County Solid Waste Management District and the EPA, the GDA reports metrics on waste diversion in recycling, composting, oil, and landfill from each of its GDA members.
The Green Dining Alliance has organized St. Louis's first food waste challenge for restaurants. The STL Food Waste Challenge will take place in the month of October featuring 7 GDA establishments: Mission Taco Joint (Delmar), Olive + Oak, Old Bakery Beer Co, Flavor 360, Alpha Brewing Co, Bar K, and Pizza Head. Talking about food waste is often stigmatized in the restaurant industry. No one wants to talk about it, but it happens everywhere including in our own households. A 2023 NRDC report "Food Waste and Rescue Potential in St. Louis" found that an estimated 22% of food waste comes from restaurants and 63% comes from residents in St. Louis. These participating restaurants are taking the initiative to look at their own food waste footprints, take active measures to reduce them, and help spread awareness about food waste prevention in the STL region. Be sure to support these participants in the month of October. For more information on the event go to earthday-365.org/gda-food-waste-challenge/.
To find GDA establishments and support local, green dining visit Green Dining Alliance at www.greendiningalliance.org. It's important to do our part as consumers to support local, green dining and build regional circular economies.