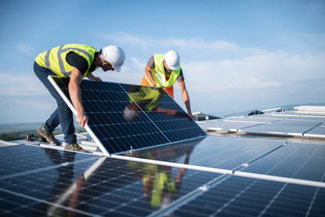 By Tom & Carol Braford
Recently I considered the fact that the real estate industry is still selling the idea that you can live a totally green lifestyle in a single-family home. I suppose this is true if you have really deep pockets.
I wondered, however, what it might cost to provide carbon-optimized single family homes with all or most of the carbon negative features of living at a carbon negative ecovillage. I concluded that It was possible, but it would cost three times as much and take up to twice as much personal space.
To make this calculation, I designed a super-efficient carriage house with two levels of living space above a two-stall garage with a year-round grow-room under a solar canopy on top. I came up with a livable, circular floor plan design around a central spiral staircase that could even have a clear vacuum tube elevator running up the middle of it, as well as wraparound, seasonally enclosable decks at the second and third floor levels.
To my delight, I also discovered that the scale and compactness of this design would make it possible to add a daily east-west solar tracking feature to the system we have planned for the Ecovillage. This would provide a 10 to 15% solar efficiency bonus. Bottom line, if the real estate marketers are right, there is a limited market for this and, by adding a few of these to our design at the Ecovillage, where we already have land and complimentary resources, we might be able to shave $100k off the cost.
Let me know if you want one or more of these for your site or if you want to be the first in at the Ecovillage while saving $100k by choosing community. Of course, there are other benefits, but it is a deeper commitment of time and energy than living independently.
Even if you choose the more independent option, we hope you will become an associate member and participate both in this community and in the one you live in independently. Either way, I promise that it will be more fun than work if you let it be.
Contact: braford@sbcglobal.net
www.ArizmendiEcovillage.com