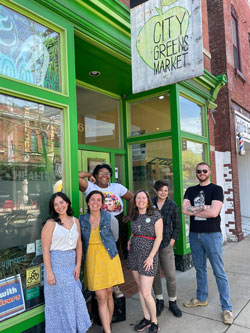 Photo Caption: City Greens Staff
City Greens Market is hosting a "green party" for food sovereignty, and you're invited! Join them on Wednesday, September 6, at the Wild Carrot to raise some greens for City Greens and their mission of increasing food access for everyone. While attending Growing City Greens, you will enjoy the freshest of farm-to-table food from local farmers, the hippest music, local entertainers, free beer and wine, and unbeatable cocktails. Dress as fancy, fabulous, or silly as you want, but come wearing green!
While you have fun and enjoy delicious food, City Greens raises money for food sovereignty – the people's right to access healthy and culturally appropriate food produced through sustainable methods, and their right to make decisions about their own food systems.
City Greens Market is a neighborhood nonprofit grocery store located in The Grove – an area that, while seeing significant development in the last decade, still experiences the impacts of food apartheid. City Greens makes fresh, quality food accessible and affordable to all of their neighbors – particularly their 416+ member households. They prioritize purchasing from local farmers and businesses at a fair price, then sell that food at a subsidized price to make it affordable to all of their community. Anyone who purchases fresh produce with their SNAP benefits can take advantage of the City Greens Double Up Food Bucks program: get up to $50 of produce for $25 anytime you shop with them. The City Greens model connects their customers to affordable food and their vendors to customers who care about supporting local food and small businesses. Memberships are available at a sliding scale based upon household income.
City Greens practices food sovereignty by reducing food waste to get as much fresh food to people as possible, working with nature to create sustainable and resilient food systems, valuing and nurturing relationships with local food providers, building knowledge and skills together as a community, supporting other local "good food" retailers, and localizing decision making.
If you'd like to volunteer at Growing City Greens for a 90 minute shift, you can attend the rest of the event for free AND be entered into a raffle for a $75 gift card to Grace Meat + Three – a win-win, if you ask us!
Please join us for this fun evening supporting a community-powered food system! Find out more and register for Growing City Greens at www.stlcitygreens.org/upcoming-events.