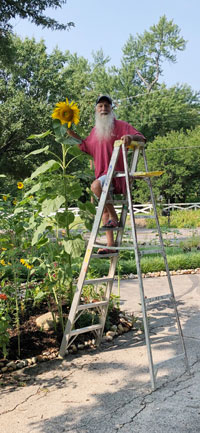 By Vincenzo Parisi
Good Day.
On North Ballas Road, there lies a glimpse of bright colors as people pass by. I have been planning, planting, and maintaining my gardens of many roots and bulbs for 20 years.
I chose an assortment of colors consisting of a broad spectrum of fragrant Asiatic Oriental Lilies, Iris (bearded and rainbow). There are also spike lilies of all colors to complement each garden which are gladiolas Zinnas with many showy colors that stand tall in every garden. They are a very good source of easy access to nectar for all hungry pollinators: bees, hummingbirds, and a wide variety of swallowtail butterflies.
Larkspur (delphinium) purple, white and pink stand tall. There are also skyscraper and mammoth daisies which are towering the sky, 12 feet high.
There is also a multitude of bedding plant that dot each garden:
Vodka red begonias
Petunias
Celosia-purple
Cocks Combs
Gleome spider plants
Geraniums – deep red, mauve
Lazy Susan – yellow orange
These colorful bouquets of flowers are signs of strength and peace to all. We smile. And Happy Planting to everyone.