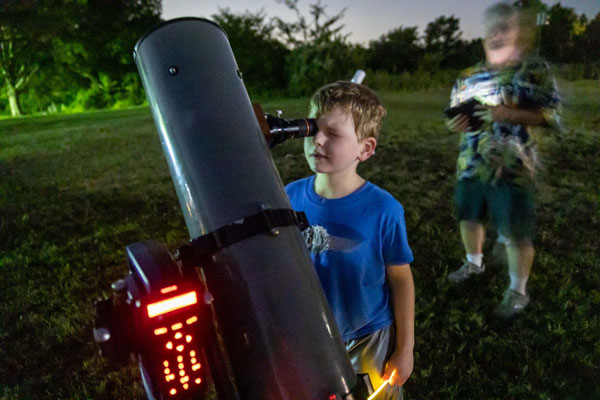 Event Aug. 12 at Busch Conservation Area
See how the outdoors comes alive after dark at this free family event.
Photo caption: Stargazing through telescopes is one way visitors can explore nature at night during the Nocturnal by Nature event Saturday, Aug. 12 from 7:30-10:30 p.m. at Busch Conservation Area in St. Charles.
Nature spends half of its time in night, and that means there's a lot happening after the sun goes down. The Missouri Department of Conservation (MDC) invites you to see how the other half lives… the nocturnal half that is.
MDC presents Nocturnal by Nature, a free nighttime event Saturday, Aug. 12 from 7:30-10:30 p.m. at the August A. Busch Memorial Conservation Area in St. Charles. The program is open to all ages and no registration is required.
Discover how nature comes alive at night at MDC's biggest event of the summer in the St. Louis region. There will be activities indoors and out. Inside, visitors can learn all about nocturnal mammals at touch tables featuring pelts and skulls or go exploring in an inflatable cave. Dissect a real owl pellet and find out what these feathery hunters had for dinner.
Participants can enjoy the warm summer evening outdoors and identify wild moths drawn to a lighted sheet with an entomologist from the Butterfly House. Take in the sights and sounds of nocturnal critters in their natural habitat through a guided night hike on the Fallen Oak Trail. The Missouri Chapter of the International Dark Sky Association will show the impacts of light pollution on native wildlife.
Participants can bring a blanket or reclining camp chair to scan the skies for shooting stars of the Perseids Meteor Shower in an open field. The Astronomical Society of Eastern Missouri will have telescopes set up to help visitors dig deeper into the summer night's celestial wonders.
The Raptor Rehabilitation Project will also be at the event with live owls from 8-10 p.m. Rounding out the fun will be kids' crafts, free snow cones, and an "Ask the Agent" table.
Nocturnal by Nature is an excellent opportunity to see how the outdoors comes alive at night. Participants should bring a flashlight or headlamp, bug spray, and dress for the weather. For more information, go to https://short.mdc.mo.gov/4WB.
The August A. Busch Memorial Conservation Area is located at 2360 Highway D, about two miles west of Highway 94. The event will take place at the visitor center.
Sign up for email or text alerts to stay informed of MDC's latest programs and events by going to https://short.mdc.mo.gov/ZoP.