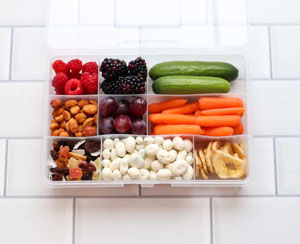 By Natalie R. Toney, M.F.A.,C.H., Healthy Planet Food Editor
It seems summer just started, and already here we are, receiving flyers and ads for "Back to School" sales alongside Labor Day deals. Several of you might be thinking of getting that last road trip in for the season, or perhaps going on the first one, and whether it's across state, or across the country, you'll need plenty of snacks! After all, isn't that one of the best parts of the trip-music, memories, and munchies? These grab and go's are great to pack in lunches as well, and with school in session just around the corner, what better than having some healthy snacks ready to go! (and great for grown up lunch bags, too!)
Berries, and nuts (you can coat both in dark chocolate, carob, or yogurt if desired), dates or figs, can be used with a variety of seeds, grains, and such for trail mix. Add in coconut flakes, ginger, sprinkle turmeric-whatever you wish, creativity and allergies, are the only limit! Use those same ingredients to make homemade fruit and granola bars with nut butter, oats, and agave. Roasted chickpeas are protein packed, crunchy, and can also be tossed in trail mix, or enjoyed on their own with seasonings such as cumin, chili lime, Greek blend, hot mustard, etc. Of course, veggie sticks with hummus, pesto, Romesco, or any other non-dairy sauce, all travel well in a cooler, or insulated bag. (pro tip: if using a cooler, pack your ice in baggies, eco-friendly are available-to reduce leaking, and you will have clean ice available for beverages during the trip. It takes a few extra minutes, but worth it!). Boiled and dried edamame, and/or green beans, sprinkled with a bit of lemon and sea salt, also appeases finger food snack cravings. Chilled lemon rosemary tofu, tempeh cubes, or chicken for non-vegetarians, is also a substantial protein power boost mid trip, when energy might wane a bit. Sandwich wraps, or pitas, are also perfect pick me ups! Use an air popper, and fill lunch size paper bags with popcorn, each personalized with individual favorite flavors. Or pop kernels with a bit of avocado oil in the paper bag in the microwave, and they will already be ready to go! What's a trip without good 'ol chips? Most vegetables, fruits, and meats can be dried with a dehydrator, and retain their nutrients. If one is not available, use baking sheets lined with parchment with an oven set around 150-200 degrees F for approx. 4-8 hours, turning, and checking frequently, depending upon what is being dehydrated. (Time and temps vary according to oven and ingredient).
Gluten-free mini muffins and breads such as banana, zucchini, carrot, blueberry, and apple make not only for a car friendly dessert, but a quick breakfast as well. A little spread of Nutella or preserves and that sweet tooth will surely be satisfied (another pro tip: pack snacks in reusable bento or small inexpensive tackle containers).
Wherever you might be headed, a day trip to the next town over, or a cross country excursion, these road trip ready refreshments will save you spending your entire fund at the convenient store! Remember to drink plenty of water, take lots of photos, and most of all enjoy the ride! Oh, and pack extra napkins!
*The above are suggestions and not based on any one particular dietary guideline. Please modify to suit personal needs, allergies, and as always consult physician regarding specific medical conditions.