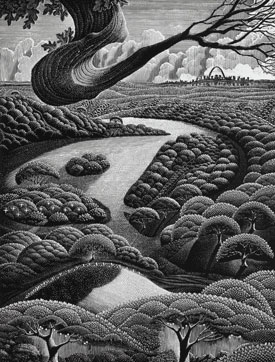 By Michelle "Mike" Ochonicky, Healthy Planet Arts Editor
Photo Caption: Artwork by Michael Halbert, In/Of/About Nature at Art Saint Louis
St. Louis Shakespeare Festival continues free outdoor performances this month, in 24 (!!) different park locations, August 1-27. At 6:30 p.m., Tuesdays-Sundays, The Merry Wives of Windsor, set in '90's sitcom style, charms audiences for 90-minute each evening. Bring a picnic and a chair or blanket. Locations listed at www.stlshakes.org
The African savanna comes to life August 4-5, with The Lion King JR. The entire family will be singing "Hakuna Matata" after this inspiring, coming-of-age tale, at COCA's Catherine Berges Theatre, 6880 Washington. www.COCAstl.org
There are two shows left in the Muny's schedule this month: Rent (August 4-10) and Sister Act (August 14-20). Don't let the summer slip by without a night there! www.muny.org
Art Saint Louis presents its late Summer exhibition, "In/Of/About Nature," through September 7, 1223 Pine. 73 works by 70 artists from 4 states are included. The reception is August 5, 5-7 p.m. www.artstlouis.org
Through September 1, Webster Arts offers Unsung. Said Heather Sparks, Communications Director, "Heroes are everywhere. Whether comic book action figures or the faithful janitor cleaning a school, our cultural concepts of what makes a hero can swing across the gamut of the human experience." At 2 Summit Avenue in Webster. www.webster-arts.org
Crossroads Arts Council hosts The 3-R's: Reuse, Repurpose, Recycle, an exhibition of art utilizing all manner of materials, August 1-28. There's a reception August 6, 2-4 p.m. in the Main and West Galleries at 310 W Pearce Blvd., Wentzville. www.crossroadsartscouncil.org
Through August 31, view Inspiration & Expression: The Art of MaryJo Clark, at Edward Jones office, 3141 S. Grand. Please call before visiting: 314-772-5304.
Laumeier Sculpture Park, 12580 Rott Road, introduces St. Louis-based artist Vaughn Davis Jr. in his first solo museum exhibition, August 26 – December 17. Davis' work involves ripping, tearing, and draping pigmented canvases to transcend traditional notions of painting, then pushes them into the realm of shape-shifting objects.
Also on view is Permanent Flying Kite by this year's Visiting Artists In Residence, Pittsburgh-based Lenka Clayton and Phillip Andrew Lewis. The outdoor sculpture is a soaring diamond kite affixed to a hill to represent perpetual flight. www.laumeier.org
The International Photography Hall of Fame presents a lecture by Richard Sprengeler: Cementland: Bob Cassilly's Unfinished Masterpiece on August 10, online 6-7 p.m. St. Louis artist Cassilly's was working on Cementland at the time of his death in 2011. www.iphf.org
The Smithsonian Institute is recognized as the world's largest museum, education and research complex. It employs more than 300 instructors—through its 21 museums, 14 education and research centers, and the National Zoo. The largest museum-based educational program in the world is the Smithsonian Associates, utilizing the Smithsonian's world of knowledge to annually present over 750 seminars, performances, lectures, and studio art classes "to promote learning, enrichment and creativity." It would be awesome to attend classes at the Smithsonian. But commute to D.C.? Yeah, maybe someday…
It is extremely difficult to recognize that any good came out of those awful years of the pandemic. For some (myself included), it was a time of terrible personal loss.
But one positive that did come from that period was society's quick adaptation to digital technology. Imagine my enthusiasm when I learned that the Smithsonian had put its World Art History Certification program online!
Beginning early in 2022, I crammed in as many art history courses as I could handle to get through the 2-year program. The instructors were phenomenal art scholars from all over the world. Live, online courses connected me to experts in Rome, Florence and Paris, as well as at top universities in the U.S. And they were great (well, except for that one instructor who was less than fun…). It wasn't all easy but I strengthened my knowledge of art. And I am now pleased to say that, this month, I completed my Certification in World Art History from the Smithsonian Institute.
I mention this to emphasize that it's never too late to learn, never too late to take on a new challenge. The St. Louis area offers so, so many ARTful opportunities to expand and enrich your world. Take a class, attend a lecture, visit an exhibition, take in a play or performance.
If not now, when??