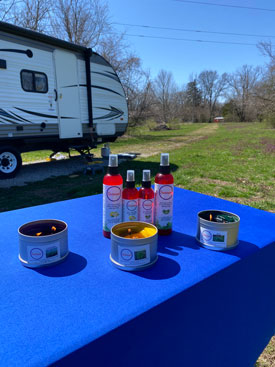 Summer is here and with that comes all the bugs. Many people are now deciding to spend most of the summer inside instead of either getting bitten and stung or having to resort to putting chemicals on themselves which is very sad.
A few years ago, we found that we could be outside without any bugs bothering us at our house. However, when we went anywhere else, that was not the case. Upon doing a lot of research we found this was due to all the herbs planted all around the house. Then came more research, trying to figure out how we could make something so everyone else could get back outside and enjoy the outdoors bug free like us and thus Skitopel (combination of mosquito and repel) was born. We now have 100% all-natural sprays and candles.
What is unique about our candles is that they can be used both indoors and outdoors. The herbs in them provide a nice, calming, soothing atmosphere indoors. Outdoors, it keeps the entire sitting area free from bugs.
Our spray we had scientifically tested, and it is 100% repellent even at 2 hours. It took us a few lab tests to get to that, but we are so happy we did. A lot of people state it lasts longer than 2 hours on them. It not only repels mosquitoes but also gnats, buffalo gnats, no-seeums, biting flies, deer flies, horse flies, chiggers, ticks and more. It is not only safe for all skin types and everyone from babies to adults, but it is also soft and easy on the skin and not greasy or sticky at all!
I have been gardening or in gardens since birth. I started off having a garden all around my house and now I have almost an acre planted in herbs for the sole purpose of providing 100% all natural products to people. Being outdoors in general and in gardens is definitely where I belong. I now have my very first granddaughter and I am so excited that I get to teach her just as my grandma taught me. Our goal is to get everyone back outside to enjoy all the outdoors has to offer without being bothered by any bugs or having to resort to using chemicals.
For more information, please go to our website at www.skitopel.org.