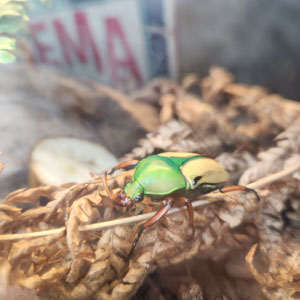 The Sophia M. Sachs Butterfly House is going to the movies in honor of their silver "screen" anniversary. In celebration of 25 years, the Butterfly House presents Lights, Camera, Arthropods!a new exhibition spotlighting some of the planet's biggest bug celebrities, open May 30 through September 3, 2023.
As guests walk the red carpet in the exhibit hall, they will see which invertebrates capture the award for Best Actor, Best Visual Effects, and more! Meet real bug scientists during live animal encounters and keeper chats. Guests of all ages will catch a glimpse of some of the true stars of the invertebrate world. The Butterfly House' glamourous botanical collection is sure to steal the scene, as supporting characters are known to do. Take a walk through the "Hall of Fame" to see famous plant and pollinator duos or learn about the film credits of your favorite bug actors, like "Gregory Speck" and "Zoe Soardana."
Admission to Lights, Camera, Arthropods! is included with the price of general admission to the Butterfly House.
Visitors can visit Lights, Camera, Arthropods! at the Butterfly House during open hours, 9 a.m. to 4 p.m., Tuesdays-Sundays.
For more information, visit butterflyhouse.org. 
The mission of the Sophia M. Sachs Butterfly House is "to foster a greater understanding of plant and animal relationships in the environment in order to promote the conservation and restoration of natural habitats." The Sophia M. Sachs Butterfly House became a division of the Missouri Botanical Garden in 2001. The Butterfly House is located in St. Louis County's Faust Park at 15050 Faust Park in Chesterfield, Missouri. The central feature of the attraction is an 8,000-square-foot glass conservatory where visitors mingle with more than 60 tropical species of the world's most beautiful butterflies in free flight.