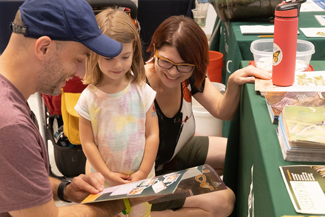 Monthly pop-up events planned at five cultural institutions

The Missouri Botanical Garden's 22nd annual Green Living Festival is back again as a series of pop-up events at institutions throughout the heart of St. Louis. 
The "Summer of Sustainability" series invites visitors to engage with experts at five events throughout the summer in a day of learning and exploring ideas for sustainable and resilient lifestyles. Events will be held:
July 8 at the Saint Louis Zoo
July 22 at the Missouri History Museum
August 5 at the Missouri Botanical Garden
Past Events: June 3 at the Saint Louis Art Museum and June 17 at the Saint Louis Science Center
Each pop-up event will begin at 10 a.m.
Hosted by the Missouri Botanical Garden at some of St. Louis' most renowned cultural institutions, the festival will let visitors explore links between sustainability and a healthy environment. Experts will offer tips to make your lifestyle, workplace, community, and residence greener.
Stop in and soak up the Green Living knowledge with workshops and tours. Visitors canconnect with exhibitors who aim to help individuals and families live green and support sustainable lifestyle choices.
All Green Living Festival events are family friendly. The Festival provides engaging activities that will inspire your small learner to think big.
The Green Living Festival series is included with general admission to each of the participating cultural institutions. Each event runs from 10 a.m. to 4 p.m. The first four events are not taking place at the Missouri Botanical Garden.
Presented by Ameren Missouri. Additional sponsorship support from Spire and the Missouri Department of Conservation.
Learn more about the full event series at: mobot.org/greenlivingfest
The Missouri Botanical Garden's EarthWays Center enriches lives and protects plants and our environment by educating and connecting people to practical sustainable solutions where they live, learn, work, and play. Learn more about the Garden's sustainability efforts at www.mobot.org/sustainability or call the EarthWays Center at (314) 577-0220.
The Missouri Botanical Garden's mission is "to discover and share knowledge about plants and their environment in order to preserve and enrich life". Today, 164 years after opening, the Missouri Botanical Garden is a National Historic Landmark and a center for science, conservation, education, and horticultural display.