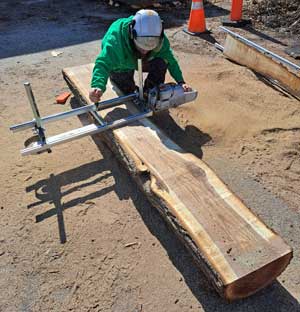 Have you ever wondered why the removed trees in your neighborhood couldn't be used for some higher purpose? Most urban trees get chipped up, sent to a landfill to rot, or a select few may become firewood. Couldn't they be used for some of the lumber and wood products we need and use everyday so less of our precious forest trees need to be harvested? After all, cities and tree services are removing hundreds of dead and dying trees every week.
You will be happy to know there are some small businesses, such as woodworkers, tree services, mills, and some municipalities out there trying to make a difference by doing so. This is the Urban Wood Movement.
Urban wood can be defined as any wood that was not harvested for its timber value and diverted from the waste stream to be developed into a product. Urban hardwood products also have the potential for a high amount of carbon sequestration according to a study from the Urban Wood Network.
Beyond the social and environmental benefits, preservation of memories is also an important aspect of working with urban wood. It's become more feasible than ever to save that cherished tree from your own yard or property and have it made into heirloom furniture or some other creative project. Where restrictive yards or difficult terrain may make it difficult to transport your log to a sawmill, there are now some woodworkers who can mill up your logs right where they lay.
One company in the St. Louis metro area offering these services is Missouri Nature Art. Customers often commission their custom woodworking services to create unique pieces that honor the memory of their tree. Missouri Nature Art specializes in live edge designs, rustic to modern, utilizing urban wood, and other salvaged and rescued woods.
Having something made from your own tree can be a very rewarding experience, but there's some things to keep in mind. First, you'll want to hire a professional tree service to get your tree to the ground safely. Other things to consider is the period of drying time wood needs before it can be worked, often many months, and some tree species have better uses than others. Missouri Nature Art will guide you through the process, help you flush out your ideas, and work with your tree service to select the most suitable parts of your tree for the project.
For a consultation on your tree or to visit our studio, please visit missourinatureart.com or contact:
Missouri Nature Art
Matt Faupel
matt@missourinatureart.com
314-662-4862