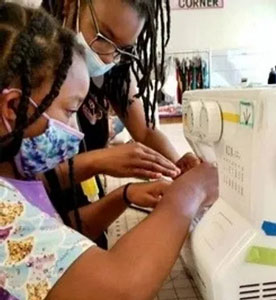 City Sewing Room of St. Louis (CSR) opened in 2016 as a gathering place for sewing enthusiasts. It became a nonprofit in 2020 when increasing their community outreach to include more clients, volunteers, and increase the volume of donations. CSR remains the only organization in the greater St. Louis area that focuses exclusively on sewing donations for stitchers.
Today, CSR teaches 25 youth and 25 adults (ages 9 – 99) every week in a variety of sewing classes. Participants are taught to make items such as totes, or they can work on their own projects. Offsite classes have also been held at libraries, the Boys and Girls Club of Florissant, and fairs at local neighborhood parks.
Currently, donations arrive by carload and truckload, usually 400 pounds each week, and frequently 400 pounds in a single drop-off. More than 10 tons are received annually. Donations often come from estate sales and retired stitchers. Manufacturing companies also donate when cleaning out their yearly stock of samples. To keep up with the growing volume, the Maker's Mart is expanding to a 700 square-foot space on site.
The students in sewing classes and volunteers sewing items for donating to those in need are provided with fabric at no cost. The unusable fabric is sent to a fabric shredder through the St. Vincent DePaul Society. The remaining materials are sold at the CSR's Maker's Mart fort $2 per pound.
Donated sewing machines are refurbished for use in classes or for sale. If unrepairable, the machines are sent to The Sewing Machine Project in Columbia Missouri. Those machines are repaired or retrofitted as treadle machines for use in areas without electricity, including schools in Africa and Central America.
City Sewing Room is located at 6700 Arsenal St., St. Louis, MO 63139. For more info call 314-225-5857 or visit www.citysewingroom.com.