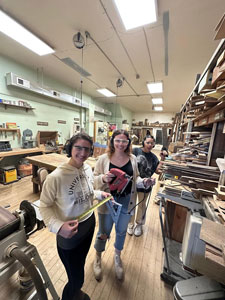 Sustainability might seem intimidating, but with a little crafting and community, it can be fun. That's where Perennial, a creative reuse non-profit in South St. Louis City, comes in. Perennial provides classes for adult beginners with the earth in mind. Using reclaimed materials, expert artists help participants build their creative confidence in woodworking, mosaics, bookbinding, natural dyes, sewing, mosaics and more. Each year Perennial serves 6,000 participants through classes, events, clothing swaps and outreach workshops while diverting over 10,000 pounds from the landfill.
The variety of classes isn't the only thing that makes Perennial a unique resource, they're also building a community of folks in St. Louis that care about their impact on the environment.
"We know there's a ripple effect when folks take a class at Perennial," says Executive Director, Katie Carpenter. "Once people see the possibilities of how different discarded items can be transformed into something beautiful, they start applying their new DIY skills and attitudes towards reducing all kinds of waste at home while also sharing those skills with friends and family along the way."
With increased demand from participants wanting to live more resourcefully, Perennial has expanded their workshops beyond transforming discarded items. The organization is developing new classes focused on how to keep "stuff" from being discarded in the first place. Folks can learn how to extend the life of items they already have through classes on home and clothing repair.
This year Perennial will be hosting a series of free repair demonstrations at the St. Louis Earth Day Festival in Forest Park. Stop by their tent April 22nd or 23rd to learn a new skill, ask questions, find repair resources, or try some interactive activities. You can also follow them on Instagram @perennialstl for the most updated information on upcoming classes, events, and volunteer opportunities.
Perennial is located at 3762 S. Broadway, St. Louis, MO 63118. For more information call 314-832-2288 or visit www.perennialstl.org.