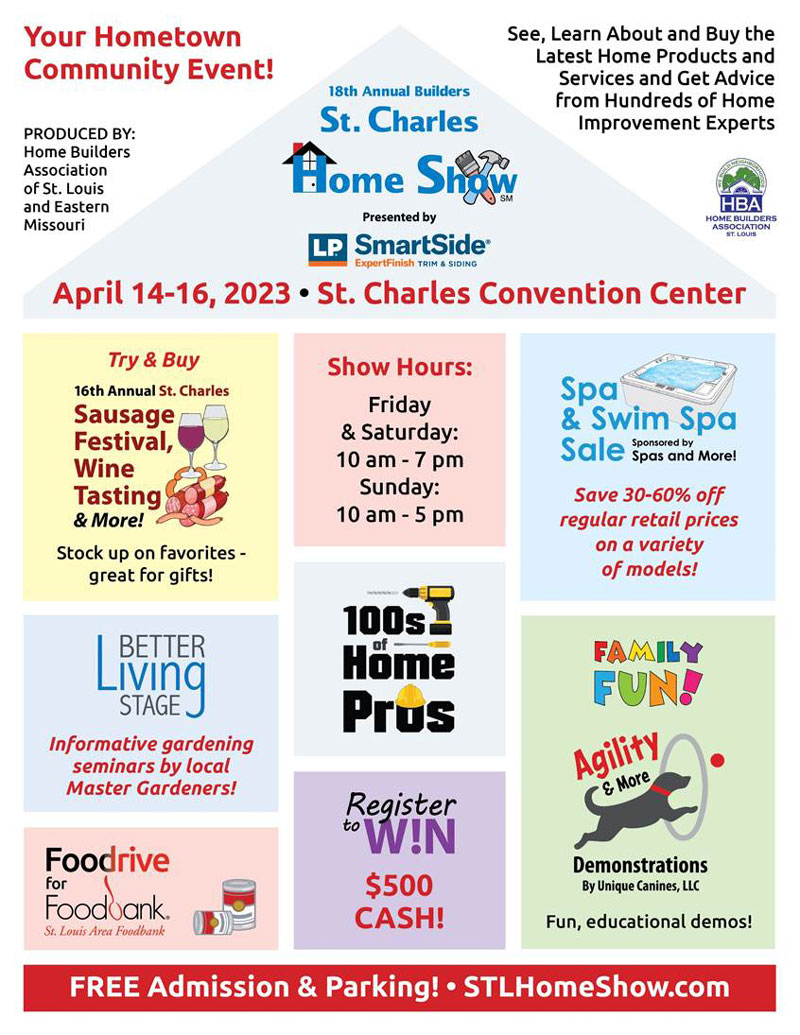 The 18th Annual Builders St. Charles Home Show, presented by LP® SmartSide® Trim & Siding, is April 14-16 at St. Charles Convention Center, with free admission and parking. Local companies bring countless experts to this event who offer valuable home improvement knowledge and advice. People can see, learn about and buy the latest home products and services in one convenient location. The show is produced by the Home Builders Association of St. Louis and Eastern Missouri.
Spending more time at home recently has prompted many people to reevaluate their homes. From design to functionality, many homeowners have found areas of their homes that would benefit from updates. The Home Show is a great source for the products, services and local home improvement pros to help with those updates to create homes that fit the needs of today's families and give them their best home life.
St. Louisans can find what they need for their homes, inside and out, including kitchen and bath designs and fixtures, flooring, furniture, window treatments, decks, fencing, windows, siding, doors, landscaping, hardscape materials and so much more. Visiting the Show will save attendees time and money, help them complete their home improvement projects and give them the opportunity to have a fun day out with their families.
Show visitors can get expert advice from local Master Gardeners at the Better Living Stage. Informative seminars can help attendees become better gardeners and reap the rewards of their hard work. Topics include the A, B, Cs of Honey Bees, Designing with Nature in Mind, Landscaping with Native Trees and Shrubs, and Soils 101.
The 16th Annual St. Charles Sausage Festival, Wine Tasting & More is a favorite destination for show attendees. Visit this area, located on the lower level near the escalators, for free tastings and products for purchase from a variety of sausage producers and Missouri wineries. Plus, try tasty wine slushies and gourmet sauces. Show visitors can discover delicious new items and stock up on their favorites – also great for unique gifts!
Shop the Spa & Swim Spa Blowout Sale, sponsored by Spas and More! for a great deal on a new spa or swim spa. This spectacular sale offers show visitors the opportunity to save 30-60% off regular retail prices, with many models of spas and swim spas to choose from!
Outdoor living spaces are some of the most popular areas for home improvements. A variety of exhibitors, including pool and spa companies, landscape design and maintenance pros, and others offering decks and patios, outdoor kitchens, awnings and umbrellas, storage sheds and more can help people create amazing outdoor spaces.
The St. Charles Home Show is always a family-friendly destination. Bring the kids for Dog Agility & More Demonstrations by Unique Canines, LLC. In their demonstrations, Unique Canine, LLC will be showing how to start dogs in basic obedience, agility and scent work and explaining how these activities help them build a better bond with their owner and gain confidence. Several dogs of different sizes, breeds and ages will be demonstrating. Come out and watch the fun!
The Home Show is hosting a Food Drive. Visitors can donate food items to the St. Louis Area Foodbank and are encouraged to bring non-perishable food in non-breakable containers.
For area homeowners looking to do some home improvements, visiting the Show is the first step. Finding the products and services they need and the companies who can help will go a long way toward getting that project done. Visitors are encouraged to bring photos, plans and designs and have their questions answered by the experts. Many exhibitors offer show specials and discounts for people who book projects or make appointments at the Show. Plus, visitors can register to win $500 cash to help them get started on their next home improvement project, courtesy of the Home Builders Association.
Show hours are 10:00 a.m. to 7:00 p.m. on Friday, April 14 and Saturday, April 15 and 10:00 a.m. to 5:00 p.m. on Sunday, April 16. Admission and parking are free. For more information, visit STLHomeShow.com.