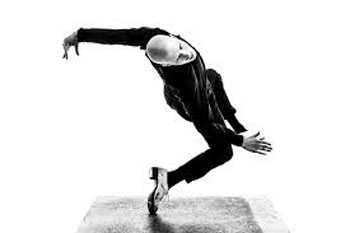 Never mind the latest MVP. This month is all about MPV — Musical, Performance, Visual art!
Photo caption: Dance St. Louis presents Dorrance Dance, March 25
By Michelle "Mike" Ochonicky, Healthy Planet Arts Editor
Chamber Music Society of St. Louis performs "From Baroque to Classical" on March 6 (that's a Monday!), 7:30 p.m. at 560 Music Center. Can't get there on Monday? The concert is available for virtual viewing/listening on March 14. More details at www.chambermusicstl.org.
Cathedral Concerts brings the awesome acapella group Tenebrae, directed by Nigel Short, to the Cathedral Basilica, 4431 Lindell, 8 p.m. on March 7. Gramaphone magazine described their sound as "devastatingly beautiful." I've heard them and love their haunting music. It will give you chills! www.cathedralconcerts.org.
The Sheldon presents the Emmet Cohen Trio for its Sheldon Rhythm & Jazz series, March 11 at 8 p.m. Downbeat magazine praised the multi-faceted jazz pianist/composer Emmet Cohen for his "nimble touch, measured stride and warm harmonic vocabulary." He won the 2019 American Pianists Award. www.thesheldon.org.
The Bach Society of Saint Louis celebrates the diversity of classical music on March 12 with Dr. Rochelle Sennet in "Bach to Black." Experience Bach's music alongside compositions by Black composers Amanda Aldridge, R. Nathaniel Dett and Harry Burleigh. The free 3-p.m. concert at First Baptist Church in Ferguson requires reservations: https://bachsocietyofsaintlouis.my.salesforce-sites.com/ticket/#/instances/a0F4M00000WxvXcUAJ
St. Louis Symphony Orchestra covers the gamut this month with Beethoven and Mendelssohn, conducted by Nicholas McGegan, March 10-11. Following on March 12, the Indigo Girls (Amy Ray and Emily Saliers) join SLSO to perform their folk-rock hits spanning 4 decades. www.slso.org.
Global-UMSL presents Japanese Drama Night: Chihayafuru: Kami no Ku on March 9, 4:30-6 p.m. This free event includes pizza, screening of the 2016 drama film (111 minutes) about competitive karuta, the card game derived from a classical anthology of poems, and a brief introductory lecture by Dr. Laura Miller. In the Social Sciences Building at UMSL, but please rsvp at www.eventbrite.com/e/japan-drama-night-chihayafuru-kami-no-ku-tickets-536004623257.
March 12-16 is the Jewish Film Festival, held this year at Marcus Des Peres Cinema, complete with reclining seats and popcorn. The 24 films in the festival are diverse, addressing universal themes. www.stljewishfilmfestival.org.
COCA presents The Wolves, March 24–26 at 6880 Washington Avenue in University City. The play chronicles six weeks in the absorbing lives of members on a girls' high school soccer team. The play is a Pulitzer Prize finalist; recommended for audiences over 15. www.COCAstl.org.
Conversations: A USA/South African Collaboration has been years in the making. The pandemic interrupted Part II of this international collaboration with Karlovsky & Company dance, begun in 2018. Finally, the premier of Rooted Within, by South African guest choreographers Yaseen Manuel and Marlin Zoutman will be performed March 24-25, 7:30 p.m. at The Grandel in Grand Center. Don't miss this dual-company/continent performance. www.karlovsky-dance.org.
Dance St. Louis brings Dorrance Dance from New York CIty to the Touhill at 7:30 p.m. on March 25. This group is absolutely the tops for tap today! www.dancestlouis.org.
Through March 31, view Wanderlust, a juried national exhibition at Webster Arts, #2 Summit Avenue. Featured are 34 works, including one by yours truly!
Webster Arts also sponsors Art & Found Day on March 12. This celebration of community shares works by artists of all mediums – for free – with their neighbors. Last year Webster Arts placed 40 pieces of original work throughout Webster Groves for neighbors to take home and enjoy! www.webster-arts.org.
Small Works, an exhibition of artwork no larger than 12" x 12," can be seen at the Webster Groves Public Library, March 1-31, during library hours.
Fresh Air Exhibition at Gretchen Brigham Gallery runs through March 30, presenting plein air paintings by six area artists. To schedule a Private View appointment 24 hours in advance of your visit to the gallery at 733 N. Union, click www.union-avenue.org/agua.
Varsity XXVII showcases 41 works by area grad and undergrad art students in the Art St. Louis gallery, 1223 Pine. The invitational exhibition opens with a 5-7 p.m. reception on March 3, on view through March 30. www.artstlouis.org.
The Mildred Lane Kemper Art Museum (on Washington University's campus) looks at the complex connections between modern and traditional African works in African Modernism in America, March 10-August 6. Torkwase Dyson: Bird & Lava explores being "both liquid and mountains, bird and lava." www.kemperartmuseum.wustl.edu.
March 10-April 13, Contemporary Art Museum (3750 Washington) hosts Jacolby Satterwhite: Spirits Roaming on the Earth. Resilience, reinvention and celebration merge in this exhibition, fusing performance, digital works and animation. www.camstl.org.
Then walk next door to the Pulitzer (3716 Washington) to view Faye Heavy Shield: Confluences. The artist is a member of the Kainai Blood Nation, part of the Blackfoot Confederacy. Also on exhibition is The Nature of Things: Medieval Art and Ecology, 1100-1550. The exhibition explores the natural resources used for art and architecture during this period. (Think of the concerns over suddenly-released medieval toxins following the fire at Paris' Notre Dame Cathedral). www.pulitzerarts.org.
St. Louis Art Museum opens Monet/Mitchell: Painting the French Landscape. The ticketed show includes works by French Impressionist Claude Monet and American artist Joan Mitchell. www.slam.org.