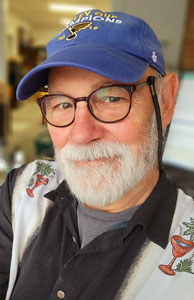 Feral Cats & Coyotes In Webster Groves?
By J.B. Lester
When the daffodils begin to bloom in February, it gives us hope that Spring is just around the corner. Some of our biggest snowstorms have been in February and March in St. Louis, so we are not out of the woods just yet. But the warmth of the mid February sun is so welcome and calming in such a crazy world.
In suburban Webster Groves we have a family of feral cats living with us outside our house. We feed and water them and give them all the love of house pets. But they are still wild and soon need to be caught and neutered before they produce even more feral cats. It is hard to think of them as wild, but wild they are. They let us pet them while they eat and they show us friendship by rubbing up against our legs and putting their tails in straight up – a sign of trust. My daughter visited the other night and when she left just after dusk she called us quickly to say she saw coyotes roaming our neighborhood. We feared for the feral cats, so I went out into the street with a flashlight to scare away the would-be predators. But then my wife and I realized, the cats are wild like squirrels and rabbits. Yes, we have made them trust us and even perhaps like us, but they are still wild and nature has its way, whether we like it or not.
We are talking to the Feral Cat Society and hopefully they will send over a volunteer to help us trap the cats and we will pay to have them fixed, and then released back into their territory. I just can't make myself trap them in wire traps. I will leave it to the people who know the best and most humane way to do that. We want to do the right thing and get them fixed, but it is beyond our scope to trap them and take them.
A wayward neighborhood dog got loose this week and chased some of the cats. I got to see that they have learned to climb trees to escape harm. It's all part of the nature's plan I guess. We chose to feed and love them and whatever happens we will have to deal with emotionally. Who didn't find a baby bird or rabbit when they were young and put it in a box and wanted it for a pet? And yet it died. Wild animals have a hard time in captivity. It's just the way it is no matter how much we love them.
For now we await the help from the feral cat volunteers in hope that the master plan will work and our family of cats will be fixed and returned to our neighborhood — their territory. The crate shelter we provide them on our front porch has gotten them through the coldest of weather so far and we have watched them grow into young adults. But when spring comes, we don't need any more cats.
Look for updates on the five feral kittens and mother in the months to come. We hope this story has a purr-fect ending.