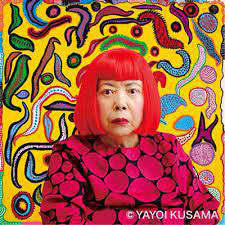 February is a time to celebrate your love — your love of the ARTS! Might I suggest…
Photo caption: Yayoi Kusama presents Narcissus Garden at Laumeier's gallery
By Michelle "Mike" Ochonicky, Healthy Planet Arts Editor
St. Louis Symphony Orchestra offers up a performance on February 18-19 of DeBussy's Iberia, Ravel's La Valse and the first SLSO performance of Wynton Marsalis' violin concerto, performed by Nicola Benedetti. On February 26, take a trip around the world via the Family Concert: Music Without Borders, complete with a fun musical scavenger hunt before the concert—just $9.50 per ticket! —at Powell Hall, 718 N. Grand. www.slso.org.
St. Louis Classical Guitar hosts guitarist Jiji Kim on February 18 at 560 Music Center in University City. Born in Seoul, S. Korea, she now teaches at Indiana University Jacob's School of Music. A memorable concert is guaranteed! www.stlouisclassicalguitar.org.
At the Cathedral Basilica of St. Louis, 4431 Lindell, Septura Brass Septet from London performs on February 21. Comprised of the leading new generation of British brass musicians, Septura members hold principal positions in the London Symphony, Royal Philharmonic, London Philharmonic, BBC Symphony, Philharmonia, Basel Symphony and Aurora orchestras. Tickets to the concert in this great space start at $19. www.cathedralconcerts.org
On February 25, the Intercultural Music Initiative presents the amiable, dramatic soprano Dawn Padmore, with pianist Kamilla Arku at Maryville University. The New York Times describes this Liberian-born singer as "a resonating soprano." Her concert begins at 7:30 p.m. www.imusici.org.
Dance St. Louis promises an amazing experience on February 25 when Giordano Dance comes to the Touhill for one performance only. The company is known for its electric jazz and contemporary dance, so don't miss this one! www.dancestl.org.
Delight the entire family with tickets to Metro Theater Company's new play, Spells of the Sea. Fans of Disney's Moana or Encanto will love this just-right 60-minute performance at Grandel Theater, February 5-March 5. This charming story is sure to delight every 8- to 80-year-old! www.metroplays.org.
If it's new talent you seek, check out St. Louis Teen Talent Competition's Semi-Finals on February 26 at the Fox. Young singers, dancers, actors, and specialty performers from across the region compete for the chance to be discovered. www.foxpacf.org.
The Sheldon Art Galleries—all six of them! — present six distinctive exhibitions, starting February 10, running through May 6. Bill Steber: Hill Country Spirits chronicles life in the Mississippi Delta through his haunting black and white photographs. Patrick Earl Hammie: I AM… the Night examines such iconic personalities as Don Cornelius (of Soul Train fame) through his drawings.
Plus, you can help support he Sheldon via the 15th annual Sheldon Trivia Night on February 17th at 7 p.m. Gather a group of friends for a fun night of trivia, craft beers and soft drinks (bring your own snacks). www.thesheldon.org.
Laumeier Sculpture Park on Rott Road has done it again, bringing an internationally recognized artist's creation to the Aronson Fine Arts Center's Whitaker Foundation Gallery. This installation, Narcissus Garden, is by none other than acclaimed Japanese artist Yayoi Kusama (think dots, repetition and infinite space). This 93-year-old is considered a most influential artist in the world gallery of contemporary art. Immerse yourself in Kusama's "garden" of reflective spheres and be wowed, February 11-May 14. www.laumeier.org.
St. Louis Art Museum brings "treasures from the Higgins Armory Collection at Worcester (Massachusetts) Art Museum" in an exhibition entitled Age of Armor. From February 18 through May 14, view suits of armor and armaments elevated far beyond mere battle gear to high works of art. This exhibition is sure to intrigue both historians and art lovers and alike. www.slam.org.
Wanderlust, an all-media juried exhibition, is on view at Webster Arts, 2 Summit, February 24-March 31. As a word, wanderlust describes "a desire to move about," particularly in reference to the 19th century practice of hiking through the countryside. In our modern age, wanderlust can describe any wandering, whether in the country or a major city of the world. The opening reception on February 28 starts at 6:30 p.m. www.webster-arts.org.
Wondering what best says, "I love you" on Valentine's Day? Tickets to a concert, play or exhibition make a memorable gift. Choose a one-of-a-kind work of art, whether large or small, from a local artist or gallery to clearly say, "You are special."