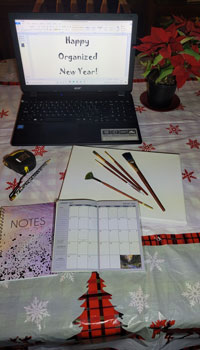 By Deb Powell
First: WE REST!!!
Then we organize.
DON'T PUT EVERYTHING AWAY!
Wait, what?! Yes, that's what I said. Snowmen, angels, greenery, grape vine bows, mistletoe, reindeer… are also winter decor (if they're not too Christmassy), so leave some of them out. Even lights can create a beautiful atmosphere. This also makes less work for now, and keeps some of the beauty and magic alive. Remember to diffuse or simmer nice scents: vanilla, pine, cinnamon…
Christmas tree, decorations, and items:
Pack all decorations carefully for storing
Donate things you have too many of, or are tired of
Throw out damaged items
Label things and put away in order of getting them out next year
Put delicate things in boxes, egg cartons… unused hard suitcases are great also
Kitchen: wash and pack away tea towels, bowls, cutting boards, mugs, oven mitts…
Bedrooms: put away throw pillows, blankets, lamps…
Other rooms: put away anything that is holiday specific
Donate or re-gift non suitable and unwanted gifts
REST!
Organize the New Year: Let's make it the best year ever!
Clean as you put decorations away, or, have a separate time for that
Write thank you notes, and/or send Christmas cards… it's nice to get them after the rush is over
Visit those you didn't have time for during the holidays
Figure out your holiday credit charges and pay them off as soon as possible
Make notes of what you will do differently next year
Get organizing for the winter: Make plans, verify or adjust resolutions, take classes, start lessons, learn a craft, work on a project…
Plan spring gardening and/or landscaping
Reflect on the past year and see how you can improve your life, health, relationships…
REST!
Create a Communication Centre… Clear communication is the key to a peaceful household 
The kitchen is usually best, or by the main door. It's easy, inexpensive, and fun!
You'll need:
Chalk board or white board to post things, and leave notes…
Wall calendar with all meetings, events, appointments…
Posted list of family and emergency numbers
File or bin for each persons' mail or stuff (small things)
REST!
If you didn't rearrange the furniture for the holidays, now is a great time… A fresh look for a new season! When I rearrange, it's like I have a new home!
Watch for February's article: 3 Areas of the Heart
Questions and feedback welcome — debmag04@gmail.com