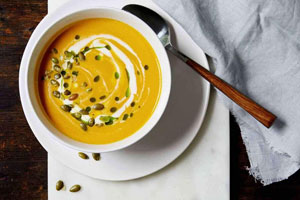 By Leigh Hendry,
Healthy Planet Food Editor
As the days get cooler nothing warms you up like a nice bowl of soup and this is a perfect fall soup! It's delicious and super easy to make.
Coconut Curry Pumpkin Soup
½ yellow onion, finely chopped
2 tbsp olive oil
2 cans of pumpkin – 15 oz
1 can of coconut milk – 15 oz
2 cups chicken stock
1 teaspoon salt
1 teaspoon curry powder
1 teaspoon pepper
Small container of plain Greek yogurt
raw pumpkin seeds
1st heat oven to 350 degrees, put the pumpkin seeds on a baking sheet and roast them for approx 8 – 10 minutes. When browned remove from the oven, set aside.
Sauté onion in olive oil until soft, do not brown. Next add both cans of pumpkin, the coconut milk and the chicken stock. While mixing ingredients add salt, curry and pepper. Simmer over low heat for about 15 minutes.
Ladle soup in bowls, top with a tbsp of Greek yogurt and sprinkle pumpkin seeds in each individual bowl and serve.
Until next time, stay healthy and eat your veggies, and if you're looking for me I'll be in the kitchen.
Live, Love, Lucy
Lucy Hendry is the author of the Farmers Market Cookbook and recently became a Holistic Nutritionist. For more recipes and info on using food as medicine check out her website www.Lucysinthekitchen.com