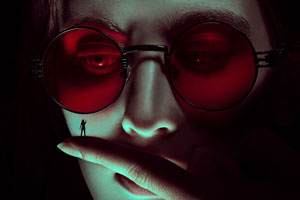 By Michelle "Mike" Ochonicky, Healthy Planet Arts Editor
I propose that you include ART in your New Year's resolutions: attend more ART events, exhibitions, or performances; draw, paint, sing or dance (no one has to see you!). I launched my own 2023 resolution early by enrolling in the Smithsonian Institute's World Art History Certification Program. My holiday-gift-to-myself is to devote more concentrated time to studying the masters, and already I am thoroughly loving these in-depth courses.
On November 28, the St. Louis Post-Dispatch published a fascinating article by Calvin Wilson which asked, "Why are so many former New Yorkers flocking to the St. Louis art scene?"
New York, long considered to be the epicenter for visual and performing arts, is watching as artists and arts administrators discover the ARTistic vibrancy of……St. Louis!
Regular readers of this column already know that this city is more than the center of the country. It is the center for the ARTS as well. There is just so much ART happening in the Lou.
Just peruse some of these suggestions to kick-start your ARTful New Year's resolution in St. Louis style:
Combine those resolutions to get fit and to add ART to your life with Yoga in the Gallery at Webster Arts, 2 Summit Avenue. Each Wednesday, January 4-March29, participants can buy a six-week pass or pay-per-session, 9:30 – 10:30 a.m. The Open Theme Annual exhibition is on view January 13-February 17, with an opening reception 6:30-8 p.m. www.webster-arts.org
Art St. Louis hosts Personal History, January 7-February 15 in the gallery at 1223 Pine. Sixty-three multi-media works define one's sense of self. The reception on January 14, 5-7 p.m. is open to the public. www.ArtStLouis.org
Crossroads Arts Council in Wentzville opens Art Inspired by the Written Word with a reception on January 8, 2-4 p.m. The exhibition continues through the month. www.crossroadsartscouncil.org
Art to Make You Smile by Rich Brooks runs at the Jacoby Arts Center in Alton, Illinois through January 14. The exhibition is worth the drive to bring some "happy" into your new year. On the way, do some eagle-watching along the river, too. www.jacobyartscenter.org
Also, through January 14, Bruno David Gallery, 7513 Forsyth, presents the following: Frank Schwaiger: Signals; Charles Turnell: See Beauty Everywhere; Lisa K. Blatt: Corruption; Charles P. Reay: Frederico de Montefeltro & Battista Sforza. www.BrunoDavidGallery.com
Increase your knowledge of photography on January 14 when the International Photography Hall of Fame hosts Collin W. Elliott: Expressions. Elliott walks through his decade-long journey with photography as the language of storytelling and defining of space during this 11 a.m. lecture at 3415 Olive. Two films are offered this month as well: SNCC, a non-fiction look at the 1960's civil rights movement by Danny Lyon on January 7, and Anthropocene: The Human Eoch, by Nicholas de Pencier, Jennifer Baichwal, and Edward Burtynsky on January 21. Both screenings start at 1 p.m. www.iphf.org
St. Louis Classical Guitar brings Duo Virtuosi to The Sheldon on January 20. The world-renowned Bulgarian/Viennese violinist Bojidara Kouzmanova and Spanish classical and flamenco guitarist Virginia Luque join their remarkable virtuosity in a memorable evening performance. www.stlclassicalguitar.org
The Sheldon, 3648 Washington, is also where the Jazz at Lincoln Center Orchestra with Wynton Marsalis perform at 7:30 p.m. on January 29. www.TheSheldon.org
The St. Louis Symphony Orchestra warms up winter on January 21-22 as Music Director Stéphane Denève conducts a program featuring the World Premiere of Kevin Puts' Concerto for Orchestra, an SLSO commissioned piece, and the SLSO premiere of Detlev Glanert's Weites Land (Open Land). The concert will close as Hélène Grimaud performs Brahms' Piano Concerto No. 1. Tickets start at just $15. www.SLSO.org
Cathedral Concerts brings Luther College Nordic Choir to the St. Louis Cathedral Basilica, 4431 Lindell, for an 8 p.m. concert on January 27. Great music in a great space, for sure! www.cathedralconcerts.org
Join the Chamber Project Saint Louis on January 29, 7 p.m., for CELEBRATE: 15th Anniversary Concert, performed at The Schlafly Tap Room (plus some fine, locally brewed beer!), 2100 Locust. www.chamberprojectstl.org
At the Catherine B. Berges Theatre at COCA, The Rep presents Putting It Together: A Musical Review, with the words and music of Stephen Sondheim, January 27-February 19. www.repstl.org