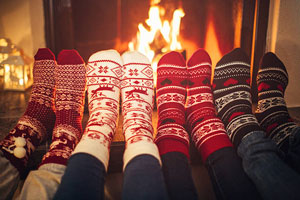 By Tom & Carol Braford
This is the time of year when people all over the world gather to celebrate in community in many different ways. People of different nationalities, with different beliefs, and different ideologies, often within the same family, put aside their differences to come together in peace and love.
So many Americans got out to vote on election day this year, so we had a lot to be thankful for on Thanksgiving Day. And now in this special month, we come together to celebrate and find opportunities to serve.
How are you planning to celebrate this special time of year? However you celebrate, may you have a Merry Christmas, a Happy Hanukkah, a Quintessential Kwanzaa, a Raucous Ramadan, or whatever!
We have been filing more grant applications, most recently for Community Revitalization grants, which will allow us to build affordable transitional housing for those in need and offer skills training and other services.
As we begin construction on Arizmendi Ecovillage in 2023, we will create sanctuary housing, training the future workforce, earth stewardship opportunities and practicing inclusive decision making with dynamic self-governance. Our team is growing in exciting ways. Would you like to join us?
In December, we will file for an EcoTourism grant that will allow us to create a Big Wading Bird greenway, as well as a solar-powered EcoCab service. Are you interested in becoming a worker/owner in the EcoCab Co-op?
We figure that by spring we will be well on our way when we start growing food on our rooftops under the solar canopy. Then we will begin to: Imagine no more hunger, no more malnourished children; it's easy if you try!
Watch for our new website, designed by our intern, Allison Fabrizio, coming soon! We will post updates as we hear back on new grants and schedule training programs. Let us know if you have questions or have skills to share!
Contact: braford@sbcglobal.net