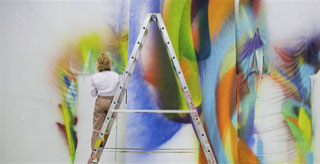 By Michelle "Mike" Ochonicky, Healthy Planet Arts Editor
Photo Caption: On the Edge of Something Else, by Katharina Grosse, at Mildred Lane Kemper Art Museum
Enjoy November's "cool" with great jazz—at Jazz St. Louis, of course!
The lineup kicks off with John Pizzarelli (Nov. 2-6), followed throughout the month by Marilyn Maye, Dave Grelle's Playadors, Cecile McLorin Salvant & Sullivan Fortner, Jeremy Davenport, and Stacey Kent, all at 3536 Washington. www.jazzstl.org.
Arianna String Quartet performs Genius Unbound (works by Dvorak, Janacek and Beethoven) at 7:30 p.m., November 4, at the Touhill. Arrive by 6:45 to attend the pre-concert talk! www.ariannaquartet.com.
Chamber Music Society of St. Louis offers two concerts this month at the E. Desmond Lee Concert Hall, 560 Trinity Avenue. Leonard Slatkin conducts "The Winds Blow Back" on November 7. "Playing Favorites" concert is set for November 28. Both at 7:30 p.m. www.chambermusicstl.org. 
St. Louis Classical Guitar brings Russian flamenco guitarist Grisha Goryachev again to The Sheldon on November 9 for a 7:30 p.m. performance. Local guitarist Liam Christy opens the evening. www.stlclassicalguitar.org.
Harmony in Music brings Carnatic and Hindu classical Indian styles music to Kirkwood Performing Arts Center on November 19. Experience Indian ragae with jazz collaboration. www.sooryaperformingarts.org.
Stephane Deneve leads the St. Louis Symphony Orchestra in Gustav Holst's The Planets, November 18-20. Later, November 26-27, conductor Xian Zhang leads SLSO as Ottorino Respighi's Fountains of Rome and Pines of Rome are performed. Both concerts at Powell Hall, 718 N. Grand. www.slso.org.
Groove, a spirited and eclectic program of music for flute, clarinet, strings, and keyboards by Chamber Project Saint Louis comes to 560 Music Center, on November 18 at 7:30 p.m. Included are works by Blake Hernton, Antonio Vivaldi, Libby Larsen and others. www.chamberprojectstl.org.
Dance St. Louis hosts Complexions Contemporary Ballet in Stardust: From Bach to Bowie, November 5 at the Touhill. Choreographed by Dwight Rhoden (formerly principal dancer with Alvin Ailey), Stardust is a spellbinding tribute to the life, music and glam of David Bowie. Wow!! www.DanceStLouis.org.
Karlovsky & Company celebrates a decade of dance with Recaptured, performed at The Grandel, in Grand Center, November 10-11 with 7:30 p.m. performances. www.karlovskydance.org. 
St. Louis Ballet ushers in the holiday season with The Nutcracker to the Touhill, November 26-27 (and December 16-23). Treat those little sugar plum fairies in your family to a ballet performance they'll always remember. www.StLouisBallet.org.
I do not usually cover literary arts in this column, but don't miss the Jewish Book Festival, November 6-13. Featured is a lineup of bestselling authors, investigative journalists, Netflix stars, nationally known chefs, true crime events and more, all at "the J" (St. Louis Jewish Community Center, 2 Millstone Campus Drive). www.jccstl.com.
Through December 18, MOCRA (Museum of Contemporary Religious Art) hosts This Road is the Heart Opening, artworks that suggest the value of being open to self and to the world. Concurrently, Jordan Eagles: Viral Value explores the value systems of art and religion, prompted to question such values after the 2017 sale of a purported Leonardo da Vinci painting. MOCRA is located on West Pine, on the St. Louis University campus. www.slu.edu/mocra.
The Mildred Lane Kemper Art Museum, on Washington University's campus, hosts Ambivalent Pleasures: Advertiser Content in American Art, plus Katharina Gross Studio Paintings: Returns, Revisions, Inventions and On the Edge of Something Else (until January 23); Chakaia Booker: Shaved Portions (through next August). Check them all out! www.kemperartmuseum.wustl.edu/.
Through December 10, view nwl, at The Luminary, 2701 Cherokee. This exhibition features new works by Kelly Kristin Jones, co-curated in collaboration with The Racial Imaginary Institute. The works explore how racial tension is sustained and opens dialogue on how that tension might be resolved. www.theluminaryarts.com.
Support local black and queer-identifying artists on November 25 by shopping at the Black Friday Ball by Qu'art , 4-9 p.m. at the Contemporary Art Museum, 3750 Washington. www.camstl.org.
Green Door Gallery, 21 N. Gore, opens Face to Face, a figural and portrait art exhibit on November 2., The show runs through December 31. www.greendoorartgallery.com.
Upstream Theater premieres The Good Ship St. Louis, November 3-20 at the Marcelle Theater in Grand Center. In 1939, the MS St. Louis carried 900 Jewish refugees to seek safety first in Havana, then in the United States, only to be refused and returned to the terrors in Europe. This play chronicles the ship and examines basic human rights. www.upstreamtheater.org.
Performances of Charles Dickens' A Christmas Carol begin at the Rep at the Loretto-Hilton Center, November 18. Get the holiday season off to a classic start! www.repstl.org .