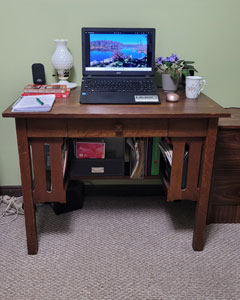 By Deb Powell
A reader asked how to organize an office space to work from home, so this month's article is just that. Good news is you don't have to build an addition!
Being organized is the key!
If your home is also your work place you will especially need to be organized as you'll be spending a lot of time there. Being also cozy and comfortable will determine your success and your mental health. Remember to personalize your space with your favorite photos, pictures, plants, nature or water sounds, and playing instrumental music quietly in the background is uplifting and comforting. Blues are my favorite.
Many clients say finding time to set up a home office and having the right organizing tools is the hardest part. You just have to make it a priority and schedule the time. Have someone help you if possible.
Once you have an idea of how much space and storage you'll need, then, obtain the appropriate items.
#1. SPACE: 
You will need minimum: a table, comfortable chair, and good lighting, at most: a whole room with a desk, chair, file cabinets etc. You can set up and take down your work equipment daily, or have a permanent space.
If there are others in the house they need to respect your space, time, equipment and supplies. Keep pets away if possible.
Having more than one job or business can be organized with separate and/or combined areas/files/spaces. 
#2. Storage
There are many options according to what items and systems work best for you, and will depend on the amount of space required.
There are: Bins, file folders, trays, accordion folders, cupboards, shelves, desk drawers, file cabinets…  A water/fire proof safe is a good idea for really important papers.
#3. Supplies / Equipment
Keep out what you use often and put the rest out of sight if possible.
You will need: a computer, file folders, labels, note books, stapler, clips, pens, markers, calendar…
You will need a very bright area or light if you do online meetings.
If you are easily distracted, run out of time, or put things in the wrong place, there is one way to avoid losing your work, because creating paper piles are NOT allowed! Make three files, bins, or trays called: IN PROGRESS, TO FILE, and PAY/RENEW, and write due dates on the calendar.
Next issue, 'Organizing for the Holidays'….Hint… put those outside lights up BEFORE it's too cold!
Questions and feedback welcome // debmag04@gmail.com