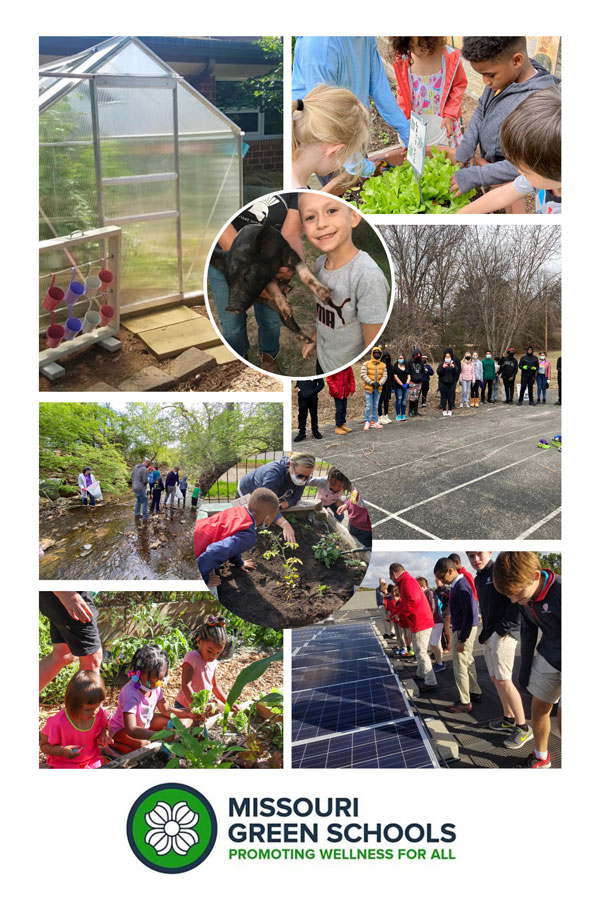 By Anne Cummings, Middle School Sustainability Teacher, School District of University City
Missouri Green Schools (MGS), a state-level collaboration between the U.S. Green Building Council-Missouri Gateway Chapter and Missouri Environmental Education Association, understands that before we can ask students to care for our planet or their communities, we need to connect them personally to healthy living. This includes ensuring that their school buildings have clean air and water, access to green spaces, and that classrooms have direct sunlight. MGS programming is rooted in the idea that each positive change, whether big or small, will provide kids and teachers with the physical, emotional and mental wellness needed to truly engage in education.
Reducing environmental impact while increasing healthy living can seem complex and even overwhelming, but MGS offers a clear path forward through an annual tracking and recognition program for Missouri K-12 Schools. "By achieving Sprout, Seedling and Sapling level recognition these schools are embracing green and healthy practices within their campuses, curriculum, and culture," said Hope Gribble, MGS co-director.
Sprout: Schools are honored for involving school administration, beginning to benchmark and track improvement, and setting goals towards further advancement of green and healthy practices.
Bermuda Primary (Ferguson-Florissant)
Bridgeway Elementary (Pattonville)
Brittany Woods Middle (University City)
Central Primary School (Ferguson-Florissant)
City Garden Montessori Elementary & Adolescent Education Center
Crestwood Elementary (Lindbergh)
Hixson Middle (Webster Groves)
Holland Elementary (Springfield)
Marvin Elementary (Ritenour)
Patrick Henry Downtown Academy (SLPS)
Seedling: Schools additionally establish a committee to support MGS work and document a sustainability achievement in at least one educational program.
Chaminade College Preparatory School
Flance Early Learning Center
Forsyth School
Herculaneum High School (Dunklin R-5)
Principia School
St. Francis of Assisi School
Sapling: Schools additionally document their long term impacts, such as reduction of energy or water usage over a 1 to 3 year period.
Sunrise R-9 School
MGS's impact can be felt throughout each school community. Reading specialist Jeanne Fernandez sums up the benefits at Bridgeway Elementary, "This is an amazing opportunity that will give students real-world experiences and skills that they can use to improve the health of the planet, and it will also help students understand how we are all connected to one another and the earth. Additionally, projects they work on will help promote mindful thinking, and will allow them to become leaders of the school and their community."
Holland Elementary's Green Club Coordinator, Michelle Peak reports that, "Green Club gives the students a chance to really understand nature and want to be a part of it. The students become aware of their own wonderful talents and gifts as we give them opportunities such as bee-keeping, gardening, recycling, photography, painting, building, and community service. We have the opportunity to ignite the spark from within and watch it grow!"
MGS participation and support benefits teens as well, according to teacher Erin Graves. "Herculaneum High School is committed to this journey not only to help protect the environment, but also to promote critical and creative thinking skills in our students and empower them to be more engaged and become leaders in advancing sustainability in our school and their community"
Interested in learning more about becoming a Missouri Green School or assisting schools in the program? Visit missourigreenschools.org or contact program directors Lesli Moylan (moylan@meea.org) and Hope Gribble (hope.gribble@mobot.org).