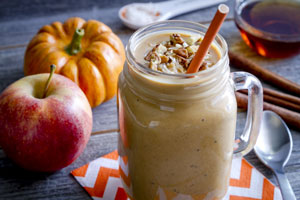 By Natalie R. Toney, M.F.A.,C.H.
Ahhh,October! If you're anything like me, the first leaf with the slightest hint of color that falls to the ground has me dreaming of the the cooler days of Autumn,and all the many delights the season brings.Apple cider by a fire, bundling up in a cozy sweater or cute jacket and boots on those crisp, frosty mornings, warming up with a coffee or chai tea after a walk among the trees (keeping well hydrated,of course!) admiring the glorious colors… However, this is the Midwest,where we can have plenty of warmer days well into the depths of Fall.Humidity might be greeting us some mornings,and a warm beverage after a hike in the woods isn't always in order. Smoothies are a great,and healthier alternative,offering nutrients,vitamins,and added protein if desired. What would October be without pumpkins and pumpkin spice? Not nearly as nice! Have a few extra apples from your trip to the orchard or farmer's market? 
Here are two popular Fall flavor favorites,Pumpkin Spice and Apple Cider, in both dairy and vegan smoothie versions,to keep your Autumn cravings satisfied all season long. 
(I've also included homemade pumpkin purée, and apple cider recipes)
All you need is a blender, or bullet style blender, and preferred container to transfer contents to.
Pumpkin Pie Smoothie
Ingredients:
1/3 cup pure Pumpkin Purée from can, jar, or homemade ( not Pumpkin Pie filling which is already pre sweetened)
1 frozen banana 
1/2 cup milk ( substitute:almond, oat, or soy milk)
1/2 cup plain or vanilla Greek yogurt( substitute: dairy free plain or vanilla  Greek yogurt for vegan… and on the days you really feel decadent, can substitute for a 1/2 cup of vanilla ice cream)
1 teaspoon pumpkin pie spice ( if none on hand, 2 pinches of cinnamon, 1 pinch each of clove, nutmeg,ginger)
1 teaspoon pure maple syrup 
Splash of vanilla (opt)
Add the milk, maple syrup, pie spice, and yogurt first, then add purée, banana, and any other add ins( the recipe may be adjusted per what's added and how much)Pulse, then blend to creamy consistency. Yields approx. 2 servings.
To make homemade purée, Preheat oven to 325, cut small roasting pumpkin in halves( not large Jack o Lantern style), scoop out seeds and pulp, cover each half with foil, bake foil side up until tender (approx. 1 hr.),after cooling, cut and scrape pumpkin from shells and put in blender, pulse and blend until purée consistency. Strain to remove any remaining stringy pieces.
Freeze purée in baggies for quick, easy access for future smoothies, desserts, or add to savory Autumn soups!
Apple Cider Smoothie
Ingredients:
2 Cups apple cider( unsweetened if possible, otherwise omit honey from recipe)
1 apple cored, peeling left on and cut into chunks( Fuji,McIntosh,Gala,Golden or Red Delicious work best…a bit of Granny Smith can be added in for some tartness)
1 cup vanilla yogurt (substitute non dairy for vegan)
1 Tbsp honey
2 cups ice
1 teaspoon pumpkin pie spice
Add cider, pumpkin pie spice,yogurt,honey,apple,and ice to blender.Pulse and the blend to creamy consistency.Yields approx. 2 servings.
To make homemade apple cider,core and quarter ten apples (use a variety from the above,and a couple of Granny Smith for best results) cut one med-lg.orange in half unpeeled,(for less tart,peel)put in large pot with four cinnamon sticks,1 Tbsp whole or 2 teaspoon ground cloves,splash of lemon juice, 1/2-3/4 cup brown sugar (to taste)can also add a pinch or two of ginger and nutmeg,add enough water to cover about 1 1/2" over the top of the fruit. Cook on high,bring to a boil,(stir occasionally)reduce heat to simmer,covered for two hours.After simmering, remove oranges, then use a potato masher to gently mash apples still in pot.Let simmer another hour. Strain through cheesecloth or fine mesh strainer.Cider will remain good up to 2 weeks refrigerated.
Optional add ins for both smoothies:
Tbsp flax or chia seeds, 1/4 of granola or oats, 1 Tbsp of almond butter,and/or your recommended amount of favorite protein powder.