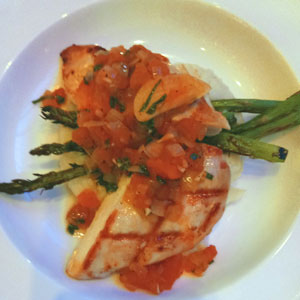 By Susan Hunt-Bradford, Healthy Planet Publisher 
St. Louis Community College has many different options for majors and programs for students seeking all kinds of education to find that perfect career. STLCC has two top-rated programs at their Forest Park campus: Culinary Arts and Baking and Pastry Arts. Both are Associate of Science degrees. The degrees are designed to be completed in two years. The cost of classes at STLCC is very affordable, combined with the excellent faculty and courses offered, making the culinary programs consistently listed in the top culinary schools in the country.
I recently interviewed two of their professors for a class I was especially interested in called Nutritional Cooking, which is required in both the Culinary Arts and Baking and Pastry Arts degrees. Professor Rob Hertel and Dept chair Ellen Piazza both teach the class. One during the day and one in the evening, making it very convenient for students. Piazza said that she and Hertel, along with all the culinary faculty, are certified dietary managers also. The class description in the course catalog includes the following: Nutritional Cooking focuses on evaluating and preparing foods for a healthy diet. Recipes will be prepared using a variety of high-quality foods that provide balanced nutrition throughout the life cycle. The focus will be placed on modifications to standardized recipes tailored to dietary needs.
Hertel and Piazza mentioned the textbook they use and that it is an excellent addition to what they teach the students. The Culinary Institute wrote Techniques of Healthy Cooking. The publisher's website describes the book as a comprehensive kitchen reference for understanding nutrition concepts, creating healthy eating patterns, developing healthy recipes and menus, and cooking healthy recipes. That is a lot for one class to cover in 16 weeks, but Hertel and Piazza cover all that and more. Hertel said they promote many vegetables that students may never have eaten before, such as brussel sprouts or celery root. Even though students are unsure about the taste of some of the vegetables used, Hertel says when prepared properly, the students really enjoy them for the most part. Hertel also mentioned that portion control is something they talk about in class. He believes we overeat protein, giving examples of some restaurants that offer 20-30 oz beef entrees.
Piazza said that one of the big topics they teach is allergy awareness. People who work in food service, front of the house or back, need to know what ingredients are in the food in case a customer has an allergy. One example she gave is that if someone has a gluten allergy or intolerance, students must realize that there is gluten in many things that many people might not be aware of—for example, Worcestershire sauce. In addition to sanitation and nutritional requirements, Piazza said that the students learn they must be familiar with medically prescribed diets. Due to medical limitations, things like low fat or high fiber may be something the diner is required to have.
Another topic taught in the class is how to deal with waste. A lot of different things are covered under waste. They teach students to be aware of the food's environmental impact, waste, and how it's prepared. They teach about sustainability and recycling.
They both keep in touch with some graduates of the program. Hertel said that a student from 20 years ago recognized him when he was in Chicago, and this student said the culinary program changed his life. The program graduate works at the Cherokee Nation Casinos as their corporate executive chef in Oklahoma. Another graduate they mentioned creates food and treats for pets, and she goes to many of the farmer's markets in St. Louis and sells her products there.
The culinary program stays on top of the latest food trends. Hertel and Piazza both said they are seeing more vegetarian and vegan students. Piazza said they also teach that type of cooking and often use TVP…textured vegetable protein in their recipes.
If you'd like more information about the culinary arts program at St. Louis Community College at Forest Park, you can go to www.stlcc.edu and search the course catalog.
______________________________________________________________________________
Here is one of the many recipes they create in the STLCC Culinary Program at Forest Park.
Grilled Chicken Parmesan
Courtesy of Professor Rob Hertel
Grilled Chicken breast served atop mashed cauliflower, topped with Tomato relish, and accompanied by grilled asparagus and a parmesan crisp
Serves 2
Parmesan cheese crisp
Shredded parmesan cheeses, ½ ounce
Preheat oven to 400 degrees F
Spread cheese on non-stick silpat, (silicone baking liner) in desired shape and bake until golden and beginning to brown, roughly 4 minutes. Remove from oven and allow to cool, firm up before using.
Reserve for plating
Tomato relish
1 roma tomato
Remove core and score with an X opposite of stem end
Blanch in simmering water for 2-3 minutes
Remove and chill in an ice water bath to cool. Remove peel, cut in half and squeeze to remove seeds
Chop/dice into uniform medium cuts
Heat 1 teaspoon olive oil in a small pan
Add 4 ounces chopped onion, then
Add 2 cloves chopped garlic, sweat for 3 – 5 minutes, reduce heat to medium and add chopped tomato
Cook covered for roughly 5 minutes. Season with salt and pepper, turn off heat and add 4 basil leaves that have been cut in a chiffonade.
Reserve for plating
Mashed Cauliflower
12 ounces of cauliflower florets
Break cauliflower head into small florets and steam or simmer for roughly 12 minutes until tender
Drain if needed and add 1 Tablespoon nonfat Greek yogurt and salt and pepper to taste
Mix with a immersion (stick blender) and reserve for plating
Grilled asparagus
10 stalks of asparagus, wash and trim
Toss in ½ teaspoon olive oil and salt and pepper as needed
Cook on grill or in 350 oven until beginning to char/crisp and become tender.
Reserve for plating
Grilled Chicken
2 boneless skinless chicken breasts
Brine in 1 quart of water and 2 tablespoons of sea salt for 1 hour
Remove from brine and pat dry, lightly toss with olive oil to coat and season with black pepper as desired.
Grill over charcoal or a natural gas/propane fire till 160-degree F internal temp is reached. Rest for 5 minutes and then plate grilled chicken parmesan
Place equal amounts of mashed Cauliflower in each of two clean warm plates.
Place grilled chicken leaning against cauliflower to off set and gain some height for the chicken. Place 5 spears of asparagus attractively on each plate, place tomato sauce on each plate to enhance chicken and garnish each plate with a parmesan crisp.
Serve and enjoy!