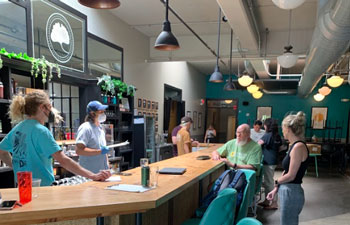 Photo Caption: Perennial Artisan Ales
The Green Dining Alliance, a program of earthday365, is now in its 10th year as the St. Louis region's sustainability certification program for businesses in the food and beverage industry. The GDA works with restaurants, breweries, bars, coffee shops, university campus cafes, catering companies, community outreach kitchens, bakeries, and ice-cream shops. With close to 100 GDA member establishments, the GDA convinced several businesses to go styrofoam free, lowered emissions in our region, and helped support our local food system. In 2021 the GDA program helped divert 3956 tons of material from the landfill. The GDA provides an opportunity for businesses and diners to connect, take environmental action, and make a visible impact on sustainability in the region.
Choosing sustainability within the food industry can be challenging in this economic climate, but the GDA helps to identify ways that being green can also save restaurants money. Ben Daugherty, GDA Manager for earthday365, explains that "GDA members work tirelessly to implement sustainable practices like recycling, composting, and food waste management – and reducing food waste can dramatically lower a restaurant's bills. The GDA program offers grants and incentives to switch to environmentally friendly to-go packaging and consulting on how to switch from disposables to reusables for dine-in service. Energy efficient upgrades like implementing LED lighting and scheduling regular refrigeration and kitchen equipment maintenance is another area of savings."
The GDA program consults with businesses to establish sustainability driven goals, provide resources and support, and celebrate sustainable achievements. The program's core concepts include: bans on styrofoam and all #6 plastics, recycling, waste reduction and diversion goals, phasing in LEDs, and assembling and sharing baseline data from utilities and service providers. The GDA certification audit focuses on 7 areas: Recycling and Waste Reduction, Sourcing and Procurement, Energy Conservation/Efficiency, Water Conservation, Chemicals, Awareness and Education, and Innovation. Primarily funded by grants from the EPA and Jefferson Solid Waste Management, the GDA reports metrics on waste diversion in recycling, composting, oil, and landfill from each of its GDA members.
The GDA has 4 Green Dining Districts (Maplewood, South Grand, The Loop, and The Grove). Green Dining Districts help add sustainability to a neighborhood's defining characteristics and culture, and they create destinations for St. Louisans who are looking for environmentally responsible businesses for their dining experiences. Municipalities like Maplewood and Brentwood offer businesses in the food and beverage industry a $100 financial incentive for joining the GDA program.
GDA members will also have access to participate in Kind Box, an earthday365 reusable to-go container program, which launches later this year.  To find GDA establishments and support local, green dining vist Green Dining Alliance at www.greendiningalliance.org. It's important to do our part as consumers to support local, green dining and our circular economies.
***
Guide to Green Dining in the St. Louis Area
Visit www.greendiningalliance.org for a complete list of participating restaurants – be sure to use our site when choosing where to dine out. This Green Dining Guide is cosponsored by The St. Louis Jefferson Solid Waste District.
4 Hands Brewing Company
1220 S. 8th Street, STL 63104
314-436-1559
www.4handsbrewery.com
Arch Café 
57 Leonor K Sullivan Blvd, STL 63102
314-300-8710
www.cafearch.com
Avenue Restaurant
12 N. Meramec, STL 63105
314-727-4141
www.avestl.com
Bailey's Chocolate Bar
1915 Park Ave, 63104
314-241-8100
www.baileyschocolatebar.com
Bailey's Range
920 Olive, STL 63101
314-241-8121
www.baileysrange.com
Bayou Catering and Seasoning
314-775-8708
Big Sky Cafe
47 S. Old Orchard, Webster Groves, 63119
314-962-5757
www.bigskycafe.net
Blueberry Hill
6504 Delmar Blvd, St. Louis, 63130
314-727-4444 
www.blueberryhill.com
Bolyard's Meat and Provisions
2733 Sutton Blvd, Maplewood 63143
314-647-2567
www.bolyardsmeats.com
Brasserie by Niche
4580 Laclede, STL 63108.
314-454-0600
www.brasseriebyniche.com
Bridge Tap House and Wine Bar
1004 Locust St, STL  63101
314-241-8141
www.thebridgestl.com
Buzz's Hawaiian Grill
3457 Magnolia, STL 63118
314-283-0666
www.buzzshawaiiangrill.com
Cafe St. Louis (MO History Museum)
5700 Lindell Blvd, STL 63112
314-659-1875
www.mohistory.org/visit/dine
Clementine's Creamery
1637 S. 18th St, STL 63104
314-474-5800
www.clementinescreamery.com
Confluence Kombucha
4507 Manchester, STL 63110
314-833-3059
www.confluencekombucha.com
Crispy Edge
4168 Juaniata, STL 63116
314-310-3343
www.crispyedge.com
Crushed Red
Visit Crushed Red at two St. Louis area locations:
Clayton – 8007 Maryland Ave. Clayton, MO 63105
314-725-8007
Kirkwood – 140 S. Kirkwood Rd. Kirkwood, MO 63122
314-238-0100
www.crushed-red.com
Eclipse
Moonrise Hotel, 6177 Delmar Blvd, STL 63112,
314-721-1111
www.moonrisehotel.com
Edibles and Essentials
5815 Hampton Ave, STL 63109
314-328-2300
www.ediblesandessentials.com 
Eleven Eleven Mississippi
1111 Mississippi Ave, STL 63104
314-241-9999
1111-m.com
Farmstead Café (Washington U. School of Medicine Campus)
4905 Children's Place, STL 63110
314-362-5538
wusm.cafebonappetit.com
Ferguson Brewing Company
418 S. Florissant Rd, Ferguson 63135
314-254-7359, 
fergusonbrewing.com
Flavor 360
2200 Yale, Maplewood 63143
314-781-7722
www.flavor360.org
Gezellig Tap House & Bottle Shop
4191 Manchester Ave, STL 63110
314-833-5532
www.gezelligstl.com
Grace Meat + Three
4270 Manchester Ave, STL 63110
314-533-2700
www.stlgrace.com
Gramophone
4243 Manchester Ave, STL 63110
314-531-5700
www.gramaphonestl.com
Grand Hall At SLU
800-758-3678
Great Harvest Bread Co.
7360 Manchester Rd, Maplewood 63143
314-991-0049
www.greatharvestmaplewood.com
Guido's Pizzeria & Tapas
5046 Shaw Ave, STL 63110 
314-771-4900
www.guidosstl.com
Ibby's
Wash U Campus. 6465 Forsyth Blvd, 63105
314-935-3940
www.ibbys.wustl.edu
Ices Plain and Fancy
2256 S. 39th St., STL 63110
314-601-3604
www.Icesplainandfancy.com
Jeni's Splendid Ice Creams
389 N Euclid Ave, STL 63108
314-367-1700
www.jenis.com
JuiceMasters Food Truck
314-337-1014
juicemasterstl.com
Kakao Chocolatier
7272 Manchester Rd, Maplewood 63143, 314-645-4446,
7700 Forsyth, Clayton 63105, 314-726-7974
www.kakaochocolate.com
Kaldi's Coffee
120 S Kirkwood Rd, Kirkwood 63122 314-821-0087.
700 DeMun Ave, Clayton 63105, 314-727-9955.
270 N. Skinker, STL 63130, 314-862-4447.
www.Kaldiscoffee.com
Kitchen House Coffee
3149 Shenandoah Ave, STL 63104
314-732-0009
www.kitchenhousecoffee.com 
Living Room Coffee and Kitchen
2810 Sutton Blvd, Maplewood, 63143
314-899-0173
www.livingroomstl.com
Llywelyn's Pubs
17 Moody Ave, Webster Groves 63119
314-962-1515
www.llywelynspub.com
Michele C Catering
314-443-6956
www.mccateringandevents.com
Mission Taco Joint  
Loop – 6235 Delmar Blvd. 63130,314-932-5430
Central West End – 398 N. Euclid, 63108 314-930-2955
Soulard – 908 Lafayette Ave, 63104 314-858-8226
St. Charles -1650 Beale St. Suite 130, 63303 636-442-1620
www.missiontacojoint.com
Old Bakery Beer Company
400 Landmarks Blvd, Alton, Il 62002
618-463-1470
www.oldbakerybeer.com
Olive + Oak
102 W Lockwood Ave, Webster Groves, MO 63119
314-736-1370
www.oliveandoak.oohosp.com
Onesto Pizza & Trattoria
5401 Finkman St, STL 63109 
314-802-8883
www.onestopizza.com
Pastaria
7734 Forsyth Blv, Clayton, MO 63105
314-862-6603
www.eatpastaria.com/stlouis/
Peacock Loop Diner
6261 Delmar Blvd, University City, 63130
314-721-5555
www.peacockloopdiner.com
Perennial Artisan Ales
Brewery and Tasting Room 8125 Michigan Av, STL 63111
Brewpub 216 Lockwood Ave Unit B, Webster Groves, 63119
314-631-7300
www.perennialbeer.com
Picnic Basket Cafe – Magic House
516 S. Kirkwood R, Kirkwood 63122
314-822-8900
www.magichouse.org
Pie Guy Pizza
4189 Manchester Rd, STL 63110
314-899-0444
www.pieguystl.com
Pizza Head 
3196 South Grand Blvd, STL 63118,
314-266-5400
www.pizzahead.com
Principia College
Elsa, IL 62028
618-374-2131
www.principiacollege.edu/dining
PuraVegan
307 Belt Ave, STL 63112
314-932-5144
www.puravegan.com 
PW Pizza
2017 Chouteau Ave, STL 63103
314-241-7799
www.PWpizza.com
Rooster
1025 Washington Ave, STL 63101 314-241-8118,
3150 S. Grand, STL 63118 314-772-3447
www.roosterstl.com
St. Louis Hop Shop
2600 Cherokee St, STL 63118,
314-261-4011
www.saintlouishopshop.com
St. Louis Zoo Café Kudu
St. Louis Zoo Lakeside Cafe
1 Government Drive, STL 63110
314-781-0900
www.stlzoo.org/visit/dining-options
Salt + Smoke
6525 Delmar Blvd, STL 63130
5625 Hampton Ave, STL 63109
314-727-0200
www.saltandsmokestl.com
Schlafly Bottleworks
7260 Southwest, Maplewood 63143
314-241-2337
www.schlafly.com/bottleworks-brewpub
Schlafly Tap Room
2100 Locust St. STL 63103
314-241-2337
www.schlafly.com/tap-room-brewpub
Seed Sprout Spoon Catering & Events
5700 Leona St. STL 63116
314-606-0165
www.seedsproutspoon.com
Side Project The Cellar
7373 Marietta, Maplewood 63143
314-224-5211
www.sideprojectbrewing.com
Side Project Brewing
7458 Manchester Rd, Maplewood 63143
314-224-5211
www.sideprojectbrewing.com
Small Batch
3001 Locust St, STL 63101
314-380-2040
www.smallbatchstl.com
Snarf's
360 North Skinker Blvd, STL 63130
314-449-1771
www.eatsnarfs.com
Square One Brewery & Distillery
1727 Park Ave, STL 63104
314-231-2537
www.squareonebrewery.com
SqWires
1415 South 18th Street, STL 63104
314-865-3522
www.sqwires.com
SweetArt
2203 S. 39th Street, STL 63110
314-771-4278
www.sweetartstl.com
The Blue Duck
2661 Sutton, Maplewood 63143
314-769-9940
www.blueduckstl.com
The Crow's Nest
7336 Manchester, Maplewood, 63143, 
314-781-0989  
www.crowsneststl.com 
The Pat Connolly Tavern
6400 Oakland, STL 63139
314-647PATS
www.patconnollytavern.com
The Post Sports Bar and Grill
736 Old Ballas Rd, Creve Coeur, 63141 314-736-1205
7372 Manchester Rd, Maplewood, 63143 314-645-1109
www.thepostsportsbar.com
The Royale
3132 S. Kingshighway, STL  63139
314-772-3600
www.theroyale.com
The Social Affair Catering 
4308 Manchester, STL 63110
314-439-1242
www.tsastl.com
The Wolf Cafe
15480 Clayton Rd, Ballwin 63011
636-527-7027
www.thewolfstl.com
Thomas Dunn Learning Center
3113 Gasconade St, STL 63118
314-353-3050
www.tdunn.org
Three Kings Public House
6307 Delmar Blvd, STL 63130
314-721-3355
www.threekingspub.com
Turn
3224 Locust St,, STL 63103,
314-240-5157
www.turnstl.com
Urban Chestnut
Midtown Biergarten 3229 Washington Ave, 63103 314-222-0143
The Grove Bierhall 4465 Manchester, 63110. 314-222-0143
The U.R.B. 4501 Manchester, 63110
www.urbanchestnut.com
Vin de Set
2017 Chouteau Ave, STL 63103
314-241-8989
www.vindeset.com
Whisk
2201 Cherokee St, STL 63118
314-932-5166
www.whiskstl.com
Whittemore House
6440 Forsyth Ave, STL  63105
314-935-5210
www.whittemorehouse.org
Green Dining Districts (4)
Maplewood
Maplewood is proud to be recognized as the Nation's First Green Dining District.
www.cityofmaplewood.com
South Grand
South Grand's Green Dining District offers an array of plant-based foods.
www.southgrand.org
The Delmar Loop
The Loop has embraced the concepts of sustainability and has worked hard to become a Green dining district.
www.visittheloop.com
The Grove 
The Grove offers a great selection of sustainable places to eat and drink
www.thegrovestl.com/green-dining