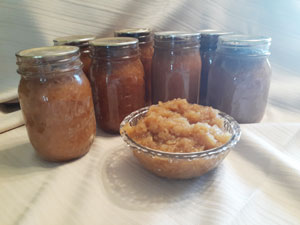 By Jane Roberts
I can honestly say that fall is my favorite season of the year. I love everything about it. I love the cooler weather that requires me to pull on a sweater or sweatshirt. The sounds of a crackling fire as we roast marshmallows over it. Crunching leaves under my feet as I hike a path and the beauty of the changing leaves. Let's not forget the tastes of fall! My favorite is apples. They are so versatile—Apple pie, apple butter, apple crisp, and caramel apples, to name a few.
I will discuss how to make and can homemade applesauce. With just a few ingredients and simple steps, you can have your own delicious applesauce any time of the year. Once you have tasted it, you will never buy store-bought again! If you are not fortunate enough to have an apple tree in your backyard, you can go apple picking at an apple orchard, pick some up at a farmer's market, or even at your grocery store.
To make about 7 pints of applesauce, you will need:
10 lbs. of apples-any variety
½ cup sugar-brown or white (to taste). You could also use honey
¼-1/2 tsp cinnamon-optional
Equipment needed:
Large stock pot
Peeler
Knife
Large mixing utensil
Potato masher &/or immersion blender
Water bath canner
7-pint jars, lids, rings
Funnel
Jar lifter
Peel, core, and cut apples into 1-2″ chunks. The smaller the chunks, the more quickly they'll cook through. Cover your pot and cook apples on low heat, occasionally stirring to prevent sticking until apples are tender. This will take 30-60 minutes, depending on chunk size. Use a potato masher to break them up. This will result in my favorite "chunky" style applesauce. If you prefer a "smoother" style, you can use an immersion blender to reach your desired consistency. Add sugar or honey if desired. Add cinnamon.
While apples are cooking, sterilize 7-pint size jars, lids, and rings, then use a funnel to transfer piping hot applesauce into each sterilized jar, leaving 1/2″ headspace. Wipe the rims clean with a damp cloth. Cover with lid and ring. Tighten the ring to secure (don't overtighten). Use a jar lifter to carefully transfer jars to a water bath canner with water 1 to 2 inches above jars—process in boiling water for 20 minutes. Carefully remove jars with a jar lifter and set them on a dish towel on the counter. Let them cool until lids suction in and seal. *If jars do not seal correctly, refrigerate and enjoy within two weeks.