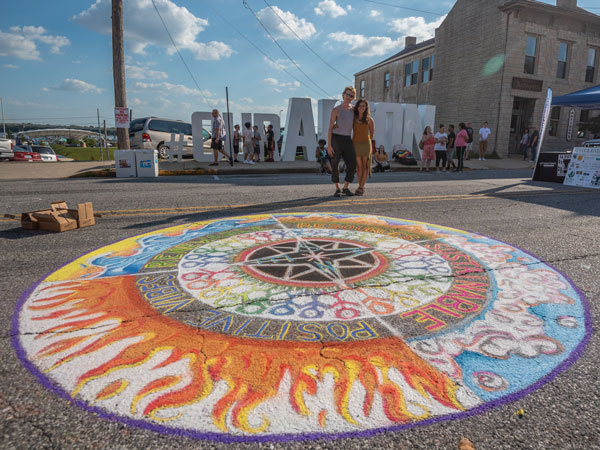 The Mississippi Earthtones Festival, brought to you by Alton Main Street and the Sierra Club, is a celebration of our river through art, music, and conservation which is held every 3rd Saturday in September.
On September 17, 2022 from Noon-10pm, the two non-profits will offer family-friendly activities and festival goers will enjoy artist booths and live music. The event will be located at the Liberty Bank Alton Amphitheater (#1 Riverfront Drive – Alton, IL 62002).
At this free & family-friendly event, we will feature 70+ educational and vendor booths, live music, interactive art experiences and performances with Jacoby Arts Center, as well as great local food & beverages. Our goal is to bring locals and tourists alike to Downtown Alton to celebrate life on the Mississippi River.
Entertainment schedule:
Jake s Leg – Grateful Dead Tribute (7-10pm)
Nonstop Reggae Band (3-6pm)
Loftys Comet – Alternative Indie Jazz (12-2pm)
Jason Gordo Gordon – 1-Man, 10-Piece Band (2-3pm & 6-7pm) 
There will be several agencies on hand to teach consumers how to incorporate more sustainable practices into their daily lives, along with companies featuring Earth-friendly products and services. This year's event offers strong education components that are working towards a sustainable future," says Christine Favilla, Three Rivers Project Co-Coordinator for Alton's Sierra Club. "The Sierra Club just celebrated its 130th Birthday in the United States, and Alton has had an active group, The Piasa Palisades Group, for 50 years!"
Volunteers are needed, and those who pitch in will receive a free festival t-shirt.
"At the MEF, we showcase our region's environmental organizations, as well as local businesses that are working to help "green" residents' lives," said Sara McGibany, Executive Director of Alton Main Street.
"We encourage the community to join us for this momentous occasion and spend the day exploring the wide variety of locally-owned businesses."
On the following Saturday, September 24th at 9:00 a.m., join us for a litter cleanup on the river. Bring your own gloves, water bottle and boots or sturdy shoes. The clean-up will take place rain or shine. 45 tons of trash have been removed from the Mississippi River during MEF clean-ups to date, with more than 3,000 volunteer hours contributed.
This festival is held annually as part of the State of Illinois' "It's Our River Day" initiative to celebrate Illinois watersheds through education, recreation and conservation.
To register as an exhibitor, vendor, sponsor or volunteer please visit www.DowntownAlton.com/Events. To stay up-to-date on announcements, please follow: www.facebook.com/EarthtonesFestival.