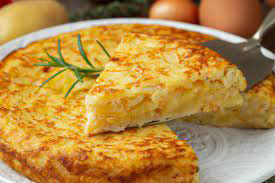 Ingredients
Serves 8 people
1lb/450 g Russet potatoes
2 cups olive oil
2 onions, chopped
2 large eggs
Salt and pepper 
Spring of fresh parsley
Other ingredients can be added, such as ham, bacon, cheese, mushrooms,
Steps:

Peel potatoes, cut into small cubes, then put on a clean dish towel to dry them.
Heat on low the olive oil in a large, heavy bottom or nonstick skillet
Add potato pieces and onions
Lower the heat and cook the potatoes, stirring frequently (so that they do not clump together) for 20 minutes or until they are tender, but not brown. (the secret is to cook the potatoes for a long time so that they absorb the flavor of the oil but are not browned or crisp)
Beat the eggs and season with salt and pepper.
Place a strainer over a large bowl, drain the potatoes and onions, then gently stir them into the beaten eggs.
Wipe or clean the skillet to prevent the tortilla from sticking.
Heat 2 tablespoons of the reserved olive oil in the skillet; when hot, add the egg and potatoes mixture, lower the heat, and cook for 3-5 minutes until the underside is just set.
Use a spatula to push the potatoes down into the eggs so that they are completely submerged; keep loosening the tortilla from the button of the skillet to stop it from sticking.
To cook the second side of the tortilla, cover it with a plate and hold the plate in place with the other hand. 
Drain the oil from the skillet, then quickly turn the skillet upside down so that the tortilla falls onto a plate.
Return the skillet to the heat and add a little more of the reserved oil (if necessary).
Slide the tortilla, cooked side uppermost, back into the skillet and cook for an additional 3-5 minutes.  The tortilla is cooked well when it is firm and crisp on the outside, but still slightly runny in the center.
Slide the tortilla onto a serving plate and let stand for about 15 minutes.  Serve it warm or cold, cut into small squares or wedges, and garnish with parsley sprigs.